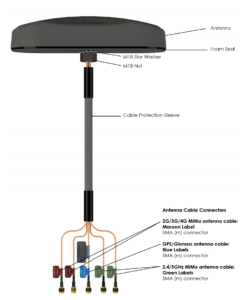 The MIMO-1 by Poynting is a roof-mounted housing that provides two WI-Fi antennas, two LTE cellular antennas, and GPS in one low profile unit.
Two LTE/4G/3G antennas cover all cellular bands. Two dual-band Wi-Fi antennas provide both 2.4GHz and 5GHz extending capabilities.
There is also a fifth antenna providing an active GPS/GLONASS module operating down to -40 degrees.
This is a rugged outdoor mount antenna system. It connects to devices via 5 separate (one for each antenna) SMA connectors.
Specifications
Model: MIMO-1
# of Antennas: 2x2 MIMO
Direction: Omni-directional
Frequency Range: 690 – 960MHz, 1710 – 2700MHz
Impedance: 50 ohms
Cable Type & Length: EF_316_D, 12'
Connectors: SMA-Male
Internal Ground Plane: Yes
Dimensions: 10 x 5 x 2 in
Weight: 1 lb, 6 oz
Mounting: Pole or roof
Outdoor Rated: Yes
Frequency / Gain: 3dBi
Retail Price: $199.99
---
News, Videos, & Status
We are not currently testing this product.
---
Potential Alternatives to Consider:
For other popular cellular antennas on the market we are tracking - here are our featured options:
Learn More About Selecting Cellular Antennas
---
---
Purchasing Options
MobileMustHave (MIAs, check your Member Discounts)