Taoglas is a UK-based global company that develops products - primarily antennas - for the IoT industry. The company makes thousands of antennas for a variety of purposes. Some of their products are of use for RVers cruisers and other nomads. Taoglas products have limited consumer distribution in the U.S. and are typically only available from a few specialty vendors.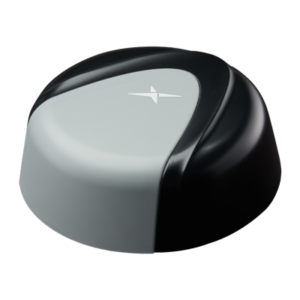 The Synergy line of combination antennas combine cellular, GPS, and Wi-Fi antennas and come in several configurations depending on your needs. Additionally the line support global LTE bands and sub-6GHz 5G bands, including Band 71 & n71.
The Synergy line comes in the following configurations:
MA1506.AK.001: 2x Cellular (MIMO), 3x Wi-Fi (MIMO), and 1x GNSS/GPS
MA1509.AK.001: 4x Cellular (MIMO), 1x High-band Cellular (1.7-6GHz), 1x GNSS/GPS, and 3x Wi-Fi (MIMO)
MA1511: 4x Cellular (MIMO), 1x High-band Cellular (1.7-6GHz), 1x GNSS/GPS, and 6x Wi-Fi (MIMO)
Some variants of these antennas are available for specific applications - for example, there are models designed specifically for Ford Interceptor police vehicles.
Carefully consider the models before purchasing to know exactly what you are getting.
Additionally, customized options, such as cabling and connectors, may be available for this line of antennas depending on the vendor.
---
Specifications
Model:

Synergy (MA1504, MA1506, MA1509, MA1511)
# of Antennas: Up to 5x Cellular and 6x Wi-Fi plus GPS/GNSS

Direction:

Omni-Directional
Frequency Range: 600MHz - 6GHz

Impedance:

50ohm

Cable Type & Length:

RG-174 - Standard Length is 3m (9.8ft)

Connector:

Cellular: SMA-Male
WiFi: RP-SMA-Male
GPS: SMA-Male

Internal Ground Plane: No

Dimensions:

6.2" round by 2.2" tall
Weight: 2.7Kg (6 pounds)

Mounting:

Roof
Outdoor Rated: Yes

Retail Price:

$300-$550
---
Review & Testing Status
We are not currently testing the Taoglas Synergy series.
---
Potential Alternatives to Consider:
For other popular cellular antennas on the market we are tracking - here are our featured options:
Learn More About Selecting Cellular Antennas
---
This Review Contains Additional Member Exclusive Content

We are honored to be able to present the above overview for free without 3rd party advertising or sponsorships. We are not paid by the manufacturer of this product to provide this listing or review, and nor are we selling this equipment or plan (purchasing links are provided below as a courtesy and some may be affiliates).
Our members have funded this resource center and any extensive hands on time
we have spent with the product to review it.
The in-depth portions of this review are made available to them which might contain: hands on testing notes, field testing data, user interface tour, product analysis, comparison to alternatives, setup tips, video tutorial, insider tips, vendor discounts and fellow member experiences.
If you're a member, please log in to continue with this review.
If you're not a member.. please consider joining us!
Purchasing Options
This series of antennas are available in several configurations and custom ordering may be possible - ask your vendor.
Shop carefully and know exactly what you are looking for - the model numbers can be confusing and seem similar.
The guides below have been hand-picked to help further your education about selecting & using cellular antennas.