Parsec Technologies is a Texas-based company that specializes in high-end antennas for a variety of applications. Their product line primarily consists of combination antennas that support cellular (LTE and sub 6 GHz 5G), Wi-Fi, Bluetooth, and GPS in a variety of form factors.
The antennas are named after dog breeds and come in a variety of customizable combinations from 2-in-1 up to 11-in-1. Depending on the specific antenna, the following options are available:
2x2, 3x3, 4x4, or 4x4+2x2 MIMO Wi-Fi
GPS
Bluetooth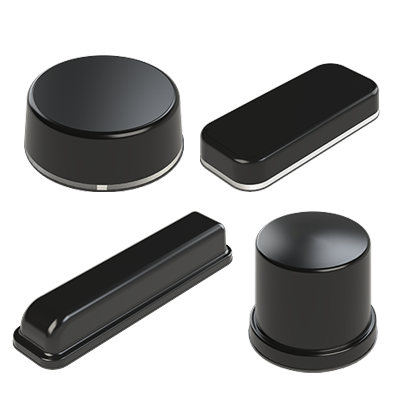 The following models are available:
The Husky is the antenna of most interest for RV use, and therefore we have given it its own Gear Center entry.
The antennas can also be ordered with either 1 or 15-foot cable lengths and most models are available in either black or white housing. Connectors are either SMA-Male or N.
Here is a comparison chart for Parsec's 5G line of antennas (click for a full-size image):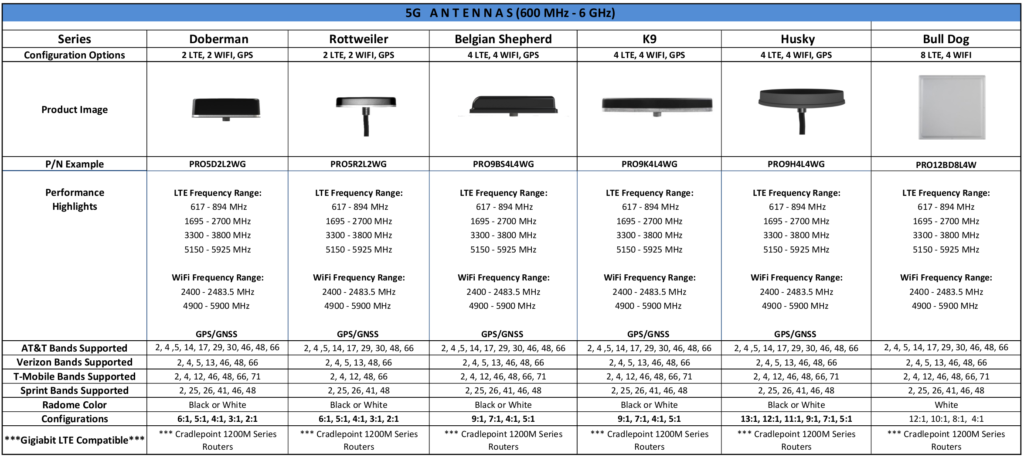 ---
Specifications
Model:

Varies
# of Antennas: Varies

Direction:

Omni-Directional
Frequency Range: 600MHz - 6 GHz

Impedance:

50ohm

Cable Type & Length:

1 or 15-foot cable lengths. Most use LMR100 or LMR200 cables.

Connector:

Varies, SMA-Male and N connectors most common
Internal Ground Plane: Yes

Dimensions:

Varies
Weight: Varies

Mounting:

Roof mount or pole mount with adapter
Outdoor Rated: Yes, IP67
Frequency / Gain: Varies by model and frequency

Retail Price:

$104-$570 depending on the antenna and optional configuration.
---
News, Videos, & Status
MobileMustHave sent us the Parsec Husky 7-in-1 (4x4 cellular, 2x2 WiFi, 1 GPS) with a mag mount base for a quick evaluation.
Members have access to in-depth impressions and testing here:
Members also have further information in the member section below.
Related News Articles:
Peplink Product Line Update: Major Changes to the MAX Transit Line, MAX BR1 Pro 5G Hands-On, New Maritime Antennas, and More! Posted on: November 10, 2021
New Peplink Hardware Coming Soon: MAX BR1 Pro 5G Router, AP ONE AX Lite Access Point, and Puma 421 7-in-1 Antenna Posted on: May 28, 2021
Peplink's New Pepwave Puma Antenna Line - With Sub-6 5G and Band 71 Support Posted on: August 26, 2020
weBoost and HiBoost Release New OTR Trucker Cellular Antenna Kits Posted on: August 3, 2018
The Cheapest, Best Antenna Mounting Solution Posted on: April 1, 2018
---
---
---
Purchasing Options
MobileMustHave:
Westward Sales | Other specialty Retailers
Amazon:
---