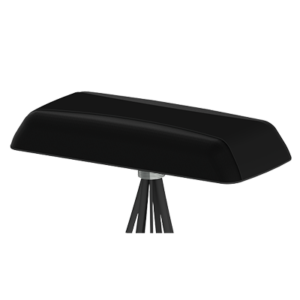 Designed to be ultra low profile, the MobileMark LLP line of antennas packs reception capability under a rectangular plastic dome - they measure only 1.25″ (3.2 cm) tall. This style of antenna is a dome antenna with the cables routed through the base of the antenna. More information on installing these antennas can be found in the Antenna Installation - Low Profile Roof Mounts.
Combining cellular, GPS, and Wi-Fi antennas - the LLP series comes in several configurations depending on your needs. Some models support global LTE bands and sub-6GHz 5G bands, including Band 71 & n71.
The models of interest to RVers and cruisers include:
LLPG203: 1x LTE and 1x GNSS/GPS
LLPG302: 2x LTE and 1x GNSS/GPS
LLPG304: 1x LTE, 1x GNSS/GPS, and 1x UHF (450-470 MHz)
LLPG402: 2x LTE, 1x GNSS/GPS, and 1x Wi-Fi
LLPG403: 1x Global LTE, 1x GNSS/GPS, and 2x Wi-Fi
LLPG502: 2x LTE, 1x GNSS/GPS, and 2x Wi-Fi
LLPG602: 2x LTE, 1x GNSS/GPS, and 3x Wi-Fi
LLPG702: 2x LTE, 1x GNSS/GPS, and 4x Wi-Fi
LLPWG801: 2x Global 5G LTE, 2x GNSS/GPS, and 4x Wi-Fi
The LLP Series can be custom configured with specific cable lengths and connector options.
---
Specifications
Models: LLP Series
# of Cellular Antennas: 1-2 depending on the model

Direction:

Omni-directional
Cellular Frequency Range:

LTE Models: 694-960 MHz and 1710-3700 MHz
Global LTE Models: 694-3700 MHz
Global 5G LTE Models: 617-960 MHz & 1710-6000 MHz

Wi-Fi Frequency Range: 2.4-2.5 GHz & 5-6 GHz

Impedance:

50 ohms

Cable Type & Length:

Variable - can be custom ordered.

Connectors:

SMA Plugs (male) standard (other connectors available via custom order)
Internal Ground Plane: No

Dimensions:

9'' x 3.5''' x 1.25" High
Weight: Unknown

Mounting:

Surface (stud) with the option for a mag-mount
Outdoor Rated: Yes - IP67
Frequency / Gain: Varies by model and frequency - typically 1-6 dBi

Retail Price:

$200-$300
---
News, Videos, & Status
We are not currently testing the MobileMark LLP series.
---
---
Purchasing Options
This series of antennas are available in many configurations.
Shop carefully and know exactly what you are looking for - the model numbers can be confusing and seem similar. There are also variants depending on if one wants GNSS or GPS support.