weBoost today announced the "Drive X RV" - a revamped cellular booster bundle targeted towards the RV market. This new kit replaces the Drive 4G-X RV kit released in April 2017.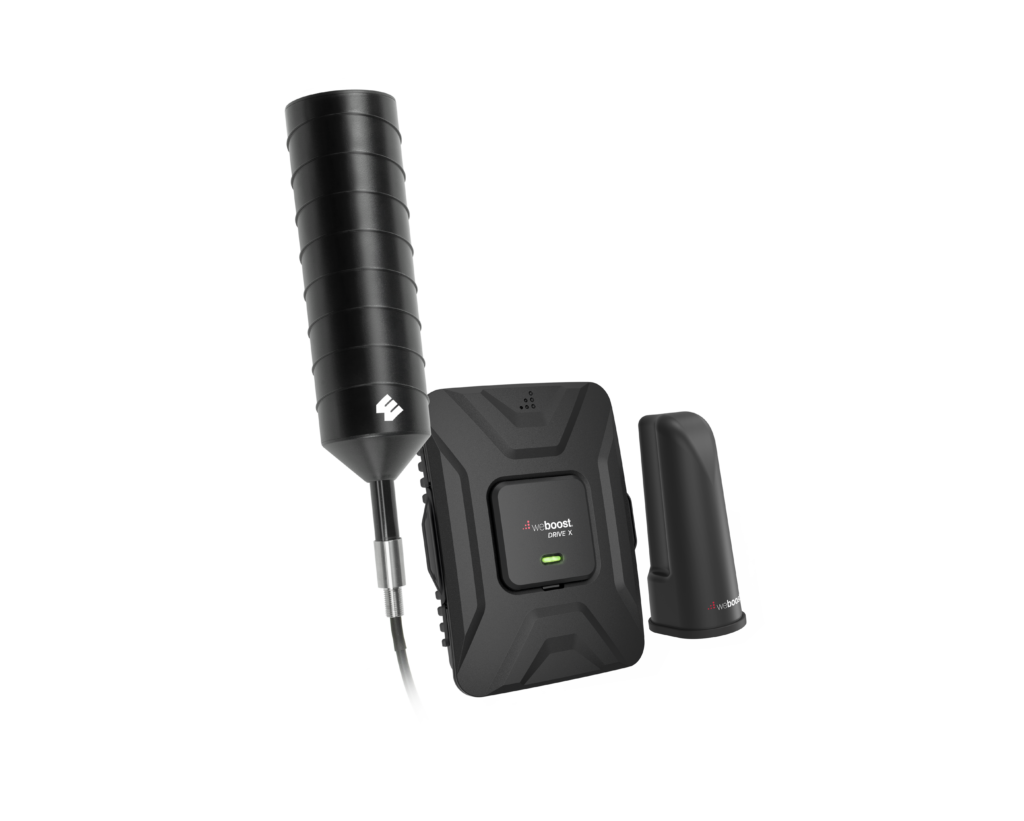 This new bundle combines the Drive X booster (a rebranded Drive 4G-X) with our top pick weBoost OTR Trucker Antenna.
This is a bundle that we've long wished that weBoost would offer directly.
The kit also offers two new mounting options - both of which are much more RV appropriate than the OTR antenna has been in the past.
The other components of this kit remain the same as in the previous RV edition, aside from installation hardware.
The new mobile RV kit will be available in addition to weBoost's RV Connect 65 kit designed for stationary RVers, which is based on a higher gain residential booster with a pole-mounted directional antenna.
Is this new kit worth getting if you're shopping for a new mobile booster for your RV?
Video Overview
Subscribe to our YouTube Channel
The New Drive X RV Kit
The major change with this new RV kit is the exterior antenna - the omni directional antenna included in the old Drive 4G-X RV bundle is being replaced with the better OTR antenna.
The OTR Antenna has long been our top pick weBoost certified omni-directional antenna, however the form factor was designed for mounting to the side mirror of a semi truck.
The tall antenna stalk made it very awkward for permanent mounting on an RV roof, often requiring inventive solutions to enable the antenna to fold flat while underway.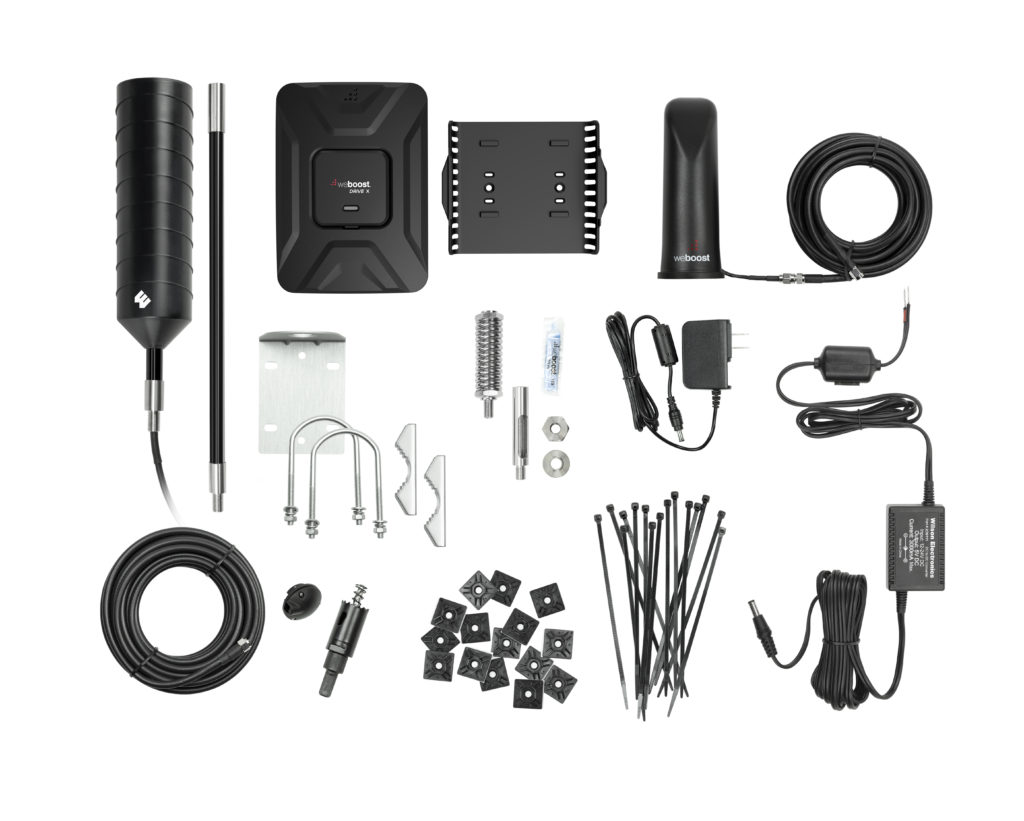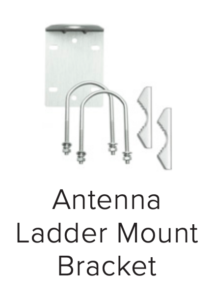 weBoost has solved this problem in the new Drive X RV kit by shipping the OTR antenna with a more RV friendly shorter stalk. The kit also includes a spring mount and extension pole, with options for 9.5" and 28.5" in total height.
For comparison, the OTR antenna included in the Drive 4G-X OTR kit has options for 17" or 24", and the original RV kit omni-directional antenna was 7.5" tall.
The redesigned 'stubby stalk' OTR outside antenna fits universal CB mounts (3/8-24 thread) - or can be ladder mounted. weBoost has confirmed with us that this new RV OTR version will not be sole ala carte, and only available with this new kit.
The kit comes with 25' of RG-6 extender cable to give you extra range for optimal mounting. And it comes with options for AC wall power or direct wired 12v included.
The internal desktop antenna remains the same as the original RV kit.
The Drive X - Not the Reach?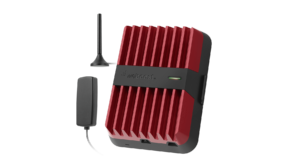 The new kit is based off of the tried & true Drive 4G-X / X booster, not the newly released and more powerful Drive Reach.
We asked weBoost why they made the choice to release a new bundle with the old booster, after just releasing a mobile booster with substantially more transmit power.
Their answer:
"We are very intentional about our product kits and are designing the best RV antenna made specifically for RVs to be used with the Drive Reach booster in the future."
We interpret this as weBoost indicating that they are working on an entirely new antenna design that will debut in a RV Reach bundle sometime in the future. We do not expect these bundles to come to market any time soon, however.
What's Up With the Name Change?
An interesting note is that weBoost has dropped the "4G" from the amplifier name, taking the "Drive 4G-X" booster and now calling it the just the "Drive X" - even though we have confirmed there is no actual difference other than the name.
We asked weBoost about this decision as well.
"This is just a rebranding. It is the same booster as the Drive 4G-X. We don't want people to be confused and think it won't boost their signal since it says 4G in the product name since our boosters will amplify all cell signal currently."
This is a bit of a confusing statement, as the Drive X (like all other boosters currently on the market) already omits many 4G LTE frequency bands in current use, and no existing booster works with 5G mmWave frequencies being unleashed in metropolitan areas.
Dropping the "4G" from the name is not necessarily misleading, but it is needlessly confusing.
Given how often 5G is in the news, many consumers are hesitant to invest in 4G/LTE gear right now - so we suspect that dropping 4G from the name is in part to make the product not seem soon to be obsolete.
Though 4G LTE boosters may someday provide limited help with future 5G signals that are overlaid on top of 4G, eventually 4G boosters will be obsolete with future 5G signals. But for RVers and boaters - 4G LTE will remain a central part of our mobile internet setups for several years to come.
Concluding Thoughts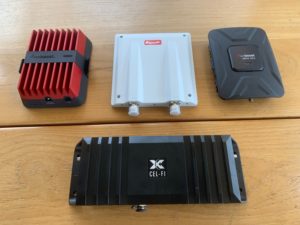 The Drive 4G-X (now X) has been in our testing arsenal since it debuted in 2015. We have tested it extensively with multiple antenna combinations, including the OTR.
The pairing of the 4G-X and OTR has long been our top pick after extensive testing across the years, so we are excited to see weBoost finally come out with a more RV-appropriate form factor of the antenna.
However it seems a little late to be introducing this combination.
Instead - we really wish weBoost would offer this bundle based on the newer and more powerful Drive Reach booster instead.
Now those in the market for a weBoost booster are left with no simple "best" bundled option to go after - and those wanting to use the Reach on an RV with a OTR antenna will continue to need to assemble their own booster/antenna setup from parts.
With the introduction of the new Reach just two months ago - we are hesitant to recommend rushing out to purchase the new Drive X RV kit. Although, the combination should be 'tried and true' if you need a booster in the near term - the Reach is on paper a better option, and is proving promising in our testing so far.
We have entered our extensive testing round of the new Drive Reach versus the Drive 4G-X (both with the OTR antenna), and have already shared our initial results with our members.
As a side note, we noticed that with the introduction of the Drive Reach, weBoost also quietly retired the nicely capable but moderately priced Drive 4G-M at $379.99 - which has less transmit power than the 4G-X.
The base 4G-X vehicle kit also dropped in retail price from $479.99 to $449.99. However the speciality antenna kits remain priced at $499.99, the same price as the Drive Reach with the 4" stubby vehicle antenna.
Purchasing
This kit will be available from weBoost starting on July 25, 2019 - with an MSRP of $499.99. And it should soon become available at other retailers as well.
5% OFF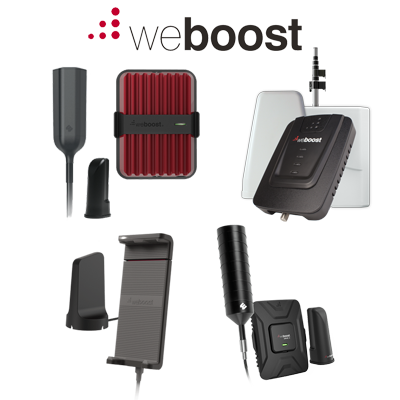 While this site is not reliant on affiliate funding, our weBoost links are affiliate links (only way they'd offer us a discount code). All affiliate incomes goes towards funding this site and other great causes.
---
Buy Direct from weBoost:
WeBoost News Stories:
Additional Resources: