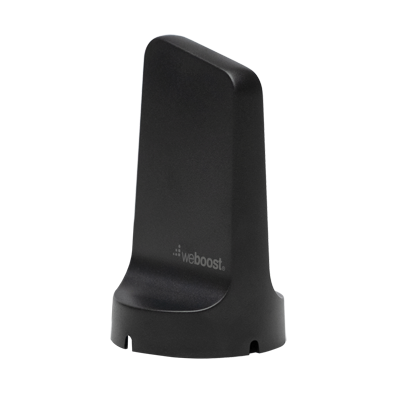 weBoost released their new Drive Magnetic Antenna in June 2020, designed for use on vehicles with a magnetic mount installation. It replaced the former classic 4" Mini Magnet Mount 'stubby' antenna included in many of their cellular booster kits.
The Drive Magnetic Antenna replaces the classic 4" Mini Magnet Mount antenna (which we affectionally have called 'the stubby') in some of weBoost's current vehicle booster kits - starting with both the Drive Reach and Drive Sleek kits.
Specifications
Model: 311215, 311216
# of Antennas: Single
Direction: Omnidirectional
Frequency Range: 698-806 | 806-960 | 1710-1880 | 1900-2200 | 2200-2700 MHz
Impedance: 50 ohms
Cable Type & Length: LMR100 - 10'
Connector:

311215: SMB Plug Female
311216: SMA Female

Internal Ground Plane: Unconfirmed, but likely no
Dimensions: 3.39" x 1.96"
Weight: 0.24 lbs

Mounting: Magnet
Outdoor Rated: Yes
Frequency / Gain: 0.41 - 1.1 dBi
Retail Price: $24.99
---
News, Videos, & Status
In late July 2020, we received the SMB version of the antenna. We have integrated in some testing to give our members some head-to-head comparisons with the old antenna.
They can follow along here:
weBoost Drive Magnetic Antenna Video Overview:

News Stories:
---
Potential Alternatives to Consider:
For other popular cellular antennas on the market we are tracking - here are our featured options:
Learn More About Selecting Cellular Antennas
---
Purchasing Options
Special 5% Savings for
Mobile Internet Resource Center Readers
Use 'weboostMIRC' at checkout at weBoost.com
While this site is not reliant on affiliate funding, our weBoost links are affiliate links (only way they'd offer us a discount code, and their gear is constantly the top performer in our extensive field testing) - the little extra ka-ching if you use our link/discount is a nice thank you to support our work!
Buy Direct from weBoost: