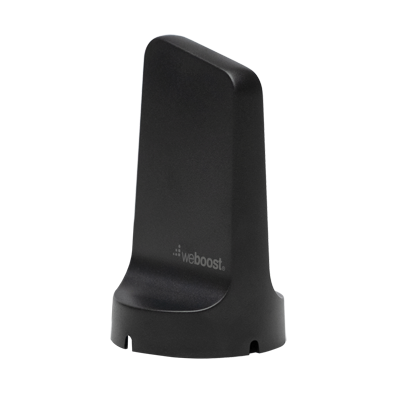 weBoost released their new Drive Magnetic Antenna in June 2020, designed for use on vehicles with a magnetic mount installation. It replaced the former classic 4" Mini Magnet Mount 'stubby' antenna included in many of their cellular booster kits.
The Drive Magnetic Antenna replaces the classic 4" Mini Magnet Mount antenna (which we affectionally have called 'the stubby') in some of weBoost's current vehicle booster kits - starting with both the Drive Reach and Drive Sleek kits.
Specifications:
Model: 311215, 311216
# of Antennas: Single
Direction: Omnidirectional
Frequency Range: 698-806 | 806-960 | 1710-1880 | 1900-2200 | 2200-2700 MHz
Impedance: 50 ohms
Cable Type & Length: LMR100 - 10'
Connector:

311215: SMB Plug Female
311216: SMA Female

Internal Ground Plane: Unconfirmed, but likely no
Dimensions: 3.39" x 1.96"
Weight: 0.24 lbs

Mounting: Magnet
Outdoor Rated: Yes
Frequency / Gain: 0.41 - 1.1 dBi
Retail Price: $24.99
---
Review & Testing Status:
In late July 2020, we received the SMB version of the antenna. We are integrating in some testing to give our members some head to head comparisons with the old antenna.
They can follow along here:
---
Related News Articles & Videos:
---
Potential Alternatives to Consider:
For other popular cellular antennas on the market we are tracking - here are our featured options:
Learn More About Selecting Cellular Antennas
---
This Review Contains Additional Member Exclusive Content!
We are Honored to be Member Funded!
No ads, no sponsors, no selling (but may contain affiliate links)
Our members fund our in-depth independent reviews.
This entry may contain additional member exclusive content such as testing notes, field testing data, user interface tours, comparisons to alternatives, analysis, tips, videos and discounts.
Members also get interactive guidance, alerts, classroom and more.
Purchasing Options
weBoost: Antenna with SMB Connector | Antenna with SMA Connector
The guides below have been hand-picked to help further your education about selecting & using cellular antennas.