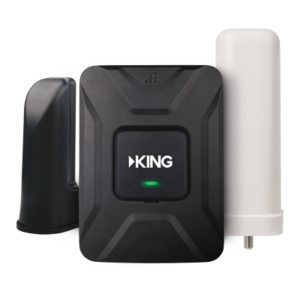 KING is a company specializing in technology for RVers and outdoor enthusiasts. Historically focused on over the air TV technology, KING has entered into the mobile internet space.
In September 2019, they began offering the King Extend - which they list as powered by weBoost. The King Extend has been licensed based off the weBoost 4G-X cellular booster kit.
weBoost released the 4G-X RV kit in April 2017 based on the their then flagship mobile booster.
The kit was officially retired from weBoost's line-up in July of 2019 and replaced with the weBoost Drive X RV, which includes our preferred OTR Antenna in a RV form factor instead.
The retired kit is now licensed to King, and offered at $50 above its original retail price.
Specifications
Model: KX1000
Max Downlink Gain: 50dB
Max Uplink Gain: 24.8 dBm
# of Devices Boosted Simultaneously: Multiple
LTE Bands Supported: 12 (17), 13, 5, 4, 2, 25
Exterior Antenna: weBoost 4G Omni antenna
Internal Antenna: 4G Desktop Antenna
Range of Interior Coverage: 6" - 4'
In Motion Usage: Yes
Booster Dimensions: 6.375 x 1.125 x 4.35 in
Warranty: 2 Year
List Price: $499
---
News, Videos & Status
We tested weBoost's original Drive X RV kit in head-to-head testing in mid-2017. Members can view the results, here:
The weBoost Drive X had been the 'gold standard' of mobile cellular boosters since they came out in 2015, however in May 2019 released the Drive Reach as their new flagship amplifier.

Related News Articles:
---
Potential Alternatives to Consider:
For other booster options on the market worth comparing this model to - here are our featured options:
Learn More About Selecting Cellular Boosters
---
Boosters are NOT the right choice for all applications.
They make the most sense for devices without antenna ports (like smartphones and tablets), or when in weak signal areas. However, for devices with antenna ports in mild to moderate signal areas - a direct-connected antenna can outperform a booster. And boosters can actually DECREASE data speeds in some conditions - never assume you need a booster on all the time - always test at each location!
For more on this:
Consider the Netgear MIMO Antenna for devices with dual antenna ports. This little $27.49 antenna is worth having in your setup. It our extensive testing, it often beats out boosters for data performance in Jetpacks, MiFis and other hotspot devices.
Purchasing Options