KING, a company with a history of focus in the over the air TV reception market, has been branching out into the mobile internet market.
Earlier this year they launched the KING WiFiMax, Swift, and Falcon, entering into the Wi-Fi extending and router arena.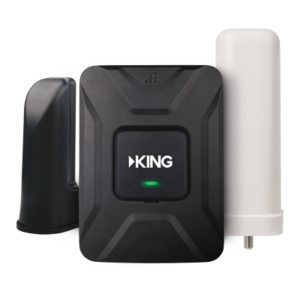 This week, KING has added a cellular booster named the KING Extend.
At first glance, this booster looked suspiciously similar to the recently retired weBoost 4G-X RV cellular booster kit with a KING sticker slapped on the front.
And sure enough, on KING's website they say 'powered by weBoost'. We were able to confirm with weBoost that they have licensed their retired kit to KING.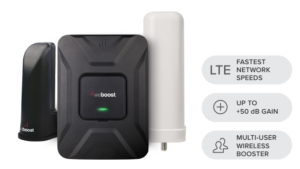 Interestingly, KING is offering the kit at $50 more than it retailed when available from weBoost.
KING is offering the KING Extend for $549 - whereas weBoost's direct MSRP was $499.99 for the same kit.
While officially 'retired', the weBoost 4G-X RV can still be readily found at the $499.99 price point.
weBoost released their weBoost Drive X RV kit last month, which is the same 4G-X amplifier but with our top rated OTR antenna in a more RV friendly form factor. That kit is also priced at $499.99.
And of course, weBoost released their new and improved amplifier, the weBoost Drive Reach back in May. It is not yet available in RV-centric antenna kits.
---
The weBoost 4G-X Booster Kit arrived on the scene in April of 2017 with their white omni directional building antenna. In our head to head testing, their 4G-X kitted with the OTR antenna always slightly outperformed it.
But for those who prefer the form factor for installation, the KING Extend will continue to be an option once the stock of the official weBoost 4G-X RV kits run dry.
Video Verizon of this Story:
WeBoost News Stories:
For an overview of this kit, back from when it was first announced:
Members also have access to the results of our head-to-head testing with this specific kit:
For more information on the recent revamped line-up launch of booster kits from weBoost:
And for in-depth specs, info, and recommendations on the weBoost Drive 4G-X product line-up, see our Gear Center Guide: