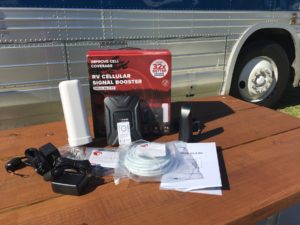 When weBoost first announced the Drive 4G-X cellular booster in February 2015, they also announced a special weBoost Drive 4G-XR bundle "coming soon" that was intended specifically for RVers.
For the longest time - this upcoming kit was even featured prominently on the weBoost website.
But then in April 2015, weBoost removed the Drive 4G-XR from their website, and in June 2015 we were told:
"The Drive 4G-XR is a kit that could take another year to launch, but it will be very similar to the Drive 4G-X just added antenna accessories."
When weBoost launched the 4G-X OTR kit intended for semi-trucks (with a hefty 24" tall antenna!) last summer, they marketed it to RVers as well. But the tall antenna made it a tough fit for many RV installations.
But at long last, weBoost today has announced an official kit based on the Drive 4G-X booster explicitly for RVers - the Drive 4G-X RV.
But was it worth waiting for?
weBoost sent us a kit to preview a few weeks ago, and here are the details.
What's In The Kit - A Lot of Boxes!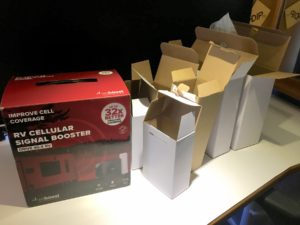 At the heart of the 4G-X RV kit is the same tried-and-true 4G-X booster we have recommended for over a year.
But weBoost replaces the 4" stubby mag-mount antenna in the base kit (originally intended for mounting onto metal vehicle roofs) with a new outdoor antenna, the weBoost 4G Omni antenna (normally $79) that is 7.5" tall.
This isn't actually a new antenna - this has been available as an option with weBoost's residential boosters for a while now. It should be able to more easily mount to an RV ladder, exterior wall, or to a flagpole - and it does not require a metal ground plane.
To provide indoor coverage, weBoost is now including a 4G Desktop Antenna - which theoretically should provide a bit more interior coverage area than the stock small paddle antenna included in the other 4G-X kits.
This new indoor antenna is directional and broadcasts out in a 120-degree slice to better focus the interior coverage area. A similar antenna has been used before in the weBoost RV 4G kit (built around a much less capable booster).
To complete the kit, weBoost includes 20' of RG-6 antenna cable, AC and DC power supplies, and even zip ties and a cable entry cover designed to waterproof any hole you may need to drill in your RV.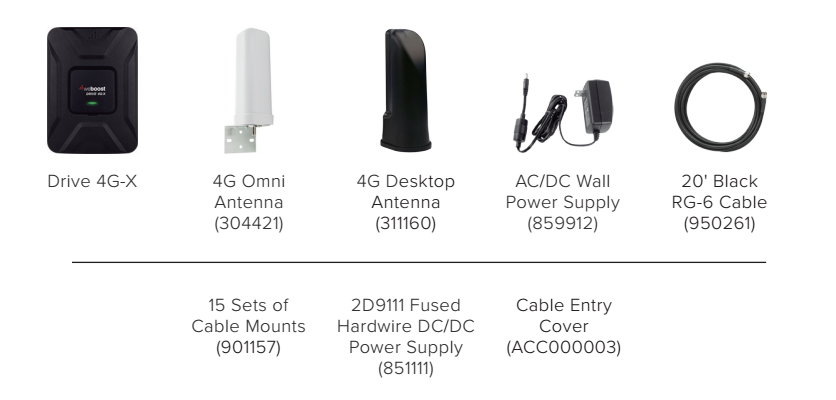 Unboxing Video
Here's our unboxing video and first impressions:
Does The Drive 4G-X RV Make Sense?
The Drive 4G-X remains our top pick booster - but there are now three "official" versions available from weBoost. Though the antennas included vary - the core amplifier is identical between all these packages.
Here is how they compare: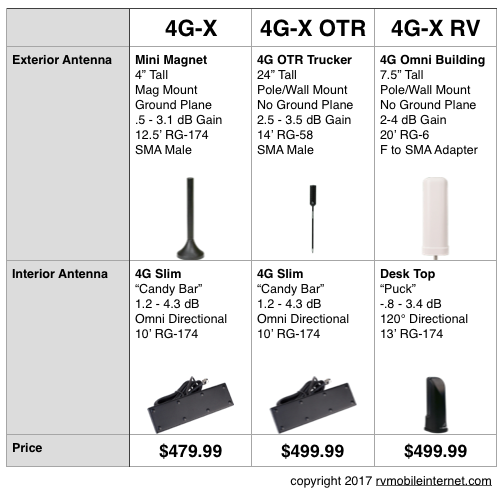 Drive 4G-X (vehicle/original): Includes a 4" mag-mount roof antenna with gains ranging from .5 - 3.1 dB at the end of a 12.5' cable, and a small interior patch antenna - also on a 12.5" cable. Intended for installation on a metal vehicle roof. Many RVers have thrived with this kit, or have started here and upgraded to different antennas. $479.
Drive 4G-X OTR: Marketed to the "over the road" big-rig truck market, this kit (announced June 2016) swaps the 4" stubby antenna for the 24" tall version of weBoost's 4G-OTR "trucker" antenna with gains ranging from 2.5 - 3. 5 dB at the end of a 14' cable. Despite installation challenges from the tall antenna (see our review page for some shared install ideas), many RVers have found this to be a very worthwhile upgrade. $499
Drive 4G-X RV: New today and targeted explicitly for RV installation, this new kit combines a shorter pole/ladder mount style external antenna with gains ranging from 2-4 dB at the end of a 20' cable, with an indoor desktop antenna. Select retailers should have this new kit available for sale starting today - April 17th, 2017. $499
MIA Member Note: Please be sure to check your Member Discounts Page before ordering - many vendors offer our premium members special discounts that can add up very quickly!
You can always buy the antennas separately to transform one kit into another. But at only a $20 list price premium, the OTR and RV bundles makes a lot of sense if they better fit your installation needs, rather than paying much more to buy an antenna upgrade separately later.
Testing in Progress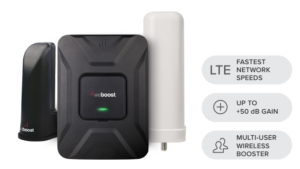 We are looking forward to testing the new 4G-X RV kit to see how it compares with the 4" stubby and the 4G-OTR antenna configurations.
We'll be installing all three versions, plus the SureCall Fusion2Go-RV, Smoothtalker Mobile X6 and hopefully the as-of-yet unreleased Cel-Fi Go M kit - and taking them into the field for extensive head-to-head testing in known signal challenged areas.
As always we will be sharing our results with our premium members first here:
[Next Project] Cellular Signal Enhancing Field Testing Results (2nd Quarter 2017).
Member Exclusive
---
Our members have additional exclusive access to some further details on this new booster kit that we have dug up.
If you're one of our premium members, please log in to access this special content.
Not a member? Come join us - and support what we do here.   
We would not be able to run this resource center and dedicate so much time to covering stories like these without our member's support!
---
Further Reading: