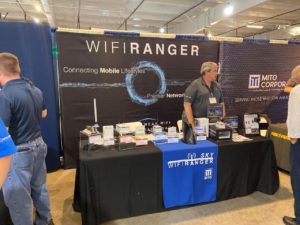 At the big RV Industry open house event in Elkhart Indiana the final week of September - WiFiRanger at last announced the key features, pricing, and availability dates of its new 'Converge' lineup that we previewed back in March.
The Converge is designed to give RV manufacturers a single do-everything roof-mounted shark fin full of technology that they can offer up on new RVs starting in the 2020 model year - optionally converging together long-range Wi-Fi, cellular internet, HDTV, AM/FM reception, and eventually even more.
But in addition to the custom versions being offered up for RV manufacturers, the Converge will also be made available directly to individual consumers for aftermarket installation - with the first model going on sale in October.
We at last have details to share around what is coming, when, and how much it will cost.
So here it is - WiFiRanger's three new "Converge" outdoor units, and there are also three four new indoor routers as well - with value, mid-range, and extreme specification models available.
UPDATE - October 3rd, 2019 - The Spruce Is Loose
WiFiRanger's online store had a few stumbles going live - but it is now updated to take pre-orders on some of the new products announced here.
The Converge Teton (roof mounted) and Poplar router (indoor) described below are now up for pre-sale, as expected - with orders scheduled to ship the week of October 14th.
But in a surprise twist - WiFiRanger has brought forward the Converge Denali from its planned mid-November launch - and is now offering it up for pre-sale immediately as well, shipping the week of the 14th.
And in an even more surprising twist - the WiFiRanger forest has sprouted a new tree...
An unexpected late addition to the product lineup - the WiFiRanger Spruce router is now described in the updated article below.
We should be getting our hands on the Spruce / Denali combo in the very near future - so site members should stay tuned for our hands-on first impressions.
Video Version of this Story
Subscribe to our YouTube Channel
---
WiFiRanger's Outdoor "Converge" Units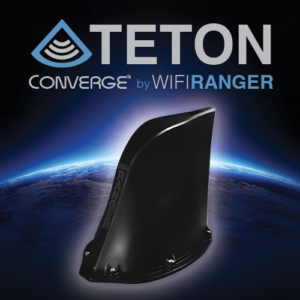 There are three outdoor Converge units being announced this week - all internally very different, but externally sharing a common shark-fin shell (so they'll look the same).
WiFiRanger went with names of mountains for the different options, starting from smaller for the base model to largest peak for the flagship.
The Converge platform is designed for flexibility and upgradeability - with the electronics inside the roof-mounted shell claimed to be easily upgradeable by swapping out the "circuitry tray" to enable future features, or to upgrade to a higher-end model down the road.
In other words - if your RV comes with a Converge Teton on the roof, you should be able to turn it into an Everest someday.
Not Everything Can Be Converged...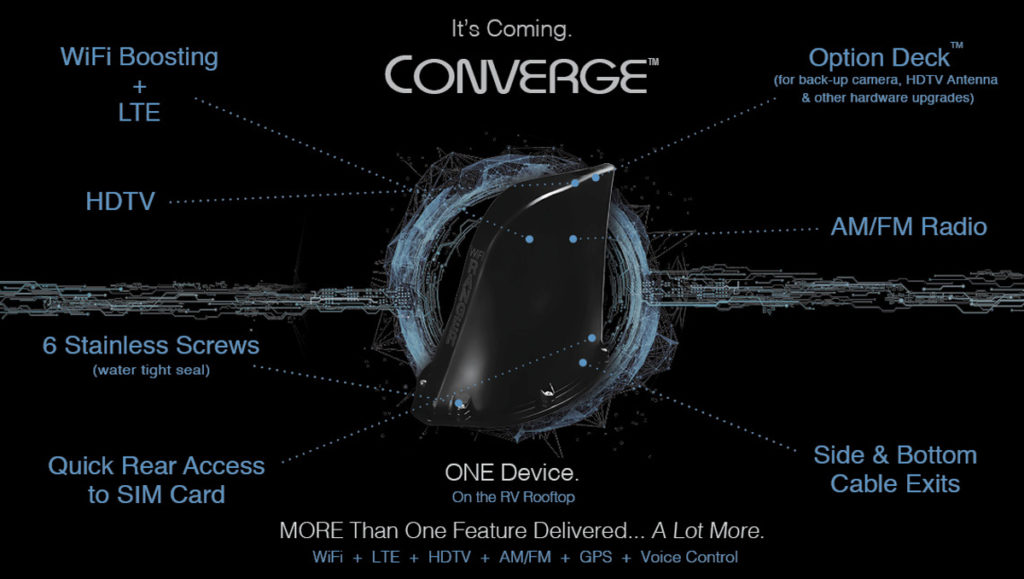 WiFiRanger tells us that the initial consumer versions of the Converge (as priced above) will actually NOT have HDTV or AM/FM functionality built in, not a major issue for upgraders since most existing RV's already have those features covered.
But the Teton versions sold to RV manufacturers will offer the TV and radio antenna options, and upgrade modules will eventually be made available to add these features to the consumer version as well for those interested.
But there is a catch... WiFiRanger has discovered that the high-powered Wi-Fi in the Denali and Everest was "not optimal" for mixing with HDTV, and actually causes interference with the TV signal - making that particular bit of convergence not recommended.
---
New Indoor "TetherPoint" Routers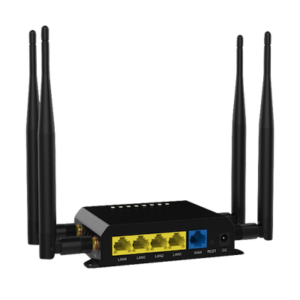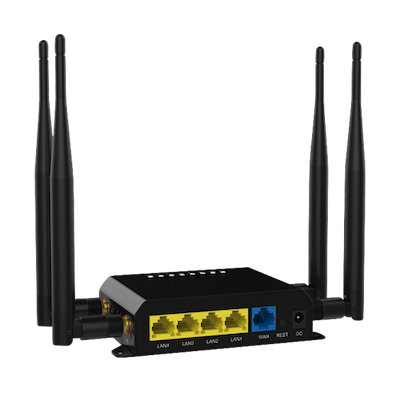 WiFiRanger is hoping that RV manufactures will start including the outdoor unit (especially the Teton) on new RVs, with wiring pre-run making it easy for customers to add an indoor router later by just plugging it in.
They have a wiring setup they are calling "TetherPoint" that makes it easy to connect between the indoor and outdoor units - and which provides power to both sides.
WiFiRanger's new lineup of three four "TetherPoint" indoor routers are designed to easily pair with the Converge units on the roof.
An indoor router is not required for a WiFiRanger system - but having one will give you ethernet ports for wired networking, USB tethering support for connecting via cellular hotspots, and it will let your indoor Wi-Fi network operate independently from the long-range Wi-Fi radio on the roof - improving overall Wi-Fi performance across the board.
And like currently, you can purchase just the indoor router if you don't desire a roof mounted component.
WiFiRanger says the new routers are being designed for future expandability:
"All three routers (other than the Spruce - see below) include the ability to add an additional built-in LTE modem, SDCard for data collection, and USB 2.0 port to easily tether up to 3 different simultaneous handheld devices for data aggregation."
Tethering multiple cellular devices is a feature of WiFiRanger's latest firmware update. If you have a powered USB hub, you can connect multiple hotspots and/or cellphones to a WiFiRanger router to load balance your usage across multiple providers.
Here is the new WiFiRanger router lineup - all named after trees, starting from smallest to largest:
The WiFiRanger Poplar has Wi-Fi antennas on one side, (optional) cellular antennas on the other. The Aspen and Sequoia also have similar external antenna setups.

Poplar Router ($79) - This is a very basic router model - and is actually a step down from WiFiRanger's current base model Core - which has 802.11ac and supports both 2.4GHz and 5GHz Wi-Fi. The Poplar only supports 802.11n and 2.4GHz Wi-Fi - a disappointing regression, though still enough for most basic RV users.

Aspen Router ($129) - WiFiRanger tells us that "Aspen is like a GoAC (WiFiRanger's current indoor flagship) on steroids. It's 802.11ac with a quad core processor and hardware acceleration. It has external antennas and beam forming." For just $50 more than Poplar and vastly less than the $349 GoAc, this seems likely to be a fantastic value for a feature packed router.
Spruce Router ($119) - The Spruce is basically an Aspen, but with internal antennas inside the plastic shell like the previous WiFiRanger routers - not protruding out six inches above like the antennas on the other models here. This lower profile will make it a lot easier to mount on RV walls, or in tight quarters. The physically smaller Spruce also lacks the ability to add an internal LTE modem upgrade, unlike the other new WiFiRanger tree models.
Sequoia Router ($229) - The Sequoia router has the same Wi-Fi performance as Aspen and Spruce, but a lot more future upgrade potential. WiFiRanger describes it this way: "Sequoia is unmatched, offering high power 2.4Ghz & 5Ghz radios, (AC1200 WiFi) up to 2 additional LTE embedded modems, USB 3.0 port for up to Cat 20 and 5G futures, and a USB 2.0 port for tethering multiple handheld devices."Two USB ports for external cellular (one fast enough for 5G) and two internal cellular upgrade slots adds up to a pretty powerful box - this is going to be a feature packed router at an incredible value.

In January 2020 WiFi Ranger stated that they decided not to launch the Sequoia router due to similarities with the Aspen router. It may be relaunched in the future but with different specifications.

Indoor LTE Cat 4 Modem Kit ($99) - This kit adds built-in cellular capability to any of the above units (other than the Spruce).
LTE Cat-4 to Cat-6 Upgrade ($59) - For an extra $59, you can get a much better cellular modem option.
WiFiRanger's new indoor routers look to be very good values, and for many people who are focused on cellular more than long-range Wi-Fi an indoor router may be all that is needed, without needing a rooftop unit too.
The WiFiRanger Spruce - Small & Mighty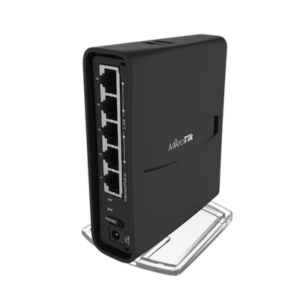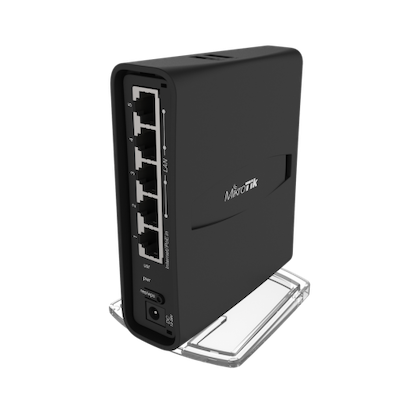 When WiFiRanger asked us what we thought about the new TetherPoint "Tree" models - one thing we pointed out was that the external antennas would make them harder to fit into some tight RV or marine tech cabinets.
They surprised us by saying they were working on a fourth model called "Spruce" with internal antennas, but it was not ready to be announced yet.
But then - 24 hours later, they told us not only were they launching Spruce - but it would go on sale immediately.
The Spruce is basically a direct sequel to the current WiFiRanger GoAC - still small and compact and easy to fit into an RV - but improved in almost every way.
And yet - the Spruce is just $119, or $90 if you buy it bundled with a Converge.
That is ridiculously cheap compared to the $349 GoAC.
From our initial rough analysis - it seems like the Spruce + Teton LTE or Spruce + Denali are going to be killer combinations, especially for those who do not need the integrated LTE expandability Aspen offers.
We are looking forward to hands on time to see how well the Spruce really does compare with the GoAC - but we are expecting good things.
---
"Packs" - Indoor / Outdoor Bundles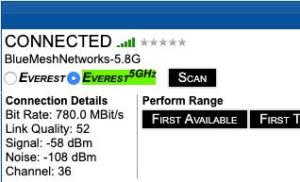 WiFiRanger says that you can mix & match indoor and outdoor units as desired - or go with just indoor or just outdoor.
WiFiRanger's user interface will make the two units operate (relatively) seamlessly as one, with just a single unified control panel which will let you choose your upstream connections - whether they be integrated cellular, tethered cellular, or remote campground Wi-Fi.
But if you want to buy both indoor and outdoor units at once - you can buy them at a discount.
Here are some sample combos:
Teton LTE / Poplar Pack - $259
Denali / Aspen Pack - $549
Everest / Sequoia Pack - $949
The Teton LTE / Poplar Pack is a particularly good value - and for those who need more down the road, there should be upgrade paths for either the inside or outside components as desired.
---
When Will Converge Ship?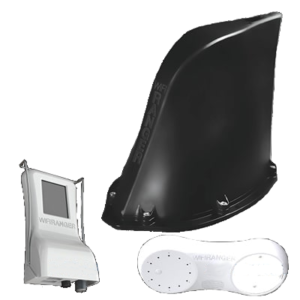 WiFiRanger is saying that the most basic Teton / Poplar products will go on sale for pre-orders on October 1st, and will begin shipping on October 15th.
Denali / Aspen will follow in "Mid November", and Everest / Sequoia will go on sale "early next year" with orders expected to start on January 1st.
But with all things WiFiRanger - do keep in mind that schedules have a history of slipping! These have already slipped based on their initial projection of last spring.
We are slated to get a Converge Denali unit in for testing soon- and we will be covering the rest of the product line as each model comes out.
UPDATE (October 3rd): The WiFiRanger store went live a day late, but it opened up with a surprise twist. In addition to Teton and Poplar, WiFiRanger is also taking pre-orders for Denali and Spruce too -- with all of these products slated to begin shipping the week of October 14th.
---
Is The Converge Worth It?
WiFiRanger has had a long history serving the niche RV market, and when it comes to delivering the longest range access to remote Wi-Fi networks WiFiRanger has long been a top option - offering up a nice balance of power, simplicity and support that leaves some advanced users wanting, but satisfies many.
Their indoor routers have also been a popular stand-alone option for those wanting to create a network utilizing cellular hotspots and the occasional bit of remote Wi-Fi access.
The new line-up is quite intriguing, even if it does force you to study up on your geography and arboriculture to understand which products make sense for you. The new lower pricing in particular is especially tempting.
But keep in mind - WiFiRanger is not the only option for connectivity on an RV roof.
The most interesting WiFiRanger alternatives are made by Winegard (like the ConnecT 2.0, ToGo Roadlink, and new Air 360+), but companies like Furrion and Magnadyne have expanded their roof TV antenna options to include bundled cellular and/or Wi-Fi features as well - and many of these are now showing up as factory options on new RV models.
Or more advanced users might consider an indoor cellular router with external antennas - like the Pepwave MAX series paired with a Mobile Mark, Poynting, or Panorama MIMO antenna on the roof.
This is a complicated product category, with a lot of options - so be sure to seek out a solution that fits your particular needs!
WiFiRanger in the News Updates:
Further Reading: