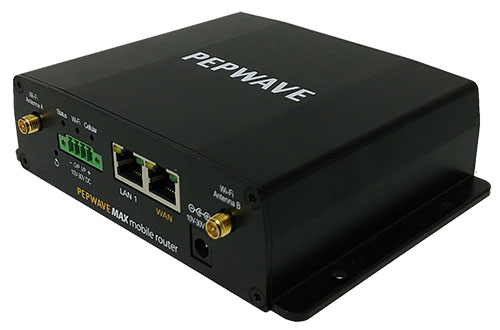 Peplink is a large and respected company in the high-end mobile networking space, particularly well known for providing cellular connectivity for everything from fleets of vehicles to cruise ships to dispersed corporate offices.
Peplink is also a key provider of bonding technology that allows a router to combine multiple network connections together for increased performance, or extreme redundancy and reliability.
While Peplink's Pepwave cellular integrated routers are not specifically designed with individual mobile users in mind, Peplink does offer solid and well-supported products that many advanced consumers have grown to rely on.
The diverse Pepwave MAX product line can be overwhelming however to navigate, and isn't intended for those without some tech-savviness. And depending on your needs there are several models that may prove appealing.
This guide runs down all the key options in the Pepwave MAX lineup and goes over some of the details that are universal across all Pepwave models.
Here are a few particular models that have proven to be particularly appealing to our audience that we have also super focused on in their own entries here on the gear center: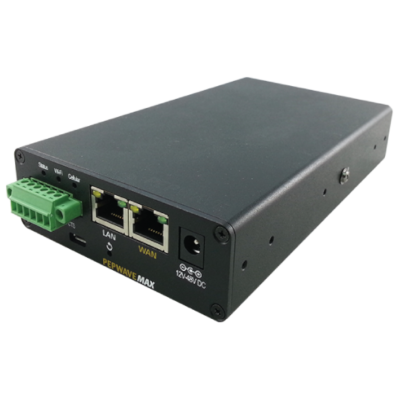 $799+
NOTE: The Pepwave MAX lineup features many different routers, and the product line has evolved substantially over the years.
Be aware that product names tend to stay the same between these generational updates, so make sure to check the detailed hardware specs of whatever you are purchasing to make sure it is what you expect - particularly if you are buying used or from an online retailer who might have old inventory sitting around.
---
Pepwave MAX Lineup Overview (Mid 2019)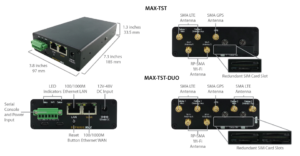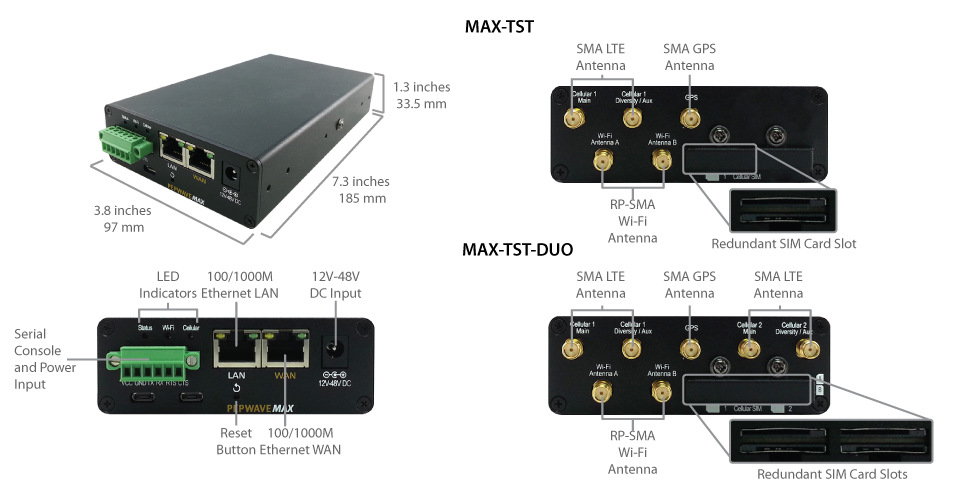 Pepwave's current MAX line-up was refreshed at the beginning in August 2019, offering some models with more advanced Cat-12 LTE-Advanced Pro modems.
Peplink, however, still sells some of their routers with basic LTE Cat-3 and Cat-6 modems at lower price points, and some older "3G" models are even still listed as available too.
We no longer recommend the older Cat 3 (or earlier) models - the advantages of an LTE-A modem are worth it.
Peplink's Cat 12 "LTE Advanced Pro" Product Line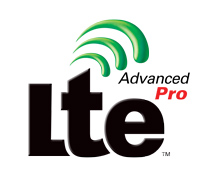 Peplink's Cat 12 modems offer peak theoretical speeds of 600Mbps down and 150Mbps up. They achieve this performance by combining multiple cellular bands together to deliver more bandwidth in places the carriers have deployed upgraded towers.
The new Cat 12 modems support more frequency bands too - which can mean greater coverage, faster speeds, and more roaming compatibility.
The Cat 12 modem supports these LTE bands:
B1, B2, B3, B4, B5, B7, B8, B9, B12, B13, B14, B18, B19, B20, B26, B29, B30, B32, B41, B42, B43, B46, B48, B66
This modem covers pretty much every LTE band in use in North America and is well suited for global roaming as well.
The only key bands missing in the Cat 12 Peplink modem is Band 25 (Sprint's mid-range band) and Band 71, which enables T-Mobile's longest-range service.
These are both puzzling omissions for devices released in 2019, though Pepwave tells us that they may have Band 71 compatible devices in the future.
Peplink is marketing these new routers towards customers interested in support for AT&T's FirstNet Band 14 network, a critically important feature for public safety deployments into police cruisers and ambulances.
Here's a quick rundown of the new Cat-12 FirstNet models available, and their list prices: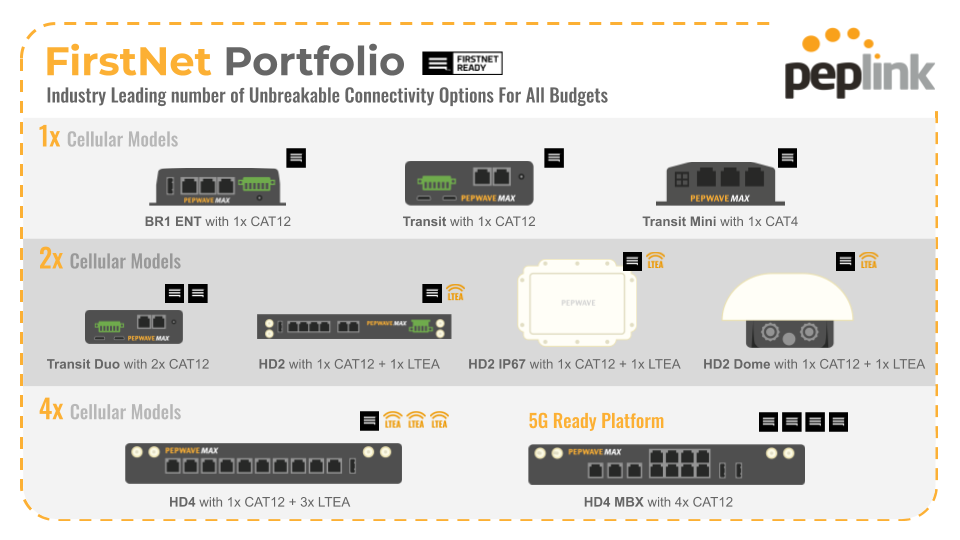 In the Cat-12 Lineup
MAX HD4 MBX ($7,999) - Quad modem LTE-A Pro "Mobile Powerhouse" designed for future 5G upgradeability.
Pepwave MAX HD4 ($6,499) - One Cat-12 and 3x Cat-6 modems, designed for bonding together 4x cellular connections. If you have a need (and budget) for extreme redundancy, the HD4 combines four independent cellular modems, USB tethering, and eight gigabit ethernet LAN ports together into a box that is likely overkill for very nearly everyone.
MAX HD2 Dome ($3,499) - New in January 2019, this is an outdoor-rated dual modem MAX device integrated into a dome that can keep connected to two cellular networks simultaneously - with no antenna cable loss since the antennas and modems are so closely integrated. You can mount an optional companion "SIM Injector" ($1,499) indoors, allowing you to toggle between a library of up to 8 SIM cards without needing to climb up to the roof to swap them out. Note that the HD2 Dome is cellular only and has no Wi-Fi capabilities, so you will need to provide an indoor Wi-Fi Access Point on your own. One Cat-12 and one Cat-6 modem included.
Pepwave MAX HD2 ($2,899) - One Cat-12 and one Cat-6 modem in an indoor rack-mount router. Has 802.11ac and dual independent cellular modems for redundancy. Also supports tethering to a hotspot via USB.
MAX HD2 IP67 ($2,899) - One Cat-12 and one Cat-6 modem in an outdoor-rated IP67 enclosure, primarily intended for buildings.
Pepwave MAX Transit Duo ($1,699) - Dual Cat-12 modems, designed for mobile installations. With two cellular modems and two dual SIM slots, the Transit Duo allows up to four different cellular providers to be ready to be switched between.
MAX Transit Duo with PrimeCare ($999) - The same Transit Duo with Dual Cat-12 modems as above, with an ongoing PrimeCare support contract (see below for a PrimeCare explanation) - which is required to enable all features.
Pepwave MAX Transit ($999) - Single Cat-12 modem version of the MAX Transit. Pepwave's Transit product line is designed to help commuter buses and trains keep passengers connected, but they can do the job on an RV or boat too. With support for 400Mbps router throughput, Pepwave claims the Transit can handle 150 connected users at once.
Pepwave MAX BR1 ENT ($649) - Single Cat-12 modem in a router with no built-in Wi-Fi. Designed to host a local network with external Wi-Fi access points, like the AP One AC Mini ($129). This MAX model also features three gigabit ethernet ports and a USB port for tethering a more traditional hotspot or USB modem as a secondary connection to the internal cellular.
The Transit, Transit Duo, and BR1 Ent are all particularly interesting for use in RVs and yachts - primarily for those with more demanding needs.
And the MAX Transit Duo with PrimeCare is an especially enticing value - read on to understand why.
NOTE: The older Cat-6 versions of most of these models will remain available (and in some cases might actually cost more), so if you want the Cat-12 capabilities be sure to check the specs and confirm that you are ordering the "FirstNet" versions.
Peplink's Cat 6 "LTE Advanced Pro" Product Line
Cat 6 modems are capable of peak theoretical cellular speeds of 300Mbps down and 50Mbps up - with real-world performance typically a fraction of that. And as of mid-2019, Peplink still has much of their product line coming with these modems.
The Cat 6 Pepwave modems supported these LTE bands:
B1, B2, B3, B4, B5, B7, B8, B12, B13, B20, B25, B26, B29, B30, B41
This includes most of the key bands currently in use by all four major US carriers, including T-Mobile's "Extended Range LTE" on LTE Band 12 and AT&T's deployments on LTE Band 30.
Still in the Cat-6 Line-Up
MAX BR1 Mini ($399) - The most basic version of the MAX BR1 is a physically smaller version with WiFi-as-WAN and failover features disabled. This is a great value, and you can unlock these features later for $100 if needed. Note that the Mini does not have support for 5GHz Wi-Fi networking!
Pepwave MAX BR1 Classic ($549) - Pepwave's older version of the BR1 design has been updated with the Cat-6 modem. See below for a detailed comparison.
Pepwave MAX BR1 MK2 ($599) - After a long delay this update was finally released in December 2017. This is the LTE-A and 802.11ac Wi-Fi version of our previous top pick MAX BR1.
Pepwave MAX BR1 ENT ($599) - Cat-6 modem in a router with no built-in Wi-Fi. Designed to host a local network with external Wi-Fi access points, like the AP One AC Mini ($129). This MAX model also features three gigabit ethernet ports and a USB port for tethering a more traditional hotspot or USB modem as a secondary connection to the internal cellular.
Peplink Balance 30 LTE ($699) - Similar to the MAX BR1 ENT, the Balance 30 lacks any built-in Wi-Fi capability but It could function as a companion to a more capable downstream Wi-Fi router. Note - the Balance series are not packaged into mobile-friendly rugged metal enclosures
Pepwave MAX BR1 Pro ($799) - The "Pro" version of the BR1 is designed for "enterprise branch networks", and features 4x gigabit LAN ports, and 300Mbps Wi-Fi with support for 2.4GHz or 5GHz 802.11n (one or the other - not both). Though it has gigabit ethernet ports, without 802.11ac it will be lacking for demanding local networks.
MAX Transit Duo with PrimeCare (Cat-6) ($799) - The same Transit Duo discussed above, but with Cat-6 modems. An ongoing PrimeCare support contract (see below for a PrimeCare explanation) required to enable all features.
MAX BR1 IP55 ($799) - A special weatherproof version of the BR1 designed to be pole mounted outdoors, with an integrated directional antenna built right into the casing. Like the BR1 Mk2, it is limited to 100Mbps router throughput.
Though there are many options to consider - the MAX BR1 Mini and MAX BR1 Mk2 have proven popular models for most typical mobile users.
Other Pepwave MAX Options
These lack Cat-6 or Cat-12 modems, but are interesting parts of the Pepwave product line as well.
MAX On-The-Go & MAX 700 - Instead of built-in cellular modems, the MAX On-The-Go has four USB ports for tethering to external modems. The similar but much more advanced MAX 700 has 802.11ac, more ethernet ports, and faster 400Mbs router throughput. For those looking to bond or quickly switch between multiple standalone hotspots or USB modems, these options are worth a look.
MAX BR1 Slim ($599) - A physically smaller version of the BR1 that can be powered over USB, intended for mobile deployments (think roving reporter backpacks) powered by USB battery packs. This model has NOT been updated with Cat-6 LTE-A or 802.11ac support yet, and is really intended for a very specialized niche.
MAX Transit Mini with PrimeCare ($399) - More closely related to the MAX Mini than the full-size Transit, the Transit Mini is currently the only Pepwave device with support for T-Mobile's LTE Band 71. It also supports AT&T FirstNet. But the limited Cat-4 modem in the Transit Mini means that for most uses the regular BR1 Mini is a better option.
---
Peplink PrimeCare Support Contracts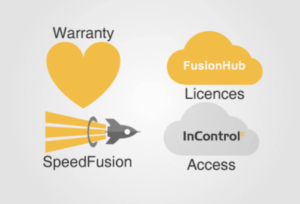 Perhaps following in Cradlepoint's footsteps, Peplink introduced in mid-2019 that some new devices will come with a "Peplink PrimeCare" subscription service to enable advanced features, remote cloud management, and ongoing extended warranty support.
Because Peplink is looking forward to ongoing revenue from PrimeCare devices, they are dropping the upfront sale price of devices sold with PrimeCare. For example, the MAX Transit Duo (Cat-6) with PrimeCare is $799, massively cheaper than the current $1,899 list price without PrimeCare.
But unlike with Cradlepoint where an ongoing support contract is required for basic functionality (even for firmware updates!) - Peplink assures customers that Pepwave routers will remain generally useable if the subscription is ever allowed to lapse.
Here is how Peplink's PrimeCare terms and conditions describe what will happen once PrimeCare expires:
Out of Subscription Devices: If a PrimeCare device is not subscribed to PrimeCare, it will maintain networking functionality and remain configurable via the on-device Web UI. InControl access, FusionHub licenses, and PrimeCare software features such as SpeedFusion Bonding will be disabled. All other functionality will remain unaffected.
The first device offered with PrimeCare is the new MAX Transit Mini ($399), a Cat-6 version of the MAX Transit Duo ($799), and a Cat-12 version of the MAX Transit Duo ($999).
For the Transit Mini, PrimeCare costs $49/year and unlocks WiFi-as-WAN and ethernet as WAN features, as well as failover capabilities.
For the Transit Duo, PrimeCare cost s $199/year and unlocks SpeedFusion bonding features to combine multiple simultaneous individual connections into one faster and more reliable merged connection.
All PrimeCare devices come with the first year of PrimeCare free - factoring in that a year of PrimeCare ($199) is included - that makes for a doubly amazing deal.
As an example of the savings - the new Cat-12 Transit Duo is $999 with PrimeCare, $1,699 without.

SpeedFusion feature on the full-priced Transit Duo costs a one-time $1,200 to unlock. At that price - it will take six years of ongoing usage before PrimeCare ends up costing more.
Presumably, Peplink will begin offering PrimeCare versions for additional products as well - perhaps eventually making PrimeCare the default across the board.
---
More Information Available to our Members

We are honored to be able to present the above overview for free without 3rd party advertising.
In thanks for funding this resource center our members have access to any further notes, analysis, insider info, member experiences and/or our full in-depth review of this product or offering.
If you're a member, please log in above to read the review.
Purchasing Options
Members - be sure to check the Member Discounts page for some potentially very substantial savings on purchasing Pepwave routers.
LivinLite.net - Some models are offered with antenna bundles for extra savings.
SinglePoint - The SinglePoint 'WiFi in Motion' bundles are built around the Pepwave MAX routers, bundled with RV-friendly antennas, service plans, and support.
Related News Center Articles
The guides below have been hand-picked to help further your education about selecting & using mobile routers.