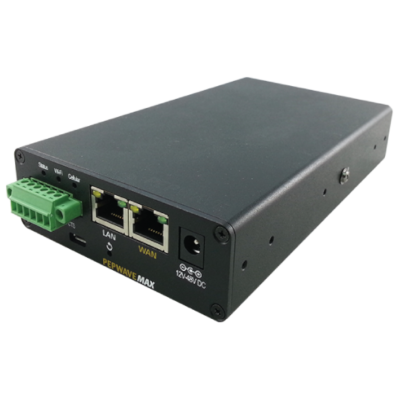 Peplink is a large and respected company in the high-end mobile networking space, particularly well known for providing cellular connectivity for everything from fleets of vehicles to cruise ships to dispersed corporate offices.
Peplink is also a key provider of bonding technology that allows a router to combine multiple network connections together for increased performance, or extreme redundancy and reliability.
While Peplink's Pepwave cellular integrated routers are not specifically designed with individual mobile users in mind, Peplink does offer solid and well-supported products that many advanced consumers have grown to rely on. They also offer some consumer level options.
Table of Contents
Public Content
Member Content
---
Pepwave Product Lineup Quick Glance
The diverse Pepwave product line can be overwhelming to navigate, as they offers dozens and dozens of models and variations.
They start at routers with minimal features and lower end modems with consumer pricing as low as $199.. all the way to high level enterprise gear priced in the multi-thousands. Some models are specifically ruggedized for mobility, such as their MAX line-up. Others are more intended for stationary office use, but might still have appealing features when used in a mobile environment.
As Pepwave is intended to managed by an IT department of a company, navigating their product line and interface isn't intended for those without some tech-savviness.
If you just want to focus on the options that we find most appealing to our audience of consumer level mobile travelers, there are the models that we specifically track and recommend starting your research with (click for our more detailed information on each - including reviews):
Below our members can dive in deeper into the product line with videos, spreadsheets and categorized listings - as well as our hands on testing notes.
---
Universal Features
While the models may vary in modem, LAN and processor specifications - some features are fairly ubiquitous across Pepwave's lineup. Here are some of the features commonly found across the product lineup:
High Number of Connected Devices
Ethernet Based LAN - Fast or Gigabit
Wi-Fi Based LAN - On most models
Wi-Fi as WAN - On most models
USB Cellular Tethering - Not on most models
Emdedded Cellular Modem - Dual or Single, ranging from Cat 4 - Cat 18
Multi Cellular Carrier Support
Dual SIM slots per Modem
External Wi-Fi and Cellular Antenna Ports (non internal)
Data Usage Tracking
Auto Failover
Integrated GPS
SpeedFusion Bonding
Band Locking
TTL Settings
---
This Review Contains Additional Member Exclusive Content

We are honored to be able to present the above overview for free without 3rd party advertising or sponsorships. We are not paid by the manufacturer of this product to provide this listing or review, and nor are we selling this equipment or plan (purchasing links are provided below as a courtesy and some may be affiliates).
Our members have funded this resource center and any extensive hands on time
we have spent with the product to review it.
The in-depth portions of this review are made available to them which might contain: hands on testing notes, field testing data, user interface tour, product analysis, comparison to alternatives, setup tips, video tutorial, insider tips, vendor discounts and fellow member experiences.
If you're a member, please log in to continue with this review.
If you're not a member.. please consider joining us!
Purchasing Options
Members - be sure to check the Member Discounts page for some potentially very substantial savings on purchasing Pepwave routers.
MobileMustHave - Some models are offered with antenna bundles for extra savings. MIA members have a discount here.
SinglePoint - The SinglePoint 'WiFi in Motion' bundles are built around the Pepwave MAX routers, bundled with RV-friendly antennas, service plans, and support.
Related News Center Articles & Video Overviews:
Peplink's New Pepwave Puma Antenna Line - With Sub-6 5G and Band 71 Support Posted on: August 26, 2020
Peplink Router Firmware 8.1 Brings SpeedFusion Cloud Bonding & More Posted on: August 14, 2020
Peplink Balance 20X Router - An Intriguing New Option for Mobile Users Posted on: July 21, 2020
Peplink Provides SpeedFusion Free For 90 Days In Repsonse to COVID-19 Posted on: March 24, 2020
An Overview of T-Mobile LTE Band 71 and Compatible LTE Modems & Routers (WiFiRanger, Gli.Net, Mofi, Pepwave, etc.) Posted on: March 13, 2020
Pepwave Cellular Routers Refreshed with LTE Cat-18 Modems, T-Mobile Band 71 Posted on: February 19, 2020
Geek News Alert: Peplink Removes Throughput Limit For SpeedFusion Bonding Servers Posted on: November 12, 2019
Pepwave MAX Cellular Routers Refreshed with LTE Cat-12 Modems, AT&T FirstNet Compatibility, and More Posted on: August 5, 2019
The guides below have been hand-picked to help further your education about selecting & using mobile routers.