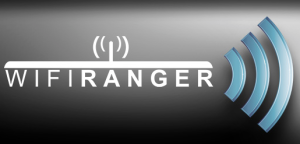 WiFiRanger today announced that it will be showing off its new 'Converge' product line at the RVX RV Industry trade show next week in Salt Lake City.
The roof-mounted Converge is designed to give RV manufacturers a single do-everything shark fin full of technology that they can offer up on new RVs starting in the 2020 model year.
The Converge will also be made available as an aftermarket purchase for individual consumers with a target ship date of July 2019.
Just what is being converged?

Wi-Fi, cellular, HDTV, AM/FM, GPS, and more - potentially even an integrated backup camera and an "AI Voice Control" assistant you can talk to.
Video Version of this Story:

Subscribe to our YouTube Channel
---
WiFiRanger CEO Kelly Hogan explained the Converge vision in a press release:
"The entire objective of the Converge product line has been to re-think standards the legacy RV industry has dealt with, and then envision what the user experience should be. Converge delivers this through a rooftop system, encapsulating multiple systems and minimizing footprint while converging Wi-Fi, LTE, radio, HDTV and GPS into a single beautiful enclosure. The indoor products include our private AI universal assistant, and the wall InfoCenter that simplifies RV connectivity and control for the owner. All products are equally controlled by voice, or via more traditional handheld device apps."
The Converge will be the biggest update to WiFiRanger's product line since the WiFiRanger GoAC, Core, EliteAC, and SkyPro were released in November 2016 - and the Converge is unlike anything else that WiFiRanger has produced before.
But it is only being shown in early prototype form - so don't get too excited just yet.
WiFiRanger is heading to RVX to try and entice RV manufacturers to place bulk orders. The deeper details of what the Converge will cost and the technical capabilities are being held back for now.
Why is WiFiRanger focusing on converging so many different functionalities?
And - will it be worth waiting for?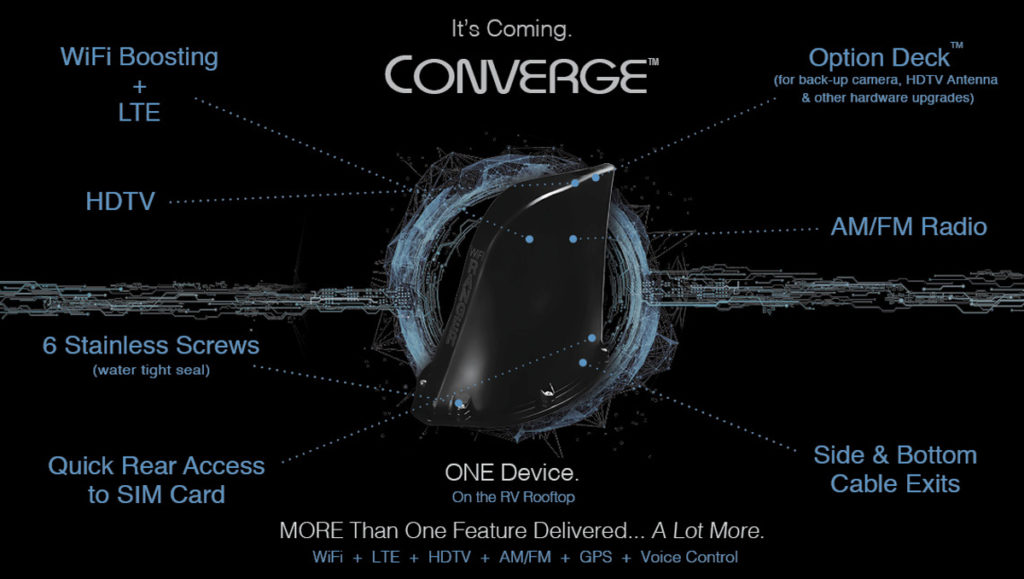 Why Converge All The Things?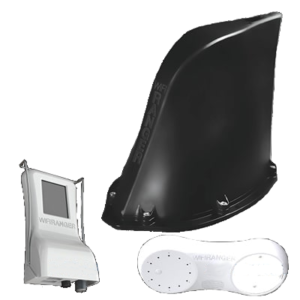 While much of our audience is familiar with WiFiRanger as a popular aftermarket supplier of Wi-Fi extending and mobile router gear - WiFiRanger's core business has been focused on supplying OEM products to RV manufacturers for installation on new RV models.
But while some RV manufacturers might equip a few models with WiFiRanger gear, most RVs are delivered with integrated TV antennas and AM/FM radios.
And over the past two years companies like Winegard, Furrion, King and Magnadyne have expanded their roof TV antenna options to include bundled cellular and/or Wi-Fi features as well. We covered this growing trend late last year in our industry analysis: Looking Ahead: Will 2019 Be The Year of the Smart & Connected RV?.
To keep from being pushed out of the new RV market, WiFiRanger seems to have decided to go after these incumbents on their own turf - offering TV and AM/FM in addition to their established stronghold in connectivity.
It is an all-out battle for the roof of new RVs - and the winner will be the company that can combine the most functionality into a single unit that best appeals to RV manufacturers.
WiFiRanger is hoping their shark fin will be a winner, saying:
"An equally important consideration in the design of the ecosystem was to re-imagine the aesthetics of devices inside, and on the roof of the RV. It seemed to us that manufacturers and owners were limited to roof devices resembling buckets, boxes, or mushrooms, so we proved that function and beauty can co-exist in an aerodynamic and aesthetically pleasing fin shape, housing communication antennas and facilitating options for the future."
The Converge is designed to be modular - so RV manufactures can pick and choose what features to build in, and presumably, end users will be offered upgrade options going forward as well.
There will also be an "OptionDeck OnPoint antenna rotator" available that can be used to aim an amplified HDTV antenna for better over the air TV reception. Indoor options will include touch screen wall controls and an AI voice-controlled "Hey Ranger" assistant.
Is Converge Worth Waiting For?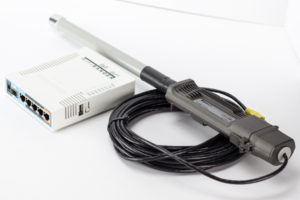 WiFiRanger gave us a sneak preview of the Converge a month ago, and we were allowed to give our premium members a heads up that something new was coming.
But now that the Converge is officially announced and is front and center on WiFiRanger's website - anyone considering a WiFiRanger product will be forced to decide whether to wait for the new Converge, or to buy the current-and-still-relevant 2016 models that are shipping now.
And for now, the available information (or rather, lack thereof) on the Converge only adds more confusion as to what the upcoming WiFiRanger product lineup will look like.
We can only hope that WiFiRanger begins to fill in some blanks soon.
Publicly announcing early like this puts prospective customers in a tough spot - and potentially risks the Osborne effect.
At present time, information on the Converge is mostly aimed at RV manufacturers looking to decide what equipment they'll standardize on for the 2020 model year.
We're not convinced that all of the integrated features will have nearly as much of an appeal to the aftermarket consumer - but the modular nature of the new product line opens up a lot of potentially interesting upgrade options.
Most individual consumers looking to add better long range Wi-Fi access to an existing RV probably already have TV and radio antennas handled. And informed consumers tend to prefer utilizing flagship standalone mobile cellular devices, as they remain a step ahead of current roof-mounted integrated LTE systems.
But overall - unless you are urgently in the market for roof-mounted Wi-Fi equipment in the near term, it may be worth holding off on purchases a couple of months until more details about the Converge are known.
We are slated to get an early demo unit, and we will be sharing our impressions with our site members as soon as we are able.
WiFiRanger in the News Updates: