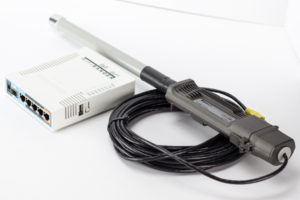 WiFiRanger has a long history of serving the RV market with indoor routers and companion roof-mounted long-range gear that many have come to rely on.
The WiFiRanger GoAC router is WiFiRanger's latest flagship, released in November 2016 to replace the Go2 in WiFiRanger's product lineup.
The GoAC brings simultaneous dual-band 2.4GHz (802.11n) and 5GHz (802.11ac) Wi-Fi to the WiFiRanger line, as well as gigabit ethernet ports.
And the GoAC retains WiFiRanger's signature feature - a POE (Power Over Ethernet) port designed to power and control a long-range WiFiRanger outdoor unit on the roof.
WiFiRanger routers are designed with the needs of RVers in mind - and the GoAC in particular sets a new standard and is deservedly a Top Pick.
Specifications
Wi-Fi Router: Yes

5GHz Wi-Fi

: 802.11 ac/a/n - 1300Mbps Max (3x3 MIMO ) - 2.0dB Antenna

Wi-Fi Antenna:

Integrated internal. Can pair with EliteAC or Sky2/SkyPro on the roof.
Wi-Fi as WAN: Yes
Claimed Wi-Fi Range: 750 ft
Guest Wi-Fi Network: Yes

Integrated Cellular Modem: No

Special Features:

Data Usage Tracking, Auto Failover, Load Balancing

Power Source:

12v or 110v AC

Dimensions:

5.4" x 4.5" x 1"

Outdoor Rated:

No

Retail Price:

$349.99
Other Models & Variations
The WiFiRanger GoAC from a distance looks nearly identical to the older WiFiRanger Go2 and even the original WiFiRanger Go - but under the hood it is a completely different and much more capable beast.
The WiFiRanger Core is also easily confused with the GoAC from a distance - though it is physically smaller. And while they both support 802.11ac, the performance differences between the basic Core and the flagship GoAC are substantial.
Be sure to do your research to pick which WiFiRanger model fits your needs the best.
---
Table of Contents
Free/Public:
Member Exclusive Content / Review:
---
Review & Testing Status
WiFiRanger sent us a review unit of the GoAC for evaluation in late 2016.
We have had the GoAC in active head-to-head testing against several other competitors since the beginning of 2017 - and we have even made it our primary mobile router for weeks on end to stress test it.
We share our more detailed analysis, hands-on thoughts, and an in-depth video guide with our members below.
And members can view our ongoing field testing and range results here:
Mobile Router & Wi-Fi Gear Testing (Winter 2016/2017)
---
Unboxing Video
Here is our quick unboxing video and first impressions of the WiFiRanger GoAC, Core, EliteAC, and SkyPro.
Our deeper analysis, impressions, and video guide are in our members-only section.
---
Potential Alternatives to Consider:
For other popular mobile routers on the market we are tracking - here are our featured options:
Learn More About Selecting Mobile Routers
---
More Information Available to our Members

We are honored to be able to present the above overview for free without 3rd party advertising.
In thanks for funding this resource center our members have access to any further notes, analysis, insider info, member experiences and/or our full in-depth review of this product or offering.
If you're a member, please log in above to read the review.
Purchasing Options
WiFiRanger primarily sells direct online and at RV rallies.
Members: Be sure to check the Members Discount page for an exclusive discount code to use when ordering.
Related News Center Articles
WifiRanger Offers AT&T-Based Data Plans Posted on: July 31, 2019
WiFiRanger Launches SkyPro3, Finalizes 7.0.8 Firmware Update Posted on: July 9, 2019
ALERT: WiFiRanger Recalls Defective 12V-to-24V Power Supplies Posted on: May 1, 2019
WiFiRanger Teases Upcoming 'Converge' That Combines Wi-Fi, LTE, AM/FM, HDTV, and GPS Posted on: March 5, 2019
2018 Mobile Internet Year in Review & Looking Forward Into 2019 Posted on: December 31, 2018
The guides below have been hand-picked to help further your education about selecting & using mobile routers.