The WiFiRanger GoAC router was WiFiRanger's 2016 flagship released in November 2016 replacing the Go2 in WiFiRanger's product lineup.
It is now superseded by the WiFiRanger Spruce, released in late October 2019.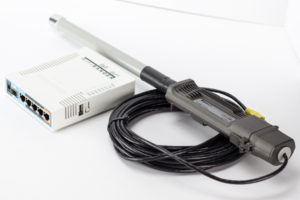 WiFiRanger has a long history of serving the RV market with indoor routers and companion roof-mounted long-range gear that many have come to rely on.
The GoAC brings simultaneous dual-band 2.4GHz (802.11n) and 5GHz (802.11ac) Wi-Fi to the WiFiRanger line, as well as gigabit ethernet ports.
And the GoAC retains a POE (Power Over Ethernet) port designed to power and control a long-range WiFiRanger outdoor unit on the roof.
WiFiRanger routers are designed with the needs of RVers in mind - and the GoAC deservedly held a Top Pick status.
For an overview of the full WiFiRanger product line (and a look at some of the software features in common across different devices), see our gear center entry:
Specifications
Retired in early 2020
In late 2019, WiFiRanger released their new Converge and Tetherpoint line-up - the WiFiRanger Spruce is the upgraded equivalent to the GoAC form factor and is only $119, and much more powerful. They also have other interior router options.
The GoAC is currently only available if purchased with the EliteAC pack. It will continue to be available until they run out of stock, and supported long into the future for current customers for firmware updates and warranty repairs.
---
Table of Contents
Free/Public:
Member Exclusive Content / Review:
---
Review & Testing Status
WiFiRanger sent us a review unit of the GoAC for evaluation in late 2016.
We have had the GoAC in active head-to-head testing against several other competitors since the beginning of 2017 - and we have even made it our primary mobile router for weeks on end to stress test it.
We share our more detailed analysis, hands-on thoughts, and an in-depth video guide with our members below.
And members can view our ongoing field testing and range results here:
Mobile Router & Wi-Fi Gear Testing (Winter 2016/2017)
---
Unboxing Video
Here is our quick unboxing video and first impressions of the WiFiRanger GoAC, Core, EliteAC, and SkyPro.
Our deeper analysis, impressions, and video guide are in our members-only section.
---
For other popular mobile routers on the market we are tracking - here are our featured options:
---
This Review Contains Additional Member Exclusive Content!
We are Honored to be Member Funded!
No ads, no sponsors, no selling (but may contain affiliate links)
Our members fund our in-depth independent reviews.
This entry may contain additional member exclusive content such as testing notes, field testing data, user interface tours, comparisons to alternatives, analysis, tips, videos and discounts.
Members also get interactive guidance, alerts, classroom and more. 
Purchasing Options
WiFiRanger primarily sells direct online and at RV rallies.
Members: Be sure to check the Members Discount page for an exclusive discount code to use when ordering.
Related News Center Articles
Routers can serve as a central conductor of your local area network in your RV and boat. Mobile routers are different from residential routers in that they typically support multiple internet sources like cellular and Wi-Fi, can be powered off of 12v or AC and support external antenna for better receiving signal. 
But you might not need a router in your setup. Here's a quick video overview the variety that routers come in:
For more on learning about mobile routers and how they might fit in your setup, follow up with our educational resources: