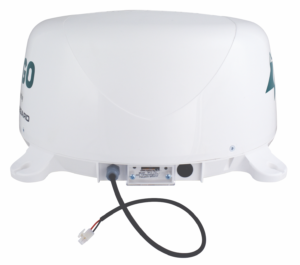 Togo has partnered with Winegard to manufacture the Roadlink C2, basing it on a slightly modified version of the Winegard ConnecT 2.0 that adds a GPS receiver to allow remote tracking functions through an app.
Togo also promises future GPS location-based services and features that will be rolled out to tap into this capability.
The Roadlink C2 is a completely outdoor roof mounted unit, with no indoor component. Inside the 16" diameter and 8" height dome there are 3 Wi-Fi antennas for reaching remote Wi-Fi access points, and a cellular modem with dual antennas.
It's a clean and simple all-in-one unit that only requires running a single 12v power cord from the roof to your RV's interior. Your indoor Wi-Fi network is broadcast wirelessly from your roof.
The Roadlink C2 has access to special data plans for RV owners thanks to a partnership with AT&T - making this a particularly interesting option for RVers interested in affordable unlimited data.
Specifications:
Wi-Fi Router:

Indoor Wi-Fi:

None - roof does double-duty.
Wi-Fi Antenna: 3x Outdoor Antennas
Wi-Fi as WAN: Yes - Roof Mounted Long Range
Guest Wi-Fi Network: Yes

Integrated Cellular Modem & Antennas:

Locked to AT&T - only compatible with Roadlink plan.
LTE bands B2, B4, B5, B13, B17.
UMTS B2 / B5.
Mini-SIM Slot - must access roof to swap SIM cards.
LTE Cat 4 - Peak Theoretical 150Mbps Down, 50 Mbps Up

Ethernet Ports: No easily accessible port.

Power Source:

Direct 12V power supply.

Dimensions:

16" diameter, 8" tall.

Outdoor Rated:

Yes
Other: GPS Tracking Features

Retail Price:

$399
---
Cellular Plan Options
The Roadlink C2 is designed for use with the AT&T RV Data Plans.
The Winegard ConnecT 2.0 hardware is compatible with Verizon and T-Mobile, but Togo tells us that the Roadlink C2 is locked so that it will only work with the official companion Roadlink data plans.
---
Who is Togo?

Togo is the technology division of a new company in the RVing market called TH2, which started up in late 2018 as a partnership between RV industry giant Thor Industries and Tourism Holdings, Ltd.
Thor Industries also owns Airstream, which is how they were able to tap into the same Unlimited Adventure data plan negotiated with AT&T.
---
Review & Testing Status
Our in-depth review of the ConnecT 2.0 is available to our members. If there is anything significantly different about the Togo offering, we may seek out an evaluation unit.
---
Potential Alternatives to Consider:
For other popular mobile routers on the market we are tracking - here are our featured options:
Learn More About Selecting Mobile Routers
---
More Information Available to our Members

We are honored to be able to present the above overview for free without 3rd party advertising.
In thanks for funding this resource center our members have access to any further notes, analysis, insider info, member experiences and/or our full in-depth review of this product or offering.
If you're a member, please log in above to read the review.
Purchasing Options
Related News Center Articles
The guides below have been hand-picked to help further your education about selecting & using mobile routers.