This device has been discontinued or we consider it obsolete. While current owners of this device may continue to find performance to be adequate for the foreseeable tech-future, we do not recommend upgrading to or purchasing this device.
WiFiRanger quit offering this option in Spring 2020 when their supply chain ran out due to the pandemic. Their Converge Everest will replace it in their line-up as a unit that supports dual band Wi-Fi as WAN. And they will no longer have a pole mounted option.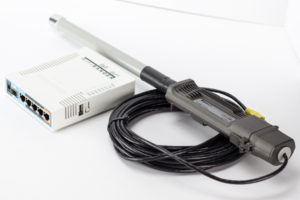 To best bring in distant Wi-Fi, nothing beats having a powerful dedicated radio up on the roof.
This is exactly the task the WiFiRanger EliteAC is designed for.
Replacing the older WiFiRanger Elite, the WiFiRanger flagship EliteAC released in November 2016 has a dual-band single-chain 802.11ac radio paired with a high gain antenna that can pick up remote 5GHz or 2.4GHz signals - potentially from as far as 2 miles away.
The 19" tall WiFiRanger EliteAC is designed to be mounted on a rear ladder or onto a retractable batwing-style TV antenna on an RV roof, but a flat-mount kit is available as well.
For an overview of the full WiFiRanger product line (and a look at some of the software features in common across different devices), see our gear center entry:
Specifications
Retiring?
While WiFiRanger has begun releasing their new Converge line-up in late 2019 - the EliteAC remains the flagship rooftop option for those seeking dual 5Ghz and 2.4Ghz long range Wi-Fi extending.
That will change once the Converge Everest releases in 2020.
However the Everest can only be flat mounted on a roof, so WiFiRanger has let us know that they do NOT intend to retire the EliteAC, keeping this pole mount option available into the future. However, due to COVID-19 and the Mikrotik factory not coming back on line, their remaining stock is very low. They are no longer offering this this unit for sale to new customers, keeping their limited hardware available for warranty replacements. This could change in the future.
Other Models & Variations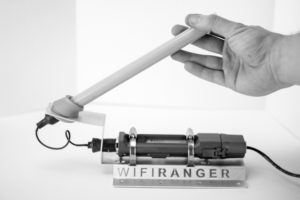 The WiFiRanger EliteAC appears identical to the older WiFiRanger Elite - but under the hood the new model supports 802.11ac Wi-Fi and connecting to both 2.4GHz and 5GHz remote networks.
The EliteAC is also available as a "Flat Mount" version that has a L shape and a lower profile that makes it easier to mount on some RV roofs, particularly those lacking in a batwing antenna or a ladder to attach the taller basic EliteAC to.
The Flat Mount EliteAC costs $50 more, and includes a Flex-Guard antenna designed to better survive tree branch strikes.
---
Table of Contents
Free/Public:
Member Exclusive Content / Review:
---
Review & Testing Status
WiFiRanger sent us a review unit of the EliteAC for evaluation in late 2016.
We have had the EliteAC mounted on our RV roof ever since, and have had it in active head-to-head testing against several other competitors.
We share our more detailed analysis, hands-on thoughts, and an in-depth video guide with our members below.
And members can view our ongoing field testing and range results here:
Mobile Router & Wi-Fi Gear Testing (Winter 2016/2017)
---
Unboxing Video
Here is our quick unboxing video and first impressions of the WiFiRanger GoAC, Core, EliteAC, and SkyPro.
Our deeper analysis, impressions, and video guide are in our members-only section.
---
Potential Alternatives to Consider:
For other popular mobile routers on the market we are tracking - here are our featured options:
Learn More About Selecting Mobile Routers
---
This Review Contains Additional Member Exclusive Content!
We are Honored to be Member Funded!
No ads, no sponsors, no selling (but may contain affiliate links)
Our members fund our in-depth independent reviews.
This entry may contain additional member exclusive content such as testing notes, field testing data, user interface tours, comparisons to alternatives, analysis, tips, videos and discounts.
Members also get interactive guidance, alerts, classroom and more.
---
Purchasing Options
Members: Be sure to check the Members Discount page for an exclusive discount code to use when ordering.
Related News Center Articles
The guides below have been hand-picked to help further your education about selecting & using mobile routers.