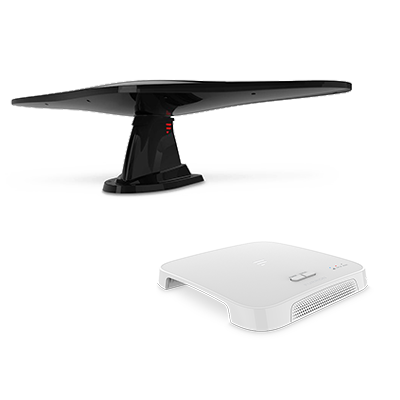 FurrionAccess offers an indoor/outdoor router and antenna system that integrates 4G LTE and Wi-Fi with standard TV and AM/FM reception.
It is designed to run on Verizon LTE bands, includes a Wi-Fi booster, and is also advertised to receive HD TV signals.
The LTE / Wi-Fi router portion of the Access set-up will come as a snap-in option and is reportedly able to extend a LAN up to 400 feet.
This system is designed to work in tandem with Furrion's 4G LTE pay-as-you-go data plans on the Verizon network. Pricing varies from $6-30 per GB depending on how much you buy, which is pricey compared to other options available.
This system requires a 2" hole in the roof. It is a pre-installed option in many Keystone brand RVs.
Specifications
Model Number:
Router Specs:

# of Connected Devices:
Wi-Fi Router:

2.4GHz Wi-Fi: 802.11b/g/n
5GHz Wi-Fi: 802.11ac
Wi-Fi as WAN: Yes
Claimed Wi-Fi Range: 400 feet
Guest Wi-Fi Network: Unknown

Control Panel and Default Password:

Control Panel Access: 192.168.0.1 with subnet 255.255.255.0
Default Password: Username: admin and Password: admin

USB Tethering Support:
Ethernet Ports: 2x Gigabit

Cellular Modem Specs:

Outdoor Antenna Unit:

Omni-directional antenna
Receives: VHF, UHF, FM, AM and LTE signal
Color: White or black

Dimensions:

Router: 6 5/8" x 6 5/8" x 1"
Antenna: 29" x 10" x 8"

Other Ports: USB
Power Source: 12V DC
Outdoor Rated: Yes (antenna)
Special Features:

Retail Price:

Antenna:$124.95
Wi-Fi/Cellular Router: $378.95
---
News, Videos & Status
We do not intend to obtain a unit to review.
Related News Center Articles
---
---
Purchasing Options
Furrion Website: Router Roof Antenna