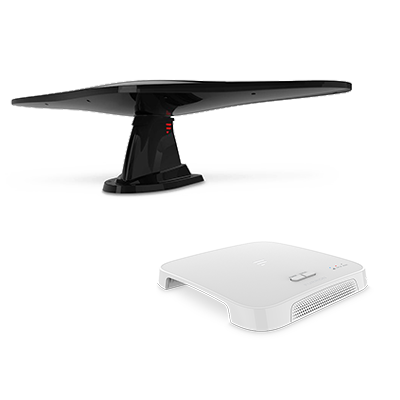 FurrionAccess offers an indoor/outdoor router and antenna system that integrates 4G LTE and Wi-Fi with standard TV and AM/FM reception.
It is designed to run on Verizon LTE bands, includes a Wi-Fi booster, and is also advertised to receive HD TV signals.
The LTE / Wi-Fi router portion of the Access set-up will come as a snap-in option and is reported to be able to extend a LAN up to 400 feet.
This system is designed to work in tandem with Furrion's 4G LTE pay-as-you-go data plans on the Verizon network. Pricing is around $10-20 per GB, which is pricey compared to other options available.
This system requires a 2" hole in the roof. It is being pre-installed option in many Keystone brand RVs.
Specifications
Outdoor Antenna Unit:

Omni-directional antenna
Receives: VHF, UHF, FM, AM and LTE signal

Dimensions:

29' 'x 10'' x 8''

Outdoor Rated:

Yes - IP56
Color: White or black

Retail Price:

Antenna:$114.99
Wi-Fi/Cellular Router: $359.99
---
Review & Testing Status
We do not intend to obtain a unit to review.
---
Potential Alternatives to Consider:
For other popular mobile routers on the market we are tracking - here are our featured options:
Learn More About Selecting Mobile Routers
---
More Information Available to our Members

We are honored to be able to present the above overview for free without 3rd party advertising.
In thanks for funding this resource center our members have access to any further notes, analysis, insider info, member experiences and/or our full in-depth review of this product or offering.
If you're a member, please log in above to read the review.
Purchasing Options
Furrion Website: Router Roof Antenna
Related News Center Articles
The guides below have been hand-picked to help further your education about selecting & using mobile routers.