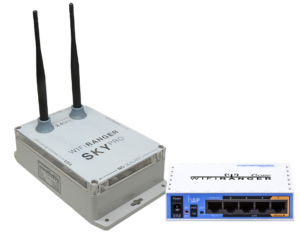 To best tap into distant Wi-Fi, nothing beats having a Wi-Fi radio up on the roof dedicated to the task.
The WiFiRanger SkyPro (released in November 2016 and updated to SkyPro3 in July 2019) is designed for exactly this.
The SkyPro consists of a small weather-sealed box with dual stubby antennas (total height 8") on top.
The two antennas are what sets the SkyPro apart - enabling it to use MIMO technology to double Wi-Fi speeds under the right conditions.
The SkyPro is a smaller, simpler, and cheaper option than WiFiRanger's flagship EliteAC - and while it may look similar, it is much more capable than the now discontinued entry-level Sky2.
For many users - the SkyPro strikes a great balance, and it is one of our top recommendations for anyone interested in taking advantage of distant Wi-Fi networks.
And if you also want the convenience of integrated rooftop cellular, an integrated cellular modem is available for a $200 upgrade fee.
Specifications
Wi-Fi Router: Yes

2.4GHz Wi-Fi:

802.11 b/g/n - (2x MIMO) 300Mbps Max

5GHz Wi-Fi

: N/A
Wi-Fi Antenna: Dual Integrated 5dBi Antennas
Claimed Wi-Fi Range: 1.5 miles
Wi-Fi as WAN: Yes
Guest Wi-Fi Network: Yes

Ethernet Ports: No, but can pair with GoAC or Core for this functionality.

Special Features:

Data Usage Tracking, Auto Faillover

Power Source:

POE (Power Over Ethernet)

Dimensions:

9.7" x 7.5" x 4.5"

Outdoor Rated:

Yes

Retail Price:

Alone: $289.99 | Paired with Core: $449.99 | LTE Option: $200 extra
Other Models & Variations
WiFiRanger Sky2 or the original WiFiRanger Sky - They look similar to the SkyPro, but have just a single antenna. The dual-antennas are a dead giveaway that you are looking at the "Pro" model.
SkyPro LTE - WiFiRanger began offering an LTE option in 2017, and with the SkyPro3 in 2019 they began offering a more capable modem. More: WiFiRanger Introduces Cellular-Integrated SkyPro LTE and WiFiRanger Launches SkyPro3.
Sky / SkyPro (OEM) - WiFiRanger also has slightly different models available that they sell directly to RV manufacturers for installation. These can vary in specifications based on what the manufacturer wants. They typically have names like Sky4 that don't match the two consumer accessible models (Sky2 and SkyPro). WiFiRanger does sell a LTE upgrade kit for those who receive the Sky4 or SkyPro pre-installed on their RV.
---
Table of Contents
Free/Public:
Member Exclusive Content / Review:
---
Review & Testing Status
WiFiRanger sent us a review unit of the SkyPro for evaluation in late 2016, and we added the SkyPro LTE into our testing lab beginning February 2018.
We share our more detailed analysis, hands-on thoughts, and an in-depth video guide with our members below.
And members can view our ongoing field testing and range results here:
---
Product Overview Videos
February 2018: Here's our first impressions of the beta release of the SkyPro LTE:
December 2016: Here is our quick unboxing video and first impressions of the WiFiRanger GoAC, Core, EliteAC, and SkyPro.
Our deeper analysis, impressions, and video guide are in our members-only section.
---
Potential Alternatives to Consider:
For other popular mobile routers on the market we are tracking - here are our featured options:
Learn More About Selecting Mobile Routers
---
More Information Available to our Members

We are honored to be able to present the above overview for free without 3rd party advertising.
In thanks for funding this resource center our members have access to any further notes, analysis, insider info, member experiences and/or our full in-depth review of this product or offering.
If you're a member, please log in above to read the review.
Purchasing Options
The SkyPro is typically sold as part of the SkyPro pack, bundled with a WiFiRanger Core indoor router for $449.99.
But you can buy the SkyPro standalone if you ask for it, or you can choose to order with the more capable indoor GoAC instead
April 2019 note: WiFiRanger seems to be having a temporary supply problem with compatibility with the SkyPro and GoAC pairing, and is not currently shipping this combo. Be sure to check in with them before ordering, hopefully this clears up soon.
Members: Be sure to check the Members Discount page for an exclusive discount code to use when ordering.
Related News Center Articles
WifiRanger Offers AT&T-Based Data Plans Posted on: July 31, 2019
WiFiRanger Launches SkyPro3, Finalizes 7.0.8 Firmware Update Posted on: July 9, 2019
ALERT: WiFiRanger Recalls Defective 12V-to-24V Power Supplies Posted on: May 1, 2019
WiFiRanger Teases Upcoming 'Converge' That Combines Wi-Fi, LTE, AM/FM, HDTV, and GPS Posted on: March 5, 2019
2018 Mobile Internet Year in Review & Looking Forward Into 2019 Posted on: December 31, 2018
The guides below have been hand-picked to help further your education about selecting & using mobile routers.