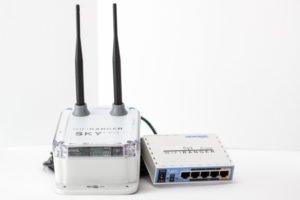 To best tap into distant Wi-Fi, nothing beats having a Wi-Fi radio up on the roof dedicated to the task.
The WiFiRanger SkyPro (released in November 2016) is designed for exactly this.
The SkyPro consists of a small weather-sealed box with dual stubby antennas (total height 8") on top.
The two antennas are what sets the SkyPro apart - enabling it to use MIMO technology to double Wi-Fi speeds under the right conditions.
The SkyPro is a smaller, simpler, and cheaper option than WiFiRanger's flagship EliteAC - and while it may look similar, it is much more capable than the entry-level Sky2.
For many users - the SkyPro strikes a great balance, and it is one of our top recommendations for anyone interested in taking advantage of distant Wi-Fi networks.
Specifications - WiFiRanger SkyPro
Other Models & Variations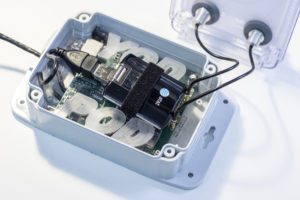 The WiFiRanger SkyPro may look similar to the basic WiFiRanger Sky2 or the original WiFiRanger Sky, but it is significantly more advanced - and the dual-antennas are a dead giveaway that you are looking at the "Pro" model.
WiFiRanger in April 2017 announced two new additional variants of the SkyPro that will be coming to market soon:
SkyPro YODPod - "Your Own Device" POD - adds a built in USB port and docking space under the case lid for you to addd a plug-in USB cellular modem that will give you a cellular connectivity option on your roof, well above low-level obstructions. As of spring 2018, this product is still not available.
SkyPro LTE - WiFiRanger has been experimenting with this new cellular integrated roof top unit since Spring 2017 - and we've had a couple of beta models in testing for them.
As of February 2018 they came out with a new unit that supports AT&T, Verizon and T-Mobile. Unfortunately in our 1st Quarter 2018 field testing we found it not quite ready for market yet and WiFiRanger made some adjustments that should have addressed the issues we had.
As of May 2018, they are now selling the SkyPro LTE model. It's a $200 uncharge from the non-LTE model with options to come shipped with a SIM card for your selected carrier (you can switch SIM cards on your own later). However it is released with beta firmware, and we don't consider it yet ready for most consumers (but if you enjoy helping troubleshoot new technology - go for it.)
For more information on these two new models, and the potential tradeoffs to be made sticking your cellular modem on the roof, read our story:
WiFiRanger Introduces Cellular-Integrated SkyPro LTE
Table of Contents
Free/Public:
Member Exclusive Content / Review:
Review & Testing Status
WiFiRanger sent us a review unit of the SkyPro for evaluation in late 2016, and we have the new SkyPro LTE in our testing lab beginning February 2018.
We share our more detailed analysis, hands-on thoughts, and an in-depth video guide with our members below.
And members can view our ongoing field testing and range results here:
Product Overview Videos
February 2018: Here's our first impressions of the beta release of the SkyPro LTE:
December 2016: Here is our quick unboxing video and first impressions of the WiFiRanger GoAC, Core, EliteAC, and SkyPro.
Our deeper analysis, impressions, and video guide are in our members-only section.
The Rest of this Review is:
Member Only Content
We are thrilled & honored to be primarily member & reader funded - allowing us to present unbiased content. The in-depth review section of this product listing is part of the premium membership benefits of joining. Members can also leave their own reviews on products.
If you're a member, please log in above to read the in-depth review for this product and/or leave your own review. If you've not joined yet, learn more about membership at:
Purchasing Options
WiFiRanger primarily sells direct online and at RV rallies.
Uniquely, LivinLite is the only other reseller of WiFiRanger products that we know of.
The SkyPro is typically sold as part of the SkyPro pack, bundled with a WiFiRanger Core indoor router for $449.99.
But you can buy the SkyPro standalone if you ask for it, or you can choose to order with the more capable indoor GoAC instead.
Members: Be sure to check the Members Discount page for an exclusive discount code to use when ordering.
Related News Center Articles
WiFiRanger SkyPro
Hardware

User Interface

Customer Service

Overall Performance
Quick Take
WiFiRanger's low-profile roof mounted SkyPro is a very solid option for any RVer looking to build in enhanced long-range Wi-Fi into their rig.
Comments Rating
( review)