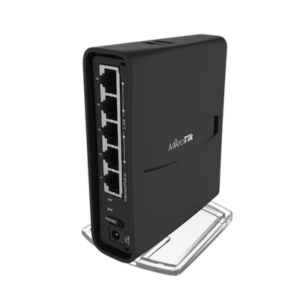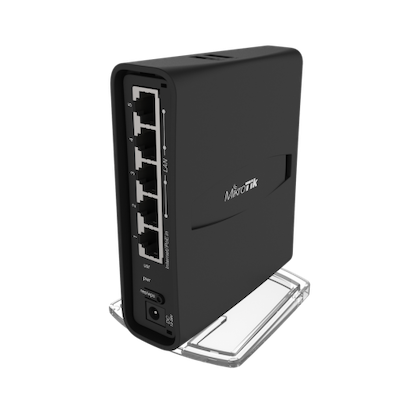 WiFiRanger's Spruce router is the mid-tier indoor router in WiFiRanger's Converge lineup that began shipping in October 2019. It offers a slim profile but with robust features, and is designed to easily pair with a Converge outdoor router (Teton, Denali, or Everest) installed on an RV roof.
But like the other WiFiRanger Converge routers, the Spruce also works standalone - and if you do not need the roof-mounted long-range capabilities - the Spruce by itself is an exceptional value with plenty of built-in features.
The Spruce has internal Wi-Fi antennas creating a slim design that can tuck into small spaces. But unlike the Poplar and the Aspen, the Spruce does not have an option for an embedded cellular modem. All of its cellular data capability comes via USB tethering, Ethernet, Wi-Fi-as-WAN, or from a paired rooftop Converge unit.
But with a powered USB hub, the Spruce allows up to three mobile hotspots and/or cellphones can be tethered to load balance across multiple WAN inputs - at least in theory.
The Spruce does have quite capable Wi-Fi-as-WAN capabilities, consistent with WiFiRanger's historic focus on this feature.
Under the hood, the Spruce has upgraded processing power compared to earlier WiFiRanger models. WiFiRanger tells us that:
"Spruce is like a GoAC (WiFiRanger's former indoor flagship) on steroids. It's 802.11ac with a quad core processor and hardware acceleration."
The Spruce replaces the former flagship WiFiRanger indoor router, the GoAC, which was priced vastly higher at $349.
The Spruce is fantastic value for a feature-packed router and we have transferred over to it the now-retired GoAC's top pick status.
Specifications
Model: Spruce
Base Technology: MikroTik HAPac2
Router Specs:

# of Connected Devices: Not specified
Wi-Fi Router:

Wi-Fi Standard: Wi-Fi 5 (802.11ac) - Simultaneous 2.4 GHz & 5 GHz
Max Theoretical Wi-Fi Speed: 300 Mbps (2.4 GHz), 866 Mbps (5 GHz)
Wi-Fi Notes: Wi-Fi 5 Wave 2 - MU-MIMO
Wi-Fi Antenna: 2x2 MIMO (Internal - No Antenna Ports)
Wi-Fi-as-WAN: Yes
Claimed Wi-Fi Range: Up to 600 feet
Guest Wi-Fi Network: Yes

Default Control Panel Address and Password:
Control Panel: mywifiranger.com or http://10.121.86.1/
Default Password: changemenowXXYY (XXYY" are the last four digits of the WFR ID)
USB Tethering Support: Yes - One natively, or up to three devices via a powered USB Hub.
Ethernet Ports: 5x - Gigabit Ethernet (LAN / WAN Switchable)

Cellular Modem Specs: N/A
Dimensions: 1.3" Tall x 4.6" Wide x 3.4" Deep
Other Ports: None
Power Source: 12V or 24V DC Power / AC Power Adapters Optional
Outdoor Rated: No
Special Features: Data Usage Tracking, Auto Failover, Load Balancing

Retail Price:

$120
---
News, Video & Status
In October 2019, we received our initial evaluation Spruce unit, along with a WiFiRanger Converge Denali - courtesy of WiFiRanger. Another MIRC team member received a Spruce with a Converge Everest for testing in the Spring of 2021.
We have integrated these into our testing and our initial review is shared with members below. Additional testing will occur as WiFiRanger firmware matures, as it is still technically in beta.
Members can track our continuing evaluation and full testing data in these forum posts:
Here is our first look video:
Related News Center Articles
---
---
Member Exclusive Content Below
Thoughts & Analysis

Favorite Features & Potential Downsides

Deep Dive

Hardware Analysis
Testing Notes

Summary
Purchasing Options
If you want to buy both indoor and outdoor units at once - this unit is typically available as part of a pack as well.