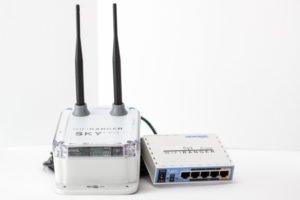 WiFiRanger has a long history of serving the RV market with indoor routers and companion roof-mounted long-range gear that many have come to rely on.
The WiFiRanger Core is WiFiRanger's latest mainstream offering, released in November 2016 to replace the WiFiRanger Mini in WiFiRanger's product lineup.
The Core brings simultaneous dual-band 2.4GHz (802.11n) and 5GHz (802.11ac) Wi-Fi to the WiFiRanger line, though it lacks the gigabit ethernet ports or raw networking performance of its larger sibling - the flagship WiFiRanger GoAC.
The Core does retain WiFiRanger's signature feature - a POE (Power Over Ethernet) port designed to power and control a long-range WiFiRanger outdoor unit on the roof.
WiFiRanger routers are designed with the needs of RVers in mind - and the Core is a great value offering a lot of capability for its price.
Specifications - WiFiRanger Core
Wi-Fi Router: Yes

5GHz Wi-Fi

: 802.11 ac/a/n - 433Mbps Max (No MIMO ) - 2.0dB Antenna

Wi-Fi Antenna:

Integrated, Can pair with EliteAC or Sky2/SkyPro on the roof.
Wi-Fi as WAN: Yes
Claimed Wi-Fi Range: 250 ft
Guest Wi-Fi Network: Yes

Integrated Cellular Modem: No

Special Features:

Data Usage Tracking, Auto Failover, Load Balancing

Power Source:

12v or 110v AC

Dimensions:

4.5" x 3.5" x 1"

Outdoor Rated:

No

Retail Price:

$159.99
Other Models & Variations
The WiFiRanger Core is easily confused with the WiFiRanger GoAC from a distance - though the Core is physically smaller. And while they both support 802.11ac, the performance differences between the basic Core and the flagship GoAC are substantial.
Be sure to do your research to pick which WiFiRanger model fits your needs the best.
Table of Contents
Free/Public:
Member Exclusive Content / Review:
Review & Testing Status
WiFiRanger sent us a review unit of the WiFiRanger Core for evaluation in late 2016.
We have had the Core in active head-to-head testing against several other competitors since the beginning of 2017 - and we have particularly focused on comparing it with the WiFiRanger GoAC.
We share our more detailed analysis, hands-on thoughts, and an in-depth video guide with our members below.
And members can view our ongoing field testing and range results here:
Mobile Router & Wi-Fi Gear Testing (Winter 2016/2017)
Unboxing Video
Here is our quick unboxing video and first impressions of the WiFiRanger GoAC, Core, EliteAC, and SkyPro.
Our deeper analysis, impressions, and video guide are in our members-only section.
The Rest of this Review is:
Member Only Content
We are thrilled & honored to be primarily member & reader funded - allowing us to present unbiased content. The in-depth review section of this product listing is part of the premium membership benefits of joining. Members can also leave their own reviews on products.
If you're a member, please log in above to read the in-depth review for this product and/or leave your own review. If you've not joined yet, learn more about membership at:
Purchasing Options
WiFiRanger primarily sells direct online and at RV rallies.
Members: Be sure to check the Members Discount page for an exclusive discount code to use when ordering.
Related News Center Articles
WiFiRanger Core Ratings
Hardware

User Interface

Customer Service

Overall Performance
Quick Take
WiFiRanger's mainstream indoor mobile router lacks a few key features, but is overall a great value.
Comments Rating
( reviews)