This device has been discontinued or we consider it obsolete. While current owners of this device may continue to find performance to be adequate for the foreseeable tech-future, we do not recommend upgrading to or purchasing this device.
The WiFiRanger Core was released in November 2016 to replace the WiFiRanger Mini in WiFiRanger's product lineup. In late 2019, WiFiRanger released a whole new line-up of routers that should now be considered instead.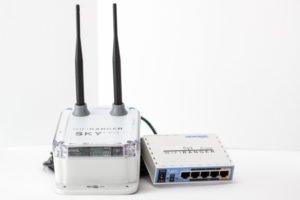 WiFiRanger has a long history of serving the RV market with indoor routers and companion roof-mounted long-range gear that many have come to rely on.
The Core brings simultaneous dual-band 2.4GHz (802.11n) and 5GHz (802.11ac) Wi-Fi to the WiFiRanger line, though it lacks the gigabit ethernet ports or raw networking performance of its larger sibling - the flagship WiFiRanger GoAC.
The Core does retain a POE (Power Over Ethernet) port designed to power and control a long-range WiFiRanger outdoor unit on the roof.
WiFiRanger routers are designed with the needs of RVers in mind - and the Core is a great value offering a lot of capability for its price.
For an overview of the full WiFiRanger product line (and a look at some of the software features in common across different devices), see our gear center entry:
Specifications
Wi-Fi Router: Yes

5GHz Wi-Fi

: 802.11 ac/a/n - 433Mbps Max (No MIMO ) - 2.0dB Antenna

Wi-Fi Antenna:

Integrated, Can pair with EliteAC or Sky2/SkyPro on the roof.
Wi-Fi as WAN: Yes
Claimed Wi-Fi Range: 250 ft
Guest Wi-Fi Network: Yes

Integrated Cellular Modem: No

Special Features:

Data Usage Tracking, Auto Failover, Load Balancing

Power Source:

12v or 110v AC

Dimensions:

4.5" x 3.5" x 1"

Outdoor Rated:

No

Retail Price:

$159.99
Retired in early 2020
In late 2019, WiFiRanger released their new Converge and Tetherpoint line-up - the WiFiRanger Spruce is the upgraded equivalent to the GoAC and Core form factor and is only $119, and much more powerful. They also have other interior router options.
The Core is currently only available if purchased as part of the SkyPro Pack, and will continue to be supported long into the future for current customers for firmware updates and warranty repairs.
---
Table of Contents
Free/Public:
Member Exclusive Content / Review:
Review & Testing Status
WiFiRanger sent us a review unit of the WiFiRanger Core for evaluation in late 2016.
We have had the Core in active head-to-head testing against several other competitors since the beginning of 2017 - and we have particularly focused on comparing it with the WiFiRanger GoAC.
We share our more detailed analysis, hands-on thoughts, and an in-depth video guide with our members below.
And members can view our ongoing field testing and range results here:
Mobile Router & Wi-Fi Gear Testing (Winter 2016/2017)
Unboxing Video
Here is our quick unboxing video and first impressions of the WiFiRanger GoAC, Core, EliteAC, and SkyPro.
Our deeper analysis, impressions, and video guide are in our members-only section.
---
Potential Alternatives to Consider:
For other popular mobile routers on the market we are tracking - here are our featured options:
Learn More About Selecting Mobile Routers
---
This Review Contains Additional Member Exclusive Content

We are honored to be able to present the above overview for free without 3rd party advertising or sponsorships. We are not paid by the manufacturer of this product to provide this listing or review, and nor are we selling this equipment or plan (purchasing links are provided below as a courtesy and some may be affiliates).
Our members have funded this resource center and any extensive hands on time
we have spent with the product to review it.
The in-depth portions of this review are made available to them which might contain: hands on testing notes, field testing data, user interface tour, product analysis, comparison to alternatives, setup tips, video tutorial, insider tips, vendor discounts and fellow member experiences.
If you're a member, please log in to continue with this review.
If you're not a member.. please consider joining us!
Purchasing Options
WiFiRanger primarily sells direct online and at RV rallies.
Members: Be sure to check the Members Discount page for an exclusive discount code to use when ordering.
Related News Center Articles
The guides below have been hand-picked to help further your education about selecting & using mobile routers.