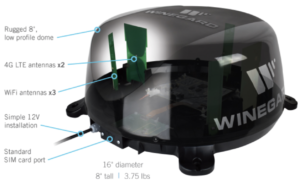 Winegard has a great reputation as the leading provider of both satellite and over-the-air TV antennas designed for RV use.
But despite some initial excitement, we ended up being underwhelmed by Winegard's 2016 entry into the RV internet gear market.
The original Winegard ConnecT was expensive, the cellular version was tied to a very limited and pricey data plan, and the physical unit was an ungainly beast that looked like a silly inverted stool on your RV roof - seemingly destined for a inevitable disastrous encounter with a tree branch. (Read our review)
Winegard must have been paying attention.
In November 2017 Winegard announced a completely redesigned ConnecT 2.0 model - and it at last came to market in February 2018.
The completely redesigned ConnecT 2.0 is vastly cheaper, the cellular version is no longer locked in to a single carrier and data plan, and the outdoor antennas are all now contained within a much sleeker plastic dome housing that would look right at home on an RV roof.
But the ConnecT 2.0 also gives up some of the original ConnecT's key features - meaning that for some potential customers, the ConnecT 2.0 may actually prove to be a significant step backwards.
Also, for current ConnecT 1.0 owners, there is no upgrade path to the ConnecT 2.0. The new unit is different enough that you are essentially starting from scratch.
Also Consider: In March 2019, the Togo Roadlink C2 was released - which is based on this hardware. It's available with a new AT&T unlimited data plan for $360/year.
UPDATE: In June 2018 Winegard added one additional data plan option: 10GB of date for $65/mo - with usage limited to the US only, as opposed to coverage in the US and Canada that the original plans allow for. This is a significantly improved deal, and now (since you can change your plan at any time) it only makes sense to purchase the Winegard $80 for 10GB or $150 for 20GB plans if you are actively traveling through Canada.
Additionally, Winegard now has a mobile app for iOS and Android that can set up and configure a ConnecT and order more data.
Specifications
Wi-Fi Router:

Indoor Wi-Fi:

None - roof does double-duty.
Wi-Fi Antenna: 3x Outdoor Antennas
Wi-Fi as WAN: Yes - Roof Mounted Long Range
Guest Wi-Fi Network: Yes

Integrated Cellular Modem & Antennas (Cellular Model):

Verizon & AT&T compatible. T-Mobile support "coming soon" (but no Band 12 support).
LTE bands B2, B4, B5, B13, B17.
UMTS B2 / B5.
Mini-SIM Slot - must access roof to swap SIM cards.
LTE Cat 4 - Peak Theoretical 150Mbps Down, 50 Mbps Up

Ethernet Ports: None.

Power Source:

Direct 12V power supply.

Dimensions:

16" diameter, 8" tall.

Outdoor Rated:

Yes

Retail Price:

$209 (Wi-Fi) - $369 (Cellular)
The Togo Roadlink C2 is a re-branded Winegard ConnecT 2.0, notable for the unlimited AT&T data plan option it makes available. If you are considering the Winegard, be sure to also consider the Roadlink C2.
---
Table of Contents
Free/Public:
Member Exclusive Content / Review:
First Impressions:
We received our evaluation unit in late February and have shared our first impressions in this video:
---
Review & Testing Status
We installed our demo unit of the ConnecT 2.0 4G, along with the upcoming WiFiRanger SkyPro LTE competitor, and included these units in our February / March 2018 round of field testing.
Our review & user interface demo video can now be found below in the member section.
Our members can also access our field testing raw notes and results in this lab report:
Cellular Signal & Embedded Router Field Testing – IBR900 | MAX-BR1 | Drive Sleek | ConnecT | SkyPro LTE | MIMO Antennas (1st Quarter 2018)
---
Potential Alternatives to Consider:
For other popular mobile routers on the market we are tracking - here are our featured options:
Learn More About Selecting Mobile Routers
---
This Review Contains Additional Member Exclusive Content

We are honored to be able to present the above overview for free without 3rd party advertising or sponsorships. We are not paid by the manufacturer of this product to provide this listing or review, and nor are we selling this equipment or plan (purchasing links are provided below as a courtesy and some may be affiliates).
Our members have funded this resource center and any extensive hands on time
we have spent with the product to review it.
The in-depth portions of this review are made available to them which might contain: hands on testing notes, field testing data, user interface tour, product analysis, comparison to alternatives, setup tips, video tutorial, insider tips, vendor discounts and fellow member experiences.
If you're a member, please log in to continue with this review.
If you're not a member.. please consider joining us!
Purchasing Options
Camping World - 4G LTE | Wi-Fi Only
PPL Motorhomes - 4G LTE | Wi-Fi Only
Amazon - 4G LTE | Wi-Fi Only
The Togo Roadlink C2 is a re-branded Winegard ConnecT 2.0, notable for the unlimited AT&T data plan option it makes available. If you are considering the Winegard, be sure to also consider the Roadlink C2.
NOTE: Winegard tells us that the original ConnecT is NOT being discontinued, and it will remain available for the time being. Both the new and old ConnecT models are being offered as factory installed options by several RV manufacturers, so if you are speccing out an RV be sure to make sure that you know what you are ordering - and make sure that it will actually meet your needs. Keep in mind that there is no easy upgrade path between the ConnecT 1.0 and 2.0 - they are different form factors.
Related News Center Articles
The guides below have been hand-picked to help further your education about selecting & using mobile routers.