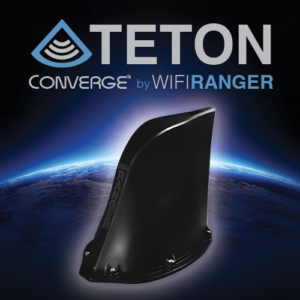 The WiFiRanger Converge Teton and Converge Teton LTE are roof mounted long range Wi-Fi routers (with optional cellular) - and are the most basic models in WiFiRanger's Converge lineup.
The Teton was officially announced in September 2019. It went on sale for pre-order on October 1st 2019, and units are expected to ship the week of October 14th.
Though all Converge products have the same external plastic shell, under the hood they are all different.
In the case of the Teton - the core is the same 2.4GHz 802.11n medium range Wi-Fi radio and antenna array already found in the WiFiRanger Sky4 (a low end unit primarily made for RV manufacturers), but with "improved Wi-Fi chips and calibration" and an integrated GPS chip as well.
The Converge Teton LTE version also includes an internal Cat-4 LTE modem with an integrated 2x2 MIMO antenna - with support for AT&T, Verizon, and Millenicom (T-Mobile based) plans.
The Converge platforms are designed for flexibility and upgradeability - with the electronics inside the roof-mounted shell claimed to be easily upgradeable by swapping out the "circuitry tray" to enable future features, or to upgrade to a higher-end model down the road.
In other words - if your RV comes with a Converge Teton on the roof, you should be able to turn it into a high-end Converge Everest without needing to remove and replace the plastics shark fin shell on your RV roof.
Though the "Converge" product line was launched to bring HDTV, AM/FM, cellular, and Wi-Fi together into a single unit on an RV roof - the consumer version of the WiFiRanger Converge Teton does not have HDTV or AM/FM functionality built in.

However, the Teton versions being sold to RV manufacturers do offer the TV and radio antenna options, and upgrade modules will eventually be made available to add these features to the consumer Teton version for those interested.
The Converge Teton can be paired with one of WiFiRanger's indoor router systems (the Poplar, Aspen, or Spruce) if you desire - but an indoor router is not required. If you do add an indoor router, WiFiRanger's user interface allows the two units operate (relatively) seamlessly as one - with just a single unified control panel which lets you choose your upstream connections and manage your locally connected devices.
For an overview of the full WiFiRanger product line (and a look at some of the software features in common across different devices), see our gear center entry:
Specifications
Model: Converge Teton / Converge Teton LTE
Router Specs:

# of Connected Devices: Not specified
Wi-Fi Router: Yes
Control Panel and Default Password:
Control Panel: mywifiranger.com
Default Password: changemenowXXYY (XXYY" are the last four digits of the WFR ID)
USB Tethering Support: No - Available Via Paired Indoor Router
Ethernet Ports: No - Available Via Paired Indoor Router

Cellular Modem Specs (Teton LTE):

Supported Networks and Bands: LTE Bands: 2, 4, 5, 12/17, 13, 14, 66, 71
MIMO Support: 2x2 Integrated Antenna
LTE Performance Category: Category 4
(Max Theoretical Speed: 150 Mbps Down / 50 Mbps Up)
Cellular Antenna Ports: Integrated Antenna
SIM Card Type: TBD

Dimensions: 9" Tall x 5.5" Wide x 7" Deep
Other Ports:
Power Source: 12V or 24V DC Power / AC Power Adapters a $5 Option
Outdoor Rated: Yes - Connected Indoors via a 15' Tetherpoint Cable (Longer Cables Available)
Special Features:
Retail Price: $129 (Teton), $199 (Teton LTE)
---
Review & Testing Status
In late October 2019 we received our evaluation WiFiRanger Converge Denali and Spruce internal router - courtesy of WiFiRanger. Here is our first look video:
We will be integrating these into our testing, and sharing our hands on experience with our members.
---
Potential Alternatives to Consider:
For other popular mobile routers on the market we are tracking - here are our featured options:
Learn More About Selecting Mobile Routers
---
This Review Contains Additional Member Exclusive Content

We are honored to be able to present the above overview for free without 3rd party advertising or sponsorships. We are not paid by the manufacturer of this product to provide this listing or review, and nor are we selling this equipment or plan (purchasing links are provided below as a courtesy and some may be affiliates).
Our members have funded this resource center and any extensive hands on time
we have spent with the product to review it.
The in-depth portions of this review are made available to them which might contain: hands on testing notes, field testing data, user interface tour, product analysis, comparison to alternatives, setup tips, video tutorial, insider tips, vendor discounts and fellow member experiences.
If you're a member, please log in to continue with this review.
If you're not a member.. please consider joining us!
Purchasing Options
If you want to buy both indoor and outdoor units at once - you can buy the Teton LTE/ Poplar pack for $259.
Related News Center Articles
The guides below have been hand-picked to help further your education about selecting & using mobile routers.