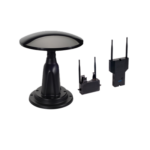 Magnadyne's "RV-LINK TV-2-WIFI" AM/FM/TV antenna is designed for manufacturer installation, but an aftermarket kit is also available.
This kit includes a rooftop antenna for radio and TV as well as a long-range Wi-Fi receiver. The antenna is pre-wired to an indoor location for mounting a matched indoor Wi-Fi router.
The RV-Link WF-CON Wi-Fi router upgrade kit is available for $149.95, or end users will be able to purchase the complete antenna and router package for $189.95.
The router can distribute a 4G LTE connection from a smartphone, presumably by using WiFi-as-WAN. There does not appear to be a tethering capability with this system.
---
Hardware Specifications
Supported Cellular Carriers: None - WiFi Only
# of Connected Devices: Not yet known
Wi-Fi Technology / Frequencies: 2.4GHz 802.11n for WiFi as WAN, both 2.4 and 5GHz for the interior router.
Other Ports: Power over Ethernet to connect the exterior and interior units.
Power: 12V
Retail Price: $189.95
---
Review & Testing Status
We do not have a unit for testing
A Full Review of this Product is Available to our Members

We are honored to be able to present the above product overview for free without 3rd party advertising.
In thanks for funding this resource center our members have access to the in-depth unbiased review of this product based on our extensive hands-on time and testing.
If you're a member, please log in above to read the review.
---
Purchasing Options
Direct from Magnadyne or pre-installed in a new RV.