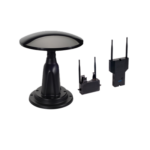 Magnadyne is a mobile and marine electronics company. It offers the RV-Link system, which includes a common roof-top antenna as well as the option for Wi-Fi extending and LTE connectivity.
Magnadyne is encouraging RV manufacturers to pre-install the RV-Link antenna on the roof of new RVs with wiring for an interior Wi-Fi router.
The rooftop antenna has a place to add in a long-range Wi-Fi receiver hidden under the antenna's dome - and the antenna is pre-wired to an indoor location for mounting a matched indoor Wi-Fi router.
Magnadyne released the LTE upgrade kit in late May 2020 and AT&T's Connected Car website offers RV-Link specific cellular plans, which are not very attractive options for those looking for a home internet replacement.
The LTE modem is a very basic category-4 device, but it does support all the primary frequency bands for AT&T, Verizon, and T-Mobile which does give it some flexibility.
The RV-Link system is primarily designed for RV manufacturer installation, but an aftermarket kit is also available.
The router can also distribute a 4G LTE connection from a smartphone or hotspot by using WiFi-as-WAN. There is no ability to do USB tethering capability with this system.
NOTE: This is newer but similar to Magnadyne's older MOBILEVISION MV100-TV system.
---
Hardware Specifications
Supported Cellular Carriers: AT&T, Verizon, T-Mobile (AT&T offers plans for this device)
# of Connected Devices: Unknown
Wi-Fi Technology / Frequencies: 2.4GHz 802.11n for Wi-Fi as WAN, both 2.4 and 5GHz for the interior router.
Other Ports: Power over Ethernet to connect the exterior and interior units.
Power: 12V
Retail Price: $199.95, $299.99 for the complete kit including TV/AM/FM antennas. LTE upgrade is $279.99.
---
Review & Testing Status
We do not have a unit for testing.
This Review Contains Additional Member Exclusive Content!
We are Honored to be Member Funded!
No ads, no sponsors, no selling (but may contain affiliate links)
Our members fund our in-depth independent reviews.
This entry may contain additional member exclusive content such as testing notes, field testing data, user interface tours, comparisons to alternatives, analysis, tips, videos and discounts.
Members also get interactive guidance, alerts, classroom and more.
---
Purchasing Options
Direct from Magnadyne or pre-installed in a new RV.