Best Data Plans for a Home Internet Replacement
RVers and cruisers need high-speed data that is able to be used to get laptops, computers, video streaming devices, gaming systems, and home automation systems online
We're working from home remotely, homeschooling, researching our next stop, banking, keeping entertained and staying in touch with friends & family - all of which require internet access.
For most, that means one or more cellular data plans that can be used as a home or office internet replacement - not just "unlimited" data on a smartphone.
Nomads need copious amounts of high speed mobile hotspot data for use from smartphones, hotspot devices and routers. Or be able to utilize unlimited data on a cellular enabled tablet for conducting video streaming & broadcasting.
This guide is kept constantly up to date with our top data plan picks for Verizon, AT&T, T-Mobile an Sprint - plans that are suitable for RVers and cruisers needing a home or office internet replacement.
The selected plans are easily obtainable for consumers and provide the most amount of usable high-speed hotspot data or on-device tablet data for the lowest cost.
Check back often... this stuff changes all the time!
This Guide Brought to You by Our Members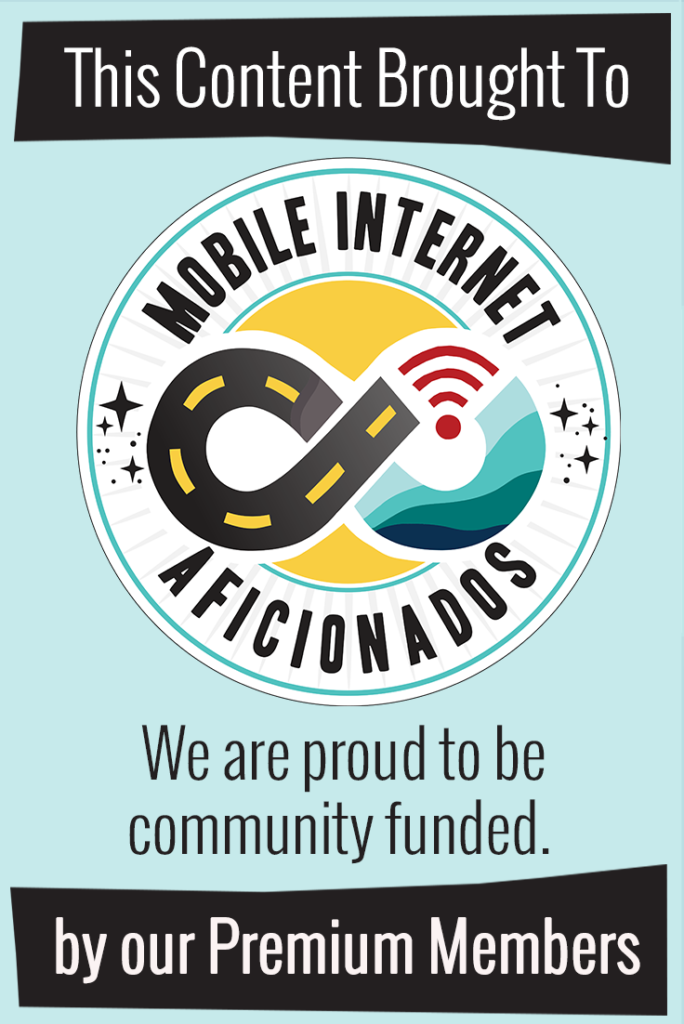 We are honored to be able to provide this guide for free - without 3rd party advertising, sponsorships or trying to sell you stuff.
In thanks for funding this resource center, our premium members also get access to all of our in-depth guides, classrooms, reviews, Q&A forums, discounts and more. But we understand, membership isn't for everyone - there are lots of ways to support our content.
If mobile internet is an important part of your lifestyle, here are ways you can help:
---
Video Overview
Here's a quick video overview going over our top data plan picks (please note, options are subject to change - the below information may be more current than this video):
---
Our Top Pick Cellular Data Plans
Filter by the criteria that matter to you - from the carriers you want plans on or the types of devices you want to use your data with. Click through to learn more about each plan.
---
Shop for Data Plans Resources
These aren't the only plans out there, just the ones that we consider top picks to focus on first. We spend a lot of time tracking data plans and offer several ways to dive into them.
To search all of the cellular data plans we're tracking, visit our:
Cellular Data Plan Gear Center
To compare data plans in our comparative grid (member exclusive):
Cellular Data Plan Pricing Guide & Comparative Spreadsheet
To learn more about selecting data plans & understanding the terms used:
Considerations for Selecting Data Plans
To learn more about assembling a mobile internet setup around cellular (gear, signal enhancing, etc):
Cellular Data as Mobile Internet Resources
---
Conclusion: Great Plans Come & Go
Over the years we've seen many great plans come and go - such as the AT&T Mobley $20/month plan, AT&T's Unlimited Plus Hotspot plan, the Prepaid Verizon Unlimited Jetpack Plan for $65/month and T-Mobile's +International Add On.
Cellular data plan options are constantly changing, and it's our mission here at the Mobile Internet Resource Center to keep on top of them.
Bookmark this page and check back often as you're shopping for your plans.
Our premium members have the extra perk of getting alert notifications when we get a heads up of a sweet plan going away so they can decide if they should snag it before it's gone.
By paying attention to the options, you can assemble a fantastic collection of great plans that will help keep you abundantly connected.
Selecting the right cellular data plan for your mobile internet needs is only one part of the equation. Here's some further guides on understanding the selection process as well as the additional gear you might need.
Explore the Resource Center
The MIA is our premium membership - designed for those who consider mobile internet an important part of their lifestyle.
In thanks for making content like this possible, we offer a bunch of additional perks. From interactive guidance, in-depth member exclusive content, discounts, alerts, classroom and more.
We totally understand that a membership isn't right for everyone.
However you can still support this content with our supporter level for just $25/year.
With our gratitude, you'll get access to all our free content without the 'nags'.

Have Questions? Stay In the Know
Join our 'Library Desk':
Internet for RVers & Cruisers Facebook Group
We cross post news articles and guides, and can help point you in the right direction to our content here on the resource center.
It is with gratitude to our premium members that we're able to offer our free content - and for that, they also have access our private Q&A areas for more in-depth guidance.
Stay in the Know
We're constantly tracking the industry and analyzing new developments for mobile travelers. If you'd like to receive updates, we offer several ways: