Activating Data Plans on Cellular Devices
After you've picked out which data plans you want and purchased your cellular devices, it's time to get those plans activated by your carrier or provider.
Each carrier tends to activate cellular plans a bit differently, and you may encounter representatives who don't know how to deal with device types they're not used to dealing with, like cellular routers.
And sometimes, your carrier or provider won't activate a plan on your device, even when that device is technically compatible with the plan.
After you have your plan, you might want to use it in different devices, perhaps even devices not specifically meant for the carrier of your plan.
All of these can present frustrations and challenges, which this guide is designed to dispel.
Activating Data Plans Basics
Activating a new line or plan on a cellular carrier requires some basic information:
The device you're activating - In most cases, carriers and providers need to know what device you want to activate service on, whether it's a phone, mobile hotspot, or cellular router.
SIM Card - Carriers and providers attach the plan to a SIM card or an embedded electronic (eSIM) inside the device itself.
Payment information - Carriers and providers want to get paid, so you'll need payment information. In some cases with postpaid and business plans from the carriers, you may also need to provide an SSN, driver's license, or other identifying information.
An address - Carriers will usually ask you for an address, not only for billing purposes but also because they want to ensure that the location where you want to use their service is on their coverage map.
Here are more details on each of these:
The Device IMEI Number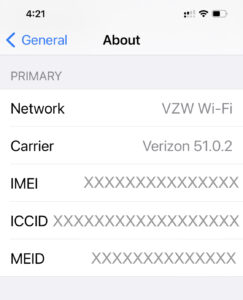 Carriers and providers want to know what device you plan to use to activate service to ensure the device is compatible with their network. Providers use the International Mobile Equipment Identity (IMEI) number to do this. The IMEI is a unique 15-digit number assigned to every cellular modem. It's akin to the VIN number of your vehicle. And if you have a device with two cellular modems, then you'll have two IMEIs - one for each modem.
The IMEI is usually printed in the device's battery compartment but can also be found in the Settings menu or even printed on the exterior label or the box your device came with.
The IMEI number is used by carriers to identify the device, so it typically needs to be provided as part of the activation process. If you're purchasing a device from the carrier when activating a plan, then the representative will already have easy access to this number and will use it to activate your new plan.
Each carrier has an internal database of IMEI numbers issued by device manufacturers, and they can quickly look up the number and tell what type the device it is and, thus, what plans are compatible.
Some providers even offer BYOD (bring your own device) IMEI checkers so you can verify beforehand if your device is compatible with their network.
Device Type & Plan Compatibility
Another thing to be aware of is that the carriers tend to have specific plans for specific types of devices. Many carry plans just for smartphones that are different than plans offered for data-only devices like hotspots & routers. Tablets, connected car devices, smartwatches, and other device types may have specific plans that can only be used on those devices.
So, for instance, a SIM for a smartphone plan is not intended to work in a mobile hotspot device. And if it does, the plan will generally use any mobile hotspot data on the plan - not the included and often 'unlimited' on-device data.
In short, it's important to shop for plans that are authorized for use in the type of device you want to use it in.
SIM Cards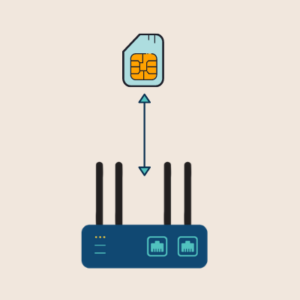 SIM is short for Subscriber Identity Module - and it is typically a small piece of plastic with an embedded chip. The tiny bit of circuitry on that chip is what links your cellular device to your data plan with the carrier's network. Moving a SIM to another compatible device effectively moves your service plan and your number to that new device.
In short, in most cases, your plan is connected to the SIM card, not the device itself.
But not all SIMs are physical, there are also electronic SIMs (eSIM) and even cloud-based virtual SIMs.
Regardless of the type of SIM, each SIM has a unique identifying serial number assigned to it, similar to an IMEI.
To activate a new plan on a physical SIM card, you'll either need a new SIM card from the carrier or, in some cases, the carrier can activate plans remotely using a SIM card you already own, provided the SIM card is compatible with the carrier and has not previously been activated.
Once activated, SIM cards cannot generally be reused and activated on a different plan, nor can a SIM card be tied to more than one plan.
If activating an eSIM, you might need to scan a link/QR code or activate remotely using an app.
Once activated, a physical SIM needs to be installed in your device. Typically, SIM slots are located under a device battery or on the outside of the device itself.
For devices with eSIM, there is no slot as the SIM is embedded into your modem module and is not user removable.
To move a data plan on an eSIM to another device, it has to be done electronically.
For more information on SIM cards, carriers SIM-swapping policies and everything you might want to know about SIM cards, see our guide:
All About Cellular SIM Cards - Swapping Downsizing, Dual Sim, & eSIM
Moving SIM Cards
Once your plan is activated on a physical SIM, the carriers usually allow you to move your SIM card between device types compatible with your plan, although sometimes there are device restrictions. Some plans are even "IMEI locked" to a specific device. This means that the SIM and plan can only be used on a specific device or specific model. This will be disclosed in your plan terms of service, and we also cover this in our plan Gear Center entries.
Because many cellular devices are optimized for a particular carrier - especially mobile hotspot devices - moving a SIM from a device optimized for one carrier to a device optimized for a different carrier might result in less coverage and slower speeds or even no coverage at all in some places. And this can also be a problem if you use the SIM in an older device since older devices may not support newer cellular bands. More details on device compatibility are later in this guide.
More information on what cellular bands are used by each carrier:
Major U.S. Cellular Overview - Verizon, AT&T, T-Mobile, and Dish
Payment Options And Carrier Activation Fees
How to pay for your plan and its cost will vary with the plan.
Postpaid plans typically require payment with a credit card and may require a credit check against the customer's social security number (SSN). For this reason, postpaid plans can be difficult to get for international travelers from outside the United States.
Prepaid plans usually have more payment options. Some will even allow you to buy "refill" cards in stores to pay for service. These refill cards act like gift cards and are applied as a credit to the account.
Providers can also charge activation fees for activating a new plan or a new line of service on an existing plan. This is typically a one-time fee, around $30-35. It's typically charged regardless if you activate online, in store, or over the phone, but there are exceptions. Keeping these fees in mind is important because they could also be charged if you discontinue a plan and want to re-activate it later.
The activation fee does not apply if you move the SIM card on an existing plan from one compatible device to another - activation fees only apply when you activate or change a line of service on your account.
Service and Billing Addresses
You may be required to provide an address for a service location, an address for billing, or both.
Providers who ask for a service address want to ensure that their network provides coverage at that address. Additionally, some plans can only be activated or used in certain areas, and the provider will need to check for a service address to confirm this.
Sometimes providers may be reluctant or unable to use a billing address that is different from the service address. You may need to go into your account profile with the provider and change the billing address after the plan, line, and account are activated.
Billing and service addresses are also used to calculate taxes and fees on a line.
---
Cellular Device Compatibility Basics
Not all devices are well suited for all cellular carriers, and some are even designed specifically for a single network.
Cellular signal is broadcast over different cellular frequency bands - and each carrier has its own set of bands.
Here are some issues you may encounter when using a device on a carrier's network:
Many devices do not support all bands for every carrier
Some devices are only designed and intended to support the bands of a single carrier
Older devices may lack support for newer cellular bands
Some devices might be locked to a specific carrier
It's essential to understand these considerations when deciding if the device in your hands will work well enough with the carrier you desire.
Cellular Band Compatibility
Cellular signal is broadcast over different cellular frequency bands - and each carrier has its own set of bands.
Most flagship smartphones now have cross-carrier support and can be used with any carrier and even globally. But smartphones can still be subject to carrier locking policies.
However, many entry-level phones and devices like mobile hotspots tend to be a LOT more limited in the frequency bands they support and often focus on supporting a single carrier. And some cheap devices may leave out support for some frequency bands to save costs.
Most cellular routers made today are developed independently of the carriers and designed for maximum cross-compatibility with the major networks, but exceptions exist.
Overall, it's important to look at the specifications of the modem in your device to ensure it will work on the carrier(s) you are interested in - the details on that are in the next section.
For more differences and an overview of each carrier see:
Which Cellular Carrier Is Best For RV Or Boat Mobile Internet?
For a deeper dive into cellular frequencies:
Understanding Cellular Frequencies Guide
Determining Cellular Band Compatibility
So, now that you know what bands the carriers use, how do you determine which bands your device supports?
This can be tricky and may require some research or a trip over to our Gear Center, which will help with the mobile hotspots and cellular-embedded routers that we track.
For every cellular device in our Gear Center, we list the compatible bands in the specifications section.
If your device isn't in our gear center, you'll need to look online, in the user manual, or spec sheet. The manufacturer's website will usually have this info, as will specialty retailers.
Here are some important tips to keep in mind:
Ensure you get the specs for the correct model for your device. For example, older iPhones had different models with different modems to ensure compatibility with different networks. On the outside, they look the same, but on the inside, they have different cellular modems.
The same can be true with mobile hotspot devices, which can look the same but are tuned to support different carriers. For example, the Inseego M3000B and M3100 mobile hotspots appear the same, but the M3000B is made for the T-Mobile network, while the M3100 is made for Verizon.
Some devices have tentative support for some bands in the hardware, but that support may not be enabled in the firmware. Sometimes a new hotspot will only support certain bands when first released, but a future firmware update may add support for additional bands.
Some devices have regional versions to support different markets. The devices you buy from a carrier will be designed for North America, but you can sometimes find devices intended for other markets (like Europe or Australia) or even "global" versions that support many markets.
Using Carrier Specific Cellular Devices On Another Carrier
If you've got a Jetpack, MiFi, smartphone, or other mobile device lying around and no longer wish to use it on the cellular carrier you purchased it for - can you use it with another carrier?
So the answer, like so many things with mobile internet, is: "It depends."
As noted above, some devices, especially mobile hotspot devices, USB modems, and lower-end smartphones, are optimized for a single carrier and don't include support for all the frequency bands used by other carriers.
After learning about the cellular bands your desired carrier supports, and the cellular bands your chosen device supports, you may find that your device doesn't support all the carrier's cellular bands.
How big of a downside is that?
I can be a pretty big downside. Before bothering with trying to get your device meant for one carrier to work on another, refer above to check device compatibility to see how many bands are missing. It won't be optimal if your device doesn't support key frequency bands for the carrier you want to use. The device may still work and meet your needs, but understand that you will be missing out on parts of the carrier's coverage map.
In general, we strongly recommend using fully-compatible devices with your chosen carrier's network, and that means it's often better to purchase another device.
Device Locking & Blacklists
Some carriers lock devices to their network. This section includes the locking policies of each carrier, and how to get your device unlocked.
Activating Devices Not In Carrier Databases
Some devices, especially new devices, may not be certified by a carrier and are eligible for direct activation with a plan. In this case, you'll need to find an alternative means to activate the data plan for that device.
Configuring Devices
This section covers the APN and other settings needed to operate data devices on each carrier.
Using Plans in Non-Authorized Device Types
This section covers the details and risks of situations where you might want to use a plan in a device that is not officially authorized for the plan.
---
Activation Conclusion
Most of the time, activating a data plan is easy and handled straightforwardly by the carrier or plan provider. But there are still plenty of instances and circumstances when it can be frustratingly difficult to practically impossible.
And there are also tips and tricks to ensuring a device is a good choice for a particular network and plan and can be used successfully. Education and preparation are key to getting your device properly activated and understanding some of the risks and pitfalls of certain plan and device combinations, as well as carrier terms of service.
Use caution, go with your eyes wide open, and know the risks.