Visible is Verizon's own prepaid brand for smartphones offering unlimited data, including mobile hotspot use.
Plan Information
Visible's app-based phone plan offers customers unlimited calling, text, and high-speed on-device data, with unlimited mobile hotspot data for a single device at a time throttled to 5mbps.
All Visible data usage is always subject to network management. Video is reduced to 480p resolution as well (DVD quality).
Visible includes calling and texting to Canada, Mexico, the US Virgin Islands, and Puerto Rico but no data roaming in those locations.
Top Pick Notes: Visible is one of our Top Pick Data Plans because it is so affordable and offers unlimited mobile hotspot use off of a smartphone. It does have some limitations, such as mobile hotspot data being limited to one device and capped at 5Mbps, high ping times, low priority, only native Verizon LTE & 5G towers and video throttling. So while it's not ideal as a primary internet option for someone with high demanding or reliable needs - the plan can definitely play a role in a mobile internet arsenal.
Currently Available Plans:
Unlimited: $40/month, or as low as $25/month with Party Pay

Party Pay - Introduced in October 2019 and expanded in February 2021, you get a $5/month discount for each person that joins your party, up to a $15/line discount. This brings the cost down to just $25/month per line. Each person pays their own bill, anyone can join up with a party, and there are no limits to how many can be in the same party.
Plan Specifications:
Carrier Networks Used: Verizon
Carrier Relationship: Direct subsidiary
Plan Types Available: Phone
Device Types Permitted: Compatible smartphone models
Unlimited: Yes
High-Speed Mobile Hotspot Use: Yes, for one device at a time and throttled to 5Mbps
Throttling: No (except for hotspot data)
Network Management: Always
Video Streaming Resolution: 480p
5G Access: Yes, with a 5G compatible device and in an area where 5G service is available.
eSIM: Yes
Device Purchase Required: No
Plan Period: Monthly
International Roaming: None
Domestic Roaming: None
Data Roll Over: None
Overage Charges: None
Lines permitted per account: One
Extras:

Plan is activated and terminated via the Visible app.
Referral discount - each time you refer a new member, you get one month of service for $5.
---
News, Videos & Status
News Updates:
---
Potential Alternatives to Consider:
Some of our TOP PICK Cellular Data Plans to also consider:
Learn More About Selecting Cellular Data Plans Explore Our Comparative Pricing Grid
---
Special Public Review

Normally our reviews are member exclusive content. However, given how affordable & effective this option is - we have decided to make most of this review public as an example of the types of in-depth reviews we do for all products we test.

It is with gratitude to our premium Mobile Internet Aficionados that we can create content like this and provide free content to the public - our funding primarily comes from their membership dollars.

Click to Learn more about becoming a Premium Member and support us in creating more content for the RVing & cruising community!
Review Content Below
Thoughts & Analysis
Favorite Features:
Cheap, unlimited data option - As low as $25/month with Party Pay
Full speed data on device ("limited time only" as of June 2019)
Verizon 5G and 4G LTE Native coverage area
Mobile hotspot use included, capped to 5 Mbps (enforcement is variable)
Reportedly easy start-up and termination of the plan
No activation fees
Potential Downsides:
Requires shipment of a physical Visible SIM card first (free)
All mobile hotspot data is throttled to a maximum of 5mbps speed
Higher ping times
Always subject to network management
Hotspot is limited to a single device connection at a time
Phone lines only - no tablet or Jetpack option
Can not purchase refill cards
No access to Verizon's roaming partners or 3G coverage map
As of August 2021, phones purchased through visible are locked to Visible for 60 days.
Visible is an affordable unlimited smartphone plan, and a great way to get access to Verizon's network. But it comes with downsides like always on network management, higher ping times and restrictions on mobile hotspot use. For high bandwidth reliable needs - is not likely to be a primary data plan of a mobile internet arsenal. But with understanding the downsides of this plan, it can be a fit as a back-up source of data.
Our review of the Visible plan for use as a home internet replacement for RVers and Cruisers (Oct 1, 2019):
Deep Dive
Observations
Observations
We've been tracking Visible's service since it was released in May of 2018. We've seen reports of excitement, and frustration, with the service.
Visible remains shrouded in reports of higher latency than native Verizon service.
In good signal conditions, ping times on postpaid Verizon tend to be in the 40-80ms range. Because Visible traffic is routed through their own servers first, there's extra ping time. Visible's FAQ states that they "expect network to device (round-trip) latency to be about 150 milliseconds."
And, being constantly subject to network management - prioritized behind postpaid Verizon customers - we've seen folks who reportedly use the service within populated areas be frustrated by unusable data service. But in uncongested areas, service can be blazing fast.
There have also been reports of dropped calls, TXT messages, and blips in data.
We have noted multiple complaints re: porting-in of numbers to and from Visible. We really don't recommend porting a number over to Visible if that number is important to you to any prepaid service. We recommend a new number be used on this service.
Testing Notes
Testing Notes
During our April 2019 testing, all Visible data was subject to a 5mbps throttle cap. As of June 2019, 'limited time' high-speed on-device data is available on the plan, although mobile hotspot data is still throttled to 5mbps. For the first couple of months there was no actual throttling of mobile hotspot data, but starting in late September we did start to notice intermittent signs of it. And as of November 2020 - there are now consistent reports of hard throttling when using personal mobile hotspot.
This review has been updated to reflect the Visible plan since the lifting of the speed caps.
Activation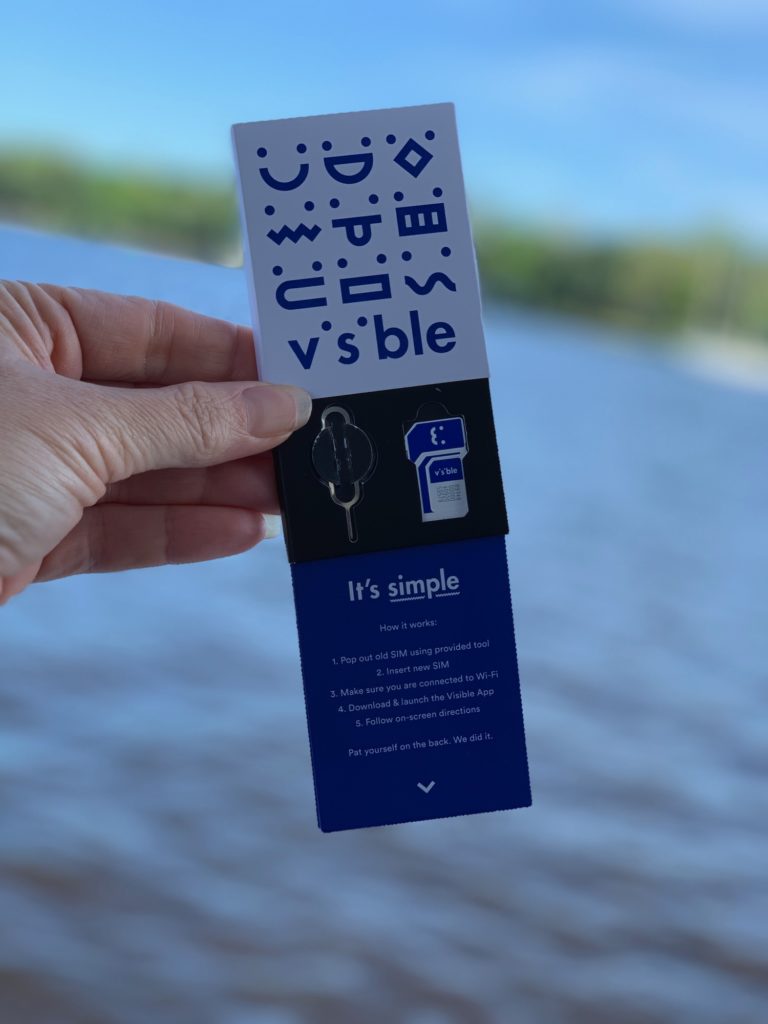 Getting the plan has become easier since initial launch, especially now that eSIM activation online is supported.
If you order a physical SIM card, anticipate some potential complications and delays, especially if you are shipping to a different location than your billing address. They may have further verifications that need to be done before the order is processed, but communication of this can be lacking.
Once the SIM arrives, or you order the eSIM option - you must complete the activation on a smartphone authorized for use on Visible, using their app.
After activation, swapping your physical SIM to other smartphones is super easy with no involvement needed from Visible. Moving your eSIM will require Visible's involvement.
Discontinuing service is super easy either online or via the app, and you can easily reactive when needed with no start-up fees.
Performance
Performance
Here is a single site quick test showing the differences in speeds we've gotten across 4 different Verizon plans - our Visible plan, Verizon Prepaid Smartphone (capped data at 15GB), Verizon pUDP (the unlimited prepaid Jetpack plan), and Verizon gUDP (legacy postpaid unlimited plan).
All devices were fairly equivalent in modem specifications being Cat 18 and 4x4 MIMO. No signal enhancing gear was used.
Here are the speed results (download/upload/ping) - taken on 9/24/2019 in Grand Rivers, KY:
Plan / Device
On Device: Down / Upload / Ping
Hotspot: Down / Upload / Ping
Visible
iPhone XS Max
36.4 / 6.98 / 110ms
5.25 / 4.76 / 109ms
(one reading at: 41.55 / 13.64 / 115 ms)
Verizon Prepaid (15GB)
iPhone XS
45.5 / 10.9 / 50ms
43.4 / 5.1 / 59ms
Verizon pUDP
8800L
---
76.2 / 13.4 / 57ms
Verizon gUDP
8800L
---
105 / 13.7 / 60ms
Visible is definitely lower priority than Verizon postpaid plans and even their direct prepaid plans. But definitely usable speeds in this location.
When testing mobile hotspot on Visible, we initially saw nearly full speeds. However, by the second test we consistently saw near 5 Mbps hard throttling. We tested several times on device to confirm that higher speeds were staying consistent.
It does seem that Visible is enforcing the mobile hotspot speed cap more consistently, and as of November 2020 there are multiple reports of the mobile hotspot cap being enforced.
The ping time is also considerable and does cause a noticeable short stutter delay in loading of requests. For regularly web surfing, this results in a delay when loading new pages. But once the load has started the pages tend to load fairly well. Certainly usable for many tasks - but for those with latency dependent tasks (like video conferencing) this plan may not be suitable.
We tested video streaming with odd results. On YouTube, we were able to stream at 1080p, but with some buffering. On Netflix, we were seeing 288p resolution. Testing on Fast.com frequently resulting in speeds around 1.5-2.4 Mbps - indicating a harder throttle to video service.
The mobile hotspot feature works, but we are not seeing the 1 device limitation from our iPhone - as we have been able to connect multiple devices at a time.
If the phone you use does have the 1 device hotspot limitation, you can use tether to a mobile router that supports this feature to share the connection to get around it.
Use in Other Devices
SIM Swapping
Does the SIM card work in other devices?
We did try swapping the Visible SIM into the 8800L hotspot, and the 8800L showed no service with the SIM card. We also tried it multiple cellular embedded routers - this plan is meant for the smartphone models supported by Visible.
We tried putting the SIM into another iPhone that did not have the Visible App installed, and it worked fine.
For those wanting to get around the 1 device limitation, you can tether your smartphone to a router via USB or Wi-Fi (with a router that supports this) and still be within terms of service.
CS Frustrations
Customer Service Frustrations
We've had to contact customer service multiple times in setting up this plan and then afterward, and while chat is readily accessible and reps friendly, they seem to have limited ability to help. That they could give us no feedback as to why our original order was in limbo was frustrating.
After receiving the SIM card, we noticed a number of phone calls (from a variety of numbers) coming through on the number assigned. We asked Visible if they could either change our number or block calls. They were unable to do so. The only solution they offered was to cancel our current account with no refund and activate a new line of service.
So do be aware that if you end up with a new phone number and it's been active before - this could be a problem.
This Review Contains Additional Member Exclusive Content!
We are Honored to be Member Funded!
No ads, no sponsors, no selling (but may contain affiliate links)
Our members fund our in-depth independent reviews.
This entry may contain additional member exclusive content such as testing notes, field testing data, user interface tours, comparisons to alternatives, analysis, tips, videos and discounts.
Members also get interactive guidance, alerts, classroom and more.
---
Purchasing Options
Links Provided for Convenience
We do not sell any gear or equipment. These links are provided to make your shopping easier, and we do not endorse any specific vendor. Unless otherwise disclosed, only Amazon links are affiliate links (see our disclaimer).
To remain unbiased as possible, our primary source of funding comes from our premium members, and we have negotiated higher discounts from some vendors instead of accepting affiliate relationships.
You can purchase a device directly from Visible, or bring your own compatible device.
Visible offers promo codes for a discount off the first month of service:
Join Our Party!
Mobile Internet Resource Center's founders keep a Visible phone line in service active for continued testing. We're including their Party Pay link and referral code here. Please don't feel obligated to use these, but using our referral code will help us keep our costs down to keep our plan in active operation.
You're also welcome to join our party if you don't have one of your own - you'll automatically get the $25/month pricing from the start.
Party Pay link: https://www.visible.com/p/Technomadia
Referral code: tG8RD
Want to join a different Party? There's a Subreddit created just for posting and/or finding open parties.
Finding the right plans for your needs is no easy task - quite simply mobile travelers using cellular data as their primary way online is not how most carriers have designed their plans. Many of us want plans that provide copious amounts of data.
Here's our video going over ways to get LOTS of data for use in your travels:
But a data plan alone will not keep you online. You also need the right gear, signal enhancing strategy and planning your travels around the options you carry with you. Head on over to our collection of guides: