Major U.S. Cellular Overview - T-Mobile, Verizon, AT&T and Dish
Cellular data is probably the easiest option for getting online while traveling in an RV or boat, and choosing the best cellular carrier for your unique needs can be a challenging topic.
If you live in one location and only travel occasionally, it's relatively easy to pick the best cellular carrier for you.
While there might be an obvious "best" cellular network for a specific location, RVers and boaters have a harder choice to make since... our location changes, often!
There simply is no single cellular carrier network that works best everywhere that an RV or boat might travel to.
All of the nationwide carriers have their strengths and weaknesses in specific locations across the country. And each offers different plans & policies that make them more or less suitable as a mobile internet solution depending on your needs.
As a frequent traveler, you need to consider what carrier - or, more than likely, what combination of carriers - will give you coverage and data in the places you want to visit.
This article is an overview of the strengths and weaknesses of the current major cellular carriers (Verizon, AT&T, T-Mobile, and the newest carrier - Dish Wireless) in the U.S. as they relate to mobile internet for RVers, cruisers and frequent travelers seeking an on-the-go home internet replacement.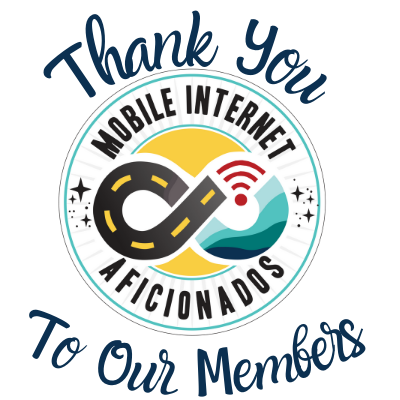 If you're a member, please log in above to access the exclusive portions of our content.
It is with huge gratitude to our members & supporters for making the free content on our site possible. We're not sponsored, you'll find no 3rd party ads and we don't sell 'stuff'.
Our members get exclusive access to our in-depth content, classrooms, vendor discounts (that can save you more than membership!), alerts, insider info and interactive guidance.
If mobile internet is an important part of your lifestyle, consider helping make MIRC possible. 
---
Video: Best Cellular Carrier for RV and Boat Travel
A quick video overviewing T-Mobile, Verizon, AT&T and Dish Wireless and how they compare to be the best choice for your RV or boat travels:
---
Your Best RV Cellular Carrier - Coverage and Compatibility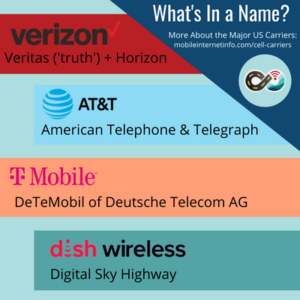 Unlike year's past, there is no longer a single best cellular carrier nationwide. They all have solid coverage maps across the country, and can vary quite a bit as you zoom into specific locations. Heck, even within the same campground a carrier can be solid in one campsite and weak just across the loop.
When comparing cellular carriers to best to match your RV or boat travels - you need to consider coverage maps, compatible devices, supported frequency bands, and their 5G roll out approach.
And of course, available data plans for the devices you want to use in your mobile internet setup.
We are also well into embracing the latest generation of cellular technology as all of the carriers are transitioning from 4G/LTE to 5G.
Verizon, AT&T, and T-Mobile's network are all built on the same underlying fourth-generation (4G) cellular network technology, known as LTE. And that coverage will remain viable for many years to come. The newest carrier's network, Dish Wireless, is an all-5G network, but it's still in its early stages and initial rollout within the US.
5G technology is being deployed on all of the carriers in short-range mmWave (extremely fast, but short-range), mid-band (medium range and super fast), and low-band spectrum (long range and decently fast).
All of the carriers at this point have phased out their legacy 2G and 3G networks.
For more on understanding the technology behind cellular:
Cellular Data Resources - Gear, Plans, Signal, Tech Dives
All of the carriers have widespread coverage maps. But they vary at the local level and in their current roll-out of 5G technology.
In the USA, the current four major nationwide carriers are:
T-Mobile - T-Mobile's coverage has increased substantially after their acquisition of Sprint and they are leading the race with long & mid-band 5G.
Verizon - Has the most nationwide LTE coverage, and is usually a top pick for travelers, although frequently congested. Their fast 5G mid-band coverage is being actively deployed in 2023.
AT&T - Close second to Verizon in terms of LTE coverage but also generally less congested. Their 5G long range coverage beats Verizon's and their mid-band 5G is just starting to be deployed in 2023.
Dish - The newest carrier, Dish's Project Genesis 5G network currently covers about 20% of the country, but roams onto AT&T and T-Mobile.
Coverage Map Comparison
Below is a quick comparison of the major carrier's native LTE & 5G (the darker color) coverage maps, taken from the October 2023 HD Map update from our app, Coverage?, and for Dish, from their report in June 2023 to the FCC National Broadband Map.
For more on the carriers for RVers & Cruisers:
Guide to the Major U.S. Cellular Carriers

Got Coverage?


Although you can go to each carrier's maps online to scout out ahead, we decided to make it even easier.

We wrote an app for that!

Coverage? overlays the carrier's coverage maps so you can create a personalized map to better plan your travels around connectivity! It also has integrated SpeedTest® from Ookla® to save your performance results to better plan future travels and update campground/marina reviews.

While the carrier's maps may be 'optimistic' at times, using the carrier's maps is a great complement to also checking site-specific crowdsourced resources.

For more:
Tips for Travel Planning Around Connectivity

The maps are stored on device, so you don't need to have coverage to find out which direction to head. Get the app now for Android or iOS:

---
Comparing Cellular Carriers for RV & Boat Travel
A general profile of each of the major carriers is below, and how they might apply in choosing your best cellular carrier for your RV or boat travels.
T-Mobile


While T-Mobile was last in the pack in their LTE coverage map, they are the clear leader in rolling out 5G.
T-Mobile has been able to take an early lead thanks to strategic purchases of long-range and mid-band spectrum.
T-Mobile aggressively filled in the rural coverage gaps via their purchase of a huge chunk of long-range 600MHz cellular spectrum (LTE Band 71, 5G n71) and mid-band 5G n41 with their Sprint acquisition that completed in 2022.
When T-Mobile has coverage, its network speeds are consistently some of the fastest. They are worthy of consideration for including as an option in a mobile internet arsenal and worth investing in 5G capable gear to best take advantage of their network.
T-Mobile Device Compatibility Tips:
If you want broad compatibility with T-Mobile's network, seek out devices that support these bands:
T-Mobile LTE Bands: 2, 4, 5, 12, 25, 26, 41, 46, 48, 66, 71 (13 in Puerto Rico)
T-Mobile Key Roaming Bands: N/A
T-Mobile 5G Low-Band: n71
T-Mobile 5G Mid-Band: n25, n41, n66, n77
T-Mobile 5G mmW Bands: n260, n261 (Note that mmWave is only available in a handful of areas)
T-Mobile names for its two 5G networks:
5G UC (Ultra Capacity)- mmWave & mid-band 5G.
5G - Low-band / nationwide 5G.
T-Mobile started their 5G deployment utilizing their very low band 600 Mhz spectrum (band n71) making it the first to offer nationwide 5G coverage, and T-Mobile has also rolled out on Sprint's former mid bands (n41 and n25) and very limited mmWave (n260 & n261). If you're ready to hop on board with T-Mobile 5G, be sure any device you select supports n25, n71 and n41 at a bare minimum - mmWave support isn't critical yet for T-Mobile. T-Mobile also won some mid-band n77 spectrum, but it's a low priority and likely won't be deployed until at least 2024.
T-Mobile customers will want to be able to benefit from Sprint's old LTE Bands 25, and mid-range Band 41 is now particularly important in T-Mobile's 4G/5G coverage. Sprint's Band 26 5G spectrum was sold to Dish Network, but the Band 26 4G spectrum is in use by T-Mobile.
T-Mobile is also deploying some coverage using LTE-LAA (LTE Band 46) - but this short-range band will typically only be found in congested urban areas. T-Mobile also has some plans to use CBRS spectrum (Band 48) too.
T-Mobile customers also benefit from Band 13 when in Puerto Rico (Band 13 is under Verizon's control everywhere else).
Recent T-Mobile News Stories:
Verizon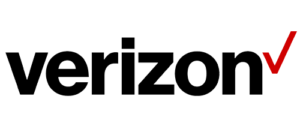 Verizon was the leader in 4G/LTE coverage, and typically good overall performance. If you ask in any RVing or boating group about what is the best cellular carrier for RV travels, Verizon has traditionally been a common answer.
However, because Verizon's network is known to have the widest coverage and they have limited LTE spectrum in many locations, it's not uncommon in some areas to find that the local Verizon tower is overloaded and sluggish during peak times. Especially in locations that are popular for travelers.
When congested, Verizon can be quite aggressive in its network management when on LTE - and, in practice, Verizon often isn't the fastest performance in many locations.
Verizon is purposefully following the lead in their 5G rollout - first having focused on nationwide coverage using their existing LTE network, then mmW and since early 2022 focusing on mid-band spectrum. Their mid-band spectrum is particularly interesting - often longer range, uncongested and super fast.
Verizon Device Compatibility Tips:
If you want broad compatibility with Verizon's network, seek out devices that support these bands:
Verizon Native LTE Bands: 2, 4, 5, 13, 46, 48, 66
Verizon Key LTE Roaming Bands: 12, 14, 29, 30
Verizon 5G Low-Band: n5, n13 (future)
Verizon 5G Mid-Band: n2, n66, n77
Verizon 5G mmW Bands: n260, n261 (Note that mmWave is only available in the urban cores of a few cities and crowded places like stadiums and airports)
Verizon names for its 5G flavors:
5G UW (Ultra Wideband) - mmWave and Verizon's C-Band mid-band spectrum (some plans do not officially have access to 5G UW)
5G NW (Nationwide) - Low-band / "Nationwide" 5G.
Verizon has started to enable roaming on AT&T in some places, so AT&T's key LTE Bands 12, 14, 29, and 30 will become helpful in taking advantage of this. In some areas, Verizon has deployed LTE-LAA (LTE Band 46) - but this short-range band will typically only be found mostly in congested urban areas. Verizon also uses CBRS spectrum (Band 48) and LTE Band 66 (an extension of Band 4).
In early 2022 - Verizon began rolling out mid-band 5G on band n77, enabling truly next-generation performance over longer ranges. That coverage map is the one to watch for expansions across the country and this spectrum is not congested and can deliver reliable faster speeds.
Verizon has so far enabled 5G mmWave support on 28 GHz band n261 and 39 GHz band n260, but this short-range super-fast flavor of 5G is only found in a few key areas.
Verizon is planning to use longer range band 13 for 5G (labeled as band n13) eventually, but not likely until 2024 or beyond. They can't start that transition without disrupting their LTE dependent customers. As of late-2023, some newer 5G modems are starting to have support for n13 to prepare for this - so for maximum future proofing, it could be wise to seek out devices that support this band.
Recent Verizon News Stories:
AT&T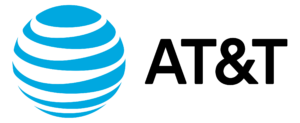 AT&T's LTE network occasionally still lags Verizon in coverage, but there are also many parts of the country where AT&T excels - and sometimes, it is the only option.
In 2018 AT&T 'climbed' every tower to implement their Band 14 FirstNet contract, and they utilized the opportunity to upgrade their equipment. Including preparing for a 5G future. Since then, AT&T customers have reported noticeable speed improvements.
As a result, AT&T has a really well balanced LTE network with seldom issues with network congestion.
Their 5G network is lagging behind the others, with a solid long range deployment. Their mid-band deployment is rolling out aggressively, and will require the latest 5G models (X62 or above) to take advantage of it.
AT&T Device Compatibility Tips:
If you want broad compatibility with AT&T's network, seek out devices that support these bands:
AT&T LTE Bands: 2, 4, 5, 12/17, 14, 29, 30, 46, 48, 66
AT&T Key LTE Roaming Bands: 13
AT&T 5G Low-Band: n5
AT&T 5G Mid-Band: n2, n66, n77, "Andromeda" *
AT&T 5G mmW Bands: n260 (Note that mmWave is only available in the urban cores of a few cities and crowded places like stadiums and airports)
* AT&T's Andromeda mid-band spectrum will only be compatible with devices featuring the X62 5G modem chipset or higher.
AT&T names for its 5G flavors:
5G+ - mmWave, and C-Band mid-band spectrum.
5G - Low-band / "Nationwide"
5Ge - LTE-Advanced (NOT real 5G, despite the label!)
Note: Many legacy AT&T data plans are LTE only, and do not support 5G (including Unlimited Plus hotspots and Mobley).
Band 14 (aka FirstNet) support is important for AT&T. Though FirstNet is designed to prioritize public safety communications, AT&T automatically allows regular consumers with compatible hardware to utilize this long-range band at a lower priority for enhanced coverage and speed - and this band is often very fast and not at all congested.
AT&T is also deploying some coverage using LTE-LAA (LTE Band 46) - but this short-range band will typically only be found in congested urban areas. AT&T has also begun to use CBRS spectrum (Band 48) in some locations.
AT&T has started experimenting with limited roaming on Verizon in some places, so Verizon's LTE Band 13 can be helpful to take advantage of this extra coverage.
On 5G - AT&T has enabled 5G mmWave support on 39 GHz band n260, and long-range support using repurposed LTE spectrum on band n5. AT&T is also a big proponent of Dynamic Spectrum Sharing (DSS) to allow 5G to overlay on top of 4G/LTE bands, and has begun to layer 5G on top of 4G on band n2.
AT&T is investing heavily in a subset of band n77 known as the "Andromeda" spectrum - and in 2023 the carrier is aggressively rolling out their mid band spectrum on it.
Since the Andromeda spectrum was more recently defined, many 5G devices that support general n77 will not be compatible, and AT&T warned that most pre-2022 devices would NOT be updated to support Andromeda. Andromeda compatibility will only be possible in devices with the Qualcomm X62/X65 (or newer) cellular modems, which are the first to support the newest 5G standards update (3GPP Release 16). A big consideration for those investing in 5G gear - use our Phase 2 5G Gear Center Filter to find hotspots & routers that support this band.
Recent AT&T News Stories:
Dish Wireless

Dish is building a 5G native network that will not depend on a legacy 4G network behind the scenes.
Running 5G radios in "standalone" mode with 4G disabled can enable lower latencies and more efficient usage of the airwaves, but Project Genesis devices will still likely spend much of their time roaming onto more traditional hybrid 4G/5G networks so these advantages may be rarely realized.
Dish Device Compatibility Tips:
Dish has licenses to the following 5G cellular bands:
n26, n29, n48, n66, n70, n71
Other than n66 (also used by Verizon) and n71 (used by T-Mobile), these are mostly oddball 5G bands that no other carrier in the United States is using.
Since Dish is the only company using some of these bands, not all device makers currently have built-in support for them, but that will change as Dish grows.
Dish initially launched with devices that support just n66 (for speed) and n71 (for range) but has plans to introduce devices with support for bands n70 and n29 going forward.
Bands n26 and n48 will presumably not be widely supported until further down the road.
Recent Dish News Stories:
---
Regional Carriers for RV Travel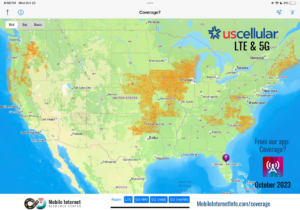 In addition to the big national carriers, there are a number of smaller regional and even local carriers that own and operate their own cellular networks. But they are unlikely to be the best cellular carrier for most RV or boat travels.
Some of the larger examples include USCellular, C-Spire Wireless, nTelos, Cellcom, and Cellular One.
These smaller regional carriers are usually poor choices for travelers, unless you know that you are primarily going to be spending time in areas where they have a strong native presence.
Even if the regional carrier has nationwide coverage through roaming agreements, if you're utilizing the service primarily outside its home region, you can find yourself running into all sorts of restrictions and limitations.
And if you are out of your home territory for too long - you will very likely end up getting your account canceled.
---
MVNOs & Resellers
There are many other brands you'll find when shopping for data plans that are all based on the major carrier's network.
Each major carrier also has prepaid subsidiary brands they own - such as Metro by T-Mobile, Visible by Verizon and Cricket Wireless by AT&T.
There are also independently owned MVNOs (Mobile Virtual Network Operators) who have bulk purchasing agreements with the carriers to package their own plans. Some frequent names are Consumer Cellular, US Mobile and Google Fi Wireless.
And then there are 3rd Party Resellers who may or may not have legit reseller agreements who are basically just reselling existing plans from the carriers. These can be a great way to get a lot of data, but these plans have a lot of volatility. They tend to work.. until they don't.
Check out our further resources for shopping for data plans.
Shopping for Cellular Data Plans
Finding the right plans for your needs is no easy task - quite simply mobile travelers using cellular data as their primary way online is not how most carriers have designed their plans. Many of us want plans that provide copious amounts of data.
Here's our video going over ways to get LOTS of data for use in your travels:
But a data plan alone will not keep you online. You also need the right gear, signal enhancing strategy and planning your travels around the options you carry with you. Head on over to our collection of guides:
---
Starlink - Satellite Internet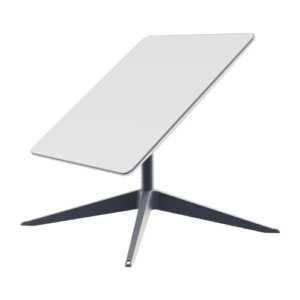 Starlink is also a great option for mobile internet, although it's not cellular based but satellite. Now available for portability and official mobile use for RVers and boaters.
However, it comes with its own challenges like needing a clear view of the sky, high power needs and larger equipment to install or deploy. It can also be subject to poor performance in more populated locations.
It can be a great complement to cellular based internet for those requiring a reliable mobile internet setup - but generally not a full replacement for those who visit a variety of locations.
Starlink Overview for RVs & Boats
Conclusion: The Best Cellular Carrier for RV Depends on Your Needs
All of the major carriers have their strengths and weaknesses. The best cellular carrier for your RV or boat travel may just be the one that works best in your current location.
If you change locations frequently in your RV or boat travels, you'll want to determine which carrier, or possibly which combination of carriers, will give you the best coverage in the locations you'll be visiting.
And you absolutely need to also consider what data plans are available for the devices you want to use in your mobile internet setup, so that you can best meet your unique needs to keep online.
Explore the Resource Center
Join our 'Library Desk':
Internet for RVers & Cruisers Facebook Group
We cross post news articles and guides, and can help point you in the right direction to our content here on the resource center.
It is with gratitude to our premium members that we're able to offer our free content - and for that, they also have access our private Q&A areas for more in-depth guidance.
The MIA is our premium membership - designed for those who consider mobile internet an important part of their lifestyle.
In thanks for making content like this possible, we offer a bunch of additional perks. From interactive guidance, in-depth member exclusive content, discounts, alerts, classroom and more. 
We totally understand that a membership isn't right for everyone.
However you can still support this content with our supporter level for just $25/year. 
With our gratitude, you'll get access to all our free content without the 'nags'. 

Stay In the Know
We're constantly tracking the industry and analyzing new developments for mobile travelers. If you'd like to receive updates, we offer several ways: