Released in April 2018, this weBoost booster kit primarily targets stationary RVers in remote locations.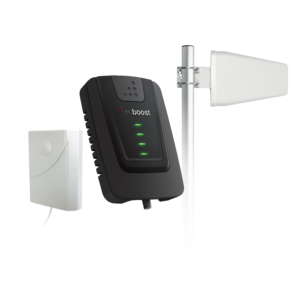 The kit is based on weBoost Connect home booster with a rated 65 dB gain, well above the 50 dB gain legally allowed for mobile boosters.
The kit avoids needing to comply with the mobile gain limitations because it is not suitable for use while in motion. Instead - the directional wideband external antenna included requires aiming and set up at each stop.
Included in the kit is a telescoping pole which allows the outside antenna to get above local clutter for a better direct line of sight to the nearest cell tower.
Specifications
Model: 471203
Max Downlink Gain: 65dBm
Impedance: 75 Ohm
# of Devices Boosted: Multiple
LTE Bands Supported: 12/17, 13, 5, 4, 2
Exterior Antenna: weBoost Wideband Directional
Internal Antenna: weBoost Panel
Range of Interior Coverage: Room
In Motion Usage: No
Power: 110-240 V AC, 50-60 Hz
Connecters: F-Female
Booster Dimensions: 6.5'' x 4.25'' x 1.25''
Warranty: 2 Year
List Price: $649.99
---
Review & Testing Status
We tested the RV-65 head-to-head against the SureCall Fusion2GO 3.0, the HiBoost OTR and a collection of MIMO antennas in our 2nd Quarter 2018 testing round:
A detailed hands-on review and analysis of the RV-65 is be featured in our members-only section below:
---
Potential Alternatives to Consider:
For other booster options on the market worth comparing this model to - here are our featured options:
Learn More About Selecting Cellular Boosters
---
Boosters are NOT the right choice for all applications.
They make the most sense for devices without antenna ports (like smartphones and tablets), or when in weak signal areas. However, for devices with antenna ports in mild to moderate signal areas - a direct-connected antenna can outperform a booster. And boosters can actually DECREASE data speeds in some conditions - never assume you need a booster on all the time - always test at each location!
More Information Available to our Members

We are honored to be able to present the above overview for free without 3rd party advertising.
In thanks for funding this resource center our members have access to any further notes, analysis, insider info, member experiences and/or our full in-depth review of this product or offering.
If you're a member, please log in above to read the review.
---
Purchasing Options
Amazon: weBoost Connect RV 65 | weBoost Connect 65 (home - no pole)
Other retailers:
RepeaterStore | Camping World
---
Related News:
The guides below have been hand-picked to help further your education about the complicated topic of signal enhancing and utilizing cellular boosters.