Released in April 2018, this weBoost booster kit primarily targets stationary RVers in remote locations.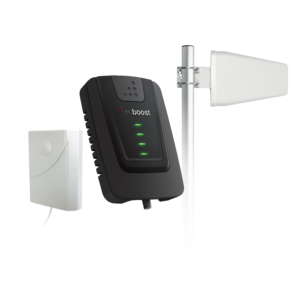 The kit is based on weBoost Connect home booster with a rated 65 dB gain, well above the 50 dB gain legally allowed for mobile boosters.
The kit avoids needing to comply with the mobile gain limitations because it is not suitable for use while in motion. Instead - the directional wideband external antenna included requires aiming and set up at each stop.
Included in the kit is a telescoping pole which allows the outside antenna to get above local clutter for a better direct line of sight to the nearest cell tower.
Specifications
---

Included in this Review

Free/Public:

Member Exclusive Content / Review:

---

Review & Testing Status

weBoost sent us an evaluation unit, and we spent May & June testing in the field. We have now wrapped up our field testing and our full review, testing summaries and comparisons are available below to members.

Summary of review:

RV-65 pole mounted to ladder for testing

The RV-65 is a solid performer but is not always the right solution in all signal situations.

If you frequently park your RV in very remote locations for extended periods of time and need more gain in your cellular boosting arsenal, then this kit could well worth the extra expense and setup time.

For those who move frequently, vary their stays or stay in less remote locations - then this booster does not make a lot of sense as an all-around option to have onboard. A mobile booster (such as the 4G-X or 4G-M) and/or MIMO antennas will be more suitable.

Members can also dive deep into our field testing results in our Testing Lab:

Cellular Signal Field Testing – SureCall Fusion2Go 3.0 | Upcoming New Booster Kits | MIMO Antennas (2nd Quarter 2018)

---

Unboxing Video

Here is our unboxing video overviewing this new kit:

---

Related News Articles:

A Full Review of this Product is Available to our Members

We are honored to be able to present the above product overview for free without 3rd party advertising.

In thanks for funding this resource center our members have access to the in-depth unbiased review of this product based on our extensive hands-on time and testing.

If you're a member, please log in above to read the review.

---

Purchasing Options

Amazon: weBoost Connect RV 65 | weBoost Connect 65 (home - no pole)

Other retailers:
RepeaterStore | Camping World