Released in April 2018, this weBoost booster kit primarily targets stationary RVers in remote locations.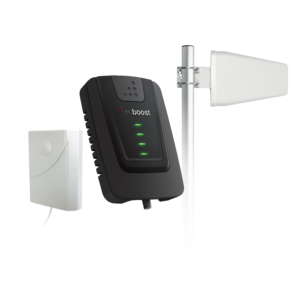 The kit is based on weBoost Connect home booster with a rated 65 dB gain, well above the 50 dB gain legally allowed for mobile boosters.
The kit avoids needing to comply with the mobile gain limitations because it is not suitable for use while in motion. Instead - the directional wideband external antenna included requires aiming and set up at each stop.
Included in the kit is a telescoping pole which allows the outside antenna to get above local clutter for a better direct line of sight to the nearest cell tower.
Specifications
---
5G Ready?

Booster manufacturers may state their products are "5G ready." Which is a bit misleading. 5G is being deployed on a myriad of low, mid and high frequency bands. Current boosters only cover a handful of frequency bands in the low range spectrum (12, 13, 5, 4, 2 and sometimes 25). Where 5G is being deployed on those bands, they will work. But they will not work on the newer bands, thus only offering relatively limited 5G support.
This is a complicated topic, for more:
---
News, Videos & Status
We tested the RV-65 head-to-head against the weBoost 4G-X, SureCall Fusion2GO 3.0, the HiBoost OTR and a collection of MIMO antennas in our 2nd Quarter 2018 testing round:
Video Overview:
Related News:
---
Potential Alternatives to Consider:
For other booster options on the market worth comparing this model to - here are our featured options:
Learn More About Selecting Cellular Boosters
---
Boosters are NOT the right choice for all applications.
They make the most sense for devices without antenna ports (like smartphones and tablets), or when in weak signal areas. However, for devices with antenna ports in mild to moderate signal areas - a direct-connected antenna can outperform a booster. And boosters can actually DECREASE data speeds in some conditions - never assume you need a booster on all the time - always test at each location!
Member Exclusive Content Below
Purchasing Options
Amazon: weBoost Connect RV 65
Other retailers:
TechnoRV | Waveform | Camping World