Cellular booster manufacturer SureCall has been around for a long time (since 2001) and has built up a solid reputation (and patent portfolio) around providing boosting gear for everything from the largest office buildings to the smallest vehicles.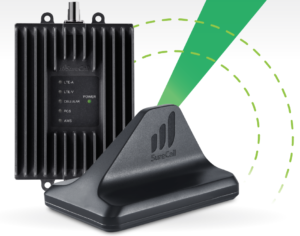 In September 2019, SureCall released the Fusion2Go Max - claiming to be "ushering in the next generation of signal booster technology through its ground-breaking ERT technology" - saying that the Fusion2Go Max is "the most powerful vehicle signal booster in its class".
The Extended Range Technology(ERT) architecture places some of the booster electronics in the outdoor antenna itself, and SureCall says that this allows the elimination of signal loss from the cable run between the antenna and the booster core.
On paper - it sure sounds impressive.
But is it really groundbreaking in practice?
And though the technology is interesting, the Fusion2Go Max is designed with some tradeoffs that will make it a challenge to use in many RV and most marine installations too.
Specifications
Model: Fusion 2Go Max
Gain: 50dB
Max Uplink Power: 29dBm, 1 Watt EIRP
Impedance: 50 Ohm
# of Devices Boosted Simultaneously: Multiple
LTE Bands Supported: 12/17, 13, 5, 2, 25, 4
Uplink Frequency Range (MHz): 698-716 / 776-787 / 824-849 / 1850-1915 / 1710-1755
Downlink Frequency Range (MHz): 728-746 / 746-757 / 869-894 / 1930-1995 / 2110-2155
Supported Standards: CDMA, WCDMA, GSM, EDGE, HSPA+, EVDO, LTE and all cellular standards
Carriers Supported: Verizon, AT&T, T-Mobile, Sprint and US Cellular
Exterior Antenna: ERT Shark Fin
Internal Antenna: Candy Bar
Wire Lengths: Exterior - 10'
Range of Interior Coverage: 3-10'
In Motion Usage: Yes
Power Supply: DC Car Charger - 6-15V - AC Power Supply Available
Power Consumption: <10w
Connectors: FME Male (both ends)
Booster Dimensions: 5.625" x 4" x 1.125"
Warranty: 3 Year
List Price: $499.99
---
News, Videos & Status
We received a unit in September 2019, which we put as a late entry into our Summer/Fall 2019 head to head test round.
We were able to conduct a few rounds of testing. As this isn't an RV specific form factor, we're unlikely to continue testing it.
However, the initial results and our impressions are available to members in the section below. Members can also follow our testing activity in our forum.
Related News:
---
---
Member Exclusive Content Below
Deep Dive

Hands on Testing Notes
LTE Bands & Network Compatibility
Extended Range Technology
Patent Wars
Summary
---
Purchasing Options
Amazon (affiliate link) | SureCall | Waveform | Signal Booster| UberSignal | SignalBoosters