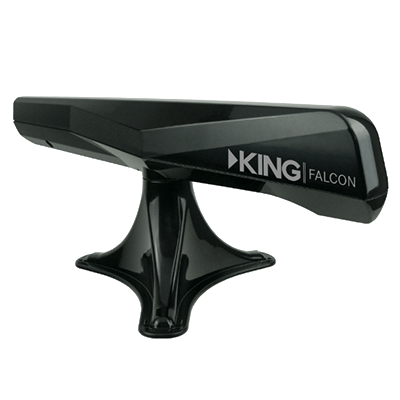 King is a leading provider of both satellite and over-the-air TV antennas designed for RV use, but they've more recently entered the mobile WiFi market. Their newest product is the King Falcon & WiFiMax, a directional WiFi antenna and router combination.
The system combines a roof-mounted auto-aiming directional antenna (a Yagi-type antenna in an enclosed housing) with an indoor router. "
The system is designed to automatically aim at whatever WiFi source you choose with the aid of a companion smartphone or tablet app, promising all the benefits of a directional antenna without the need for manual aiming.
King describes it this way:
Using the KING Wi-Fi App, the KING Falcon automatically rotates and scans 360 degrees and shows you all the available networks. Then, you simply tap the network you want, and the Falcon automatically aims itself to get the best performance from that Wi-Fi source.
The antenna is controlled by software in the router through a coaxial cable that also provides power to the antenna, so installation of the rooftop unit only requires routing a single coax cable to the interior.
King claims the directional antenna is 10x more powerful than the competition (which use omnidirectional antennas).
However, the exterior directional antenna is only able to pick up 2.4GHz WiFi sources, but most public hotspots broadcast on this frequency.
The inside router does provide both 2.4 and 5GHz connections for the private WiFi network and the router also comes with three LAN ports.
---
Specifications
WiFi Antenna:
Wi-Fi Router:

Antennas: 3x 5dB
Frequency / WiFi Standard: dual 2.4 / 5GHz Wi-Fi: (802.11 b/g/n/ac - 367Mbps Max)
Exterior Antenna: Can pair with King Falcon via coax cable to one of the routers antenna ports.
WiFi as WAN: Yes
Guest WiFi Network: No
Integrated Cellular Modem: No
Ethernet Ports: 3x LAN, 1x WAN
Power Source: 9v or 110v AC
Dimensions (inches): 11W x 7D x 8.75H

Retail Price: $449.99
Other Models & Variations
The WiFiMax router can be purchased separately for $99.99 or the router can be bundled with a "Swift" omnidirectional exterior WiFi antenna for $229.00.
---
Review & Testing Status
We do not intend to acquire a unit for testing.
The Rest of this Review is:
Member Only Content
We are thrilled & honored to be primarily member & reader funded - allowing us to present unbiased content. The in-depth review section of this product listing is part of the premium membership benefits of joining. Members can also leave their own reviews on products.
If you're a member, please log in above to read the in-depth review for this product and/or leave your own review. If you've not joined yet, learn more about membership at:
---
Purchasing Options
The King Falcon and WiFiMax combo is available direct from King or from online retailers:
Quick Take
A WiFi and router combination offering an automatically-aimed high-gain directional antenna with an interior router.
Comments Rating
( reviews)