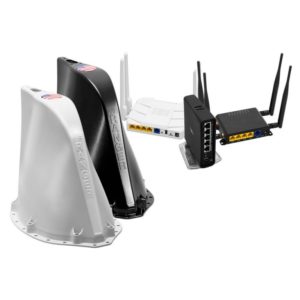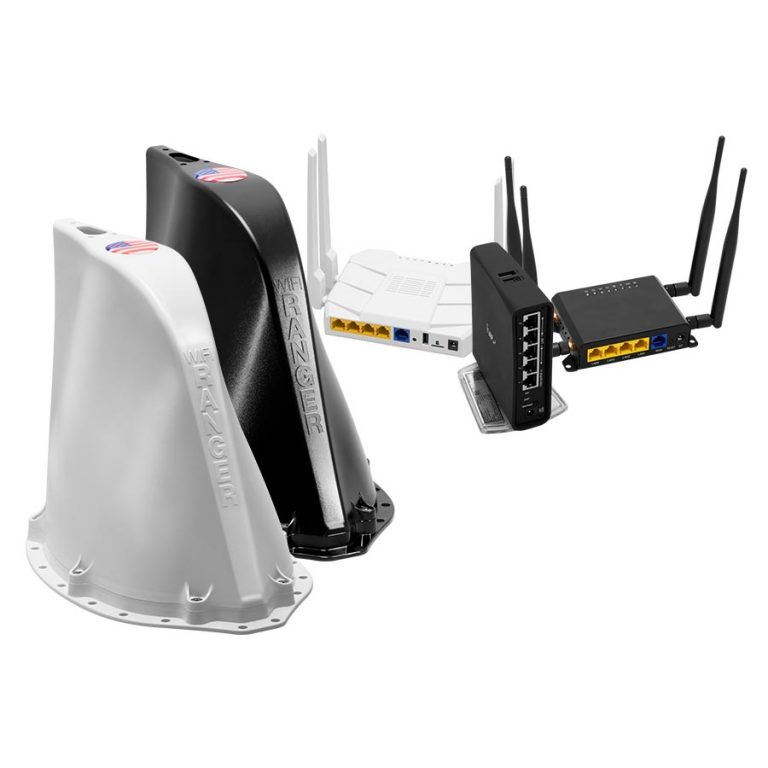 The WiFiRanger Converge line of indoor routers that pair with outdoor long-range Wi-Fi and cellular companion units was first previewed way back in March 2019 and officially announced in September that year, with the low-end Teton and mid-range Denali products shipping the following month.
The flagship of the product line - the rooftop Everest - was slated to soon follow, originally scheduled for release in January 2020.
The Everest however has remained "coming next month" all throughout a tumultuous 2020 that featured pandemic driven production delays and WiFiRanger getting acquired by Winegard.
For the longest time it seemed that Everest would never ship - leaving WiFiRanger without a rooftop 5 GHz Wi-Fi option to replace the discontinued EliteAC.
But at long last, WiFiRanger is ready to send Everest out into the world!
And to make up for the delay - Everest is coming with both a higher end cellular modem option, and a new lower starting price.
But will Everest prove to have been worth waiting for?
First Look Video
Subscribe to our YouTube Channel
The Converge Everest - Updated Features and Pricing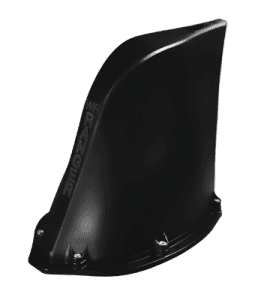 The Converge Everest is the pinnacle of WiFiRanger's Converge product line, and combines dual-band long-range Wi-Fi and up to two cellular modems into an integrated roof-top unit.
The rooftop Converge units can operate standalone - creating a local Wi-Fi network for all of your devices. Or they can be paired with a companion indoor router - letting the indoor router focus on hosting your local network, and allowing the Coverage to focus on your upstream connection options.
WiFiRanger's area of expertise has always been in enabling long-range access to public Wi-FI networks via Wi-Fi as WAN.
The Everest in particular can connect to both 2.4 GHz and 5 GHz public Wi-Fi networks, but you can also choose to add the ability to also connect via one or two integrated cellular modem modules that benefit from minimal antenna cable loss and the Everest's rooftop mounting location.
Since it was first announced over 18 months ago, the configuration options and pricing of the Everest have changed, and there is now a lower starting price and the option for higher end Cat-12 modems.
The base Wi-Fi-only Everest is now offered for $550 - significantly less than the original $650 announced price.
The price goes up from there depending on what cellular modems you add, and the length of cabling ($15 for 15 feet to $45 for 45 feet) you choose.
You can also purchase "packs" that bundle the Everest with an indoor router, such as the WiFiRanger Spruce.
Here are the cellular modem options you can add to Everest:
Cat-4 Modem (150 Mbps Peak Theoretical Download Speed): +$100 each
Cat-6 Modem (300 Mbps Peak Theoretical Download Speed): +$150 each
Cat-12 Modem (600 Mbps Peak Theoretical Download Speed): +$250 each
It is great to see a Cat-12 option, considering how low-end Cat-4 modems are in 2021.
Note: WiFiRanger is still working through some surprisingly tricky software issues that have long prevented WiFiRanger routers from being able to control two identical modems. Because of this, customers can't currently order a unit with two of the same modem. This is the same bug that prevents simultaneous USB tethering of two or more mobile hotspots that use the same modem chipset to an indoor WiFiRanger router.
WiFiRanger is now taking orders for the Everest but there is a global shortage of the Cat-12 modem module they are using, so the higher-end Cat-12 modems are in extremely short supply, and at press time, the WiFiRanger website shows this option as "out of stock."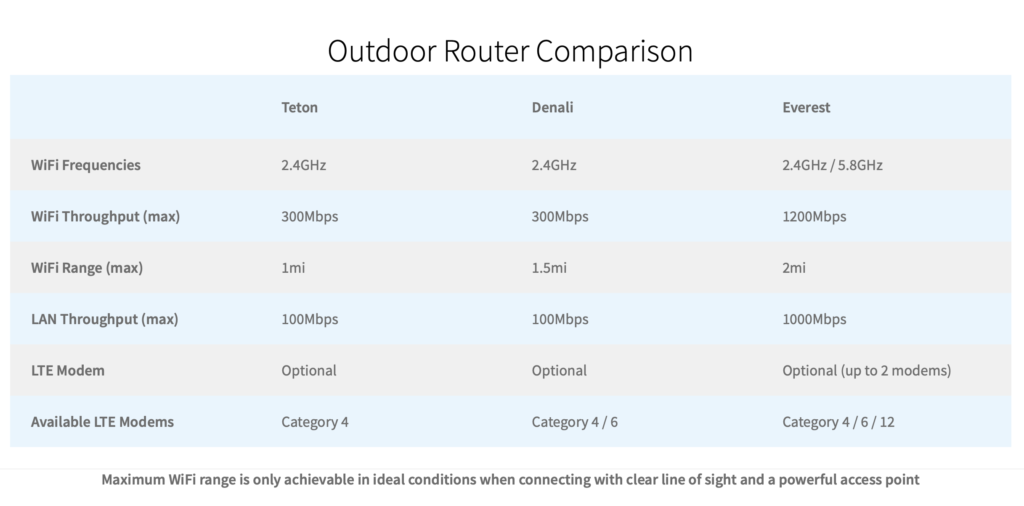 Everest Cellular Modems Details & Data Plans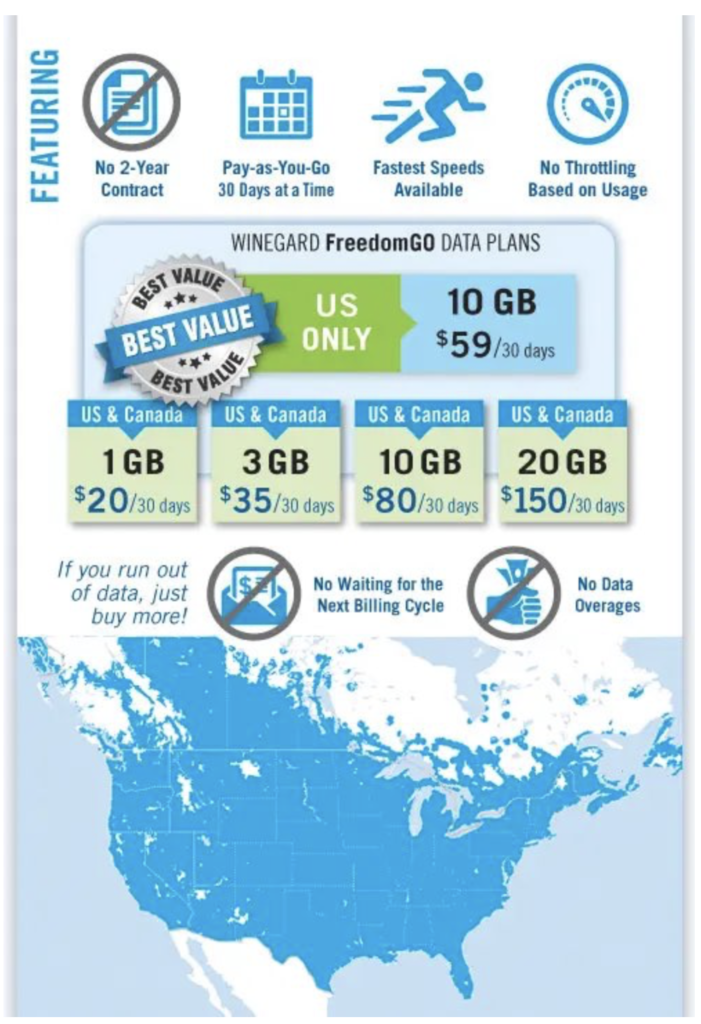 It's nice to see three modem tiers being offered - though it would have been even nicer to have an even higher-end Cat-18 modem with 4x4 MIMO antennas, or even a 5G option.
But the Everest is designed to be field upgradeable - so perhaps WiFiRanger will offer more advanced options in the future.
Here are the LTE bands supported by the current Everest modems:
Cat-4 Modem: 2, 4, 5, 12, 13, 14, 17, 66, 71
Cat-6 Modem: 2, 4, 5, 7, 12, 13, 25, 26, 29, 30, 66
Cat-12 Modem: 1, 2, 3, 4, 5, 7, 8, 9, 12, 13, 14, 17, 18, 19, 20, 21, 25, 26, 28, 29, 30, 32, 38, 39, 40, 41, 66
WiFiRanger's modems are not locked and will work with compatible data plans and SIM cards from most carriers. But finding compatible data plans that can be activated directly on a cellular integrated router like the Everest can be tricky.
To make things simpler - WiFiRanger includes a SIM card pre-configured for Winegard's expensive FreedomGo pay-as-you-go data plan, which runs on AT&T's network.
If you only need small amounts of occasional data, this plan might be worthwhile. But those with more demanding data needs will want to seek out better plan options.
Important Note: Only the low end Cat-4 modem supports LTE Band 71, an important band for getting access to T-Mobile's longest range rural coverage.
It is disappointing that Everest's highest end Cat-12 modem will be somewhat lacking on T-Mobile, particularly since T-Mobile at the moment has perhaps the best legitimate data plan option for routers, with 100GB available for just $50/mo - a deal more than 10x as good as Winegard's "Best Value".
But as we've noted elsewhere - there simply are not any Cat-6 or Cat-12 modems on the market that support Band-71.
Fortunately - the Everest's modem modules are upgradeable, so theoretically WiFiRanger should be able to offer more advanced (and perhaps even 5G) modem module upgrades when they become more widely available.
Comparison to Alternatives
WiFiRanger's Converge lineup uses a unique form-factor and layout designed for RV use, and it is unlike anything else on the market. But here is how the Everest compares to some of its common alternatives.
Winegard ConnecT 2.0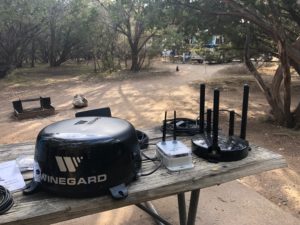 WiFiRanger is now a division of Winegard, but it operates independently and the WiFiRanger Converge and the Winegard ConnecT 2.0 (as well as the ToGo Roadlink, and Winegard Air 360+) compete with each other in the market.
The Winegard ConnecT and its derivatives are overall simpler products - they do not have the option for higher end cellular modems, and are limited to 2.4 GHz Wi-Fi.
These basic rooftop units are actually more comparable to WiFiRanger's lower-tier Converge options, the Teton and Denali.
Insty Connect Explorer
The new Insty Connect Explore (see our news story) combines an indoor 802.11ac Wi-Fi router with an outdoor Cat-12 cellular modem that is closely integrated with two powerful cellular antennas.
The Insty Connect lacks any long-range Wi-Fi as WAN capabilities, but offers some high-end cellular capability in a package that costs just $499.
Peplink Routers
Peplink has increasingly become a very popular option for nomads by combining very capable hardware and firmware with options that appeal to the needs of mobile users.
But Peplink's most popular options are indoor routers with integrated cellular modems that are best paired with a separately purchased roof-mounted MIMO antenna. The Pepwave Max Transit line is particularly popular and includes a dual Cat-12 modem option for $999, but this would still require an additional roof-top antenna purchase to complete the kit.
Pepwave products are rock solid and have many advanced features. But they generally trail WiFiRanger in two areas - USB tethering of cellular devices, and long-range WiFi-as-WAN.
Summary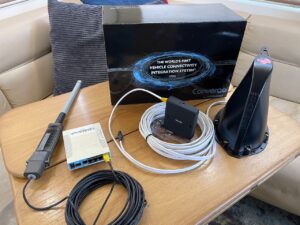 WiFiRanger has had a long history of products and customer service tailored to the RV market - and when it comes to enabling long-range Wi-Fi access, WiFiRanger's hardware and software has traditionally been unrivaled.
But for many nomads, long-range Wi-Fi has been eclipsed by cellular - and this is an area where WiFiRanger has yet to establish as much of a reputation.
The combination of the Everest rooftop unit, when paired with one of WiFiRanger's indoor routers, could for some provide the best of all worlds by offering integrated cellular modems on the roof, while also providing robust long-range Wi-Fi-as-WAN on the roof. Meanwhile - the indoor router will allow for USB tethering to multiple hotspots and smartphone to add even more cellular connectivity options into the mix.
All of these connections can be load balanced together at once, enabling a very flexible connectivity solution.
We have an Everest (with Cat-12 modem ) in for testing, and will be sharing our hands-on impressions with our MIA members as begin to experiment with it.
Bonus Member Only Content Available!
We go extra for our premium members - who make this resource center possible (did you notice the lack of 3rd Party advertising?). We have included some additional information in this news article just for our members - analysis, guidance and/or insider tips.
If you're not yet a member, please consider joining us. Extra content like this is one of the many perks we offer - in-depth content, guidance, discounts, alerts, classroom and more.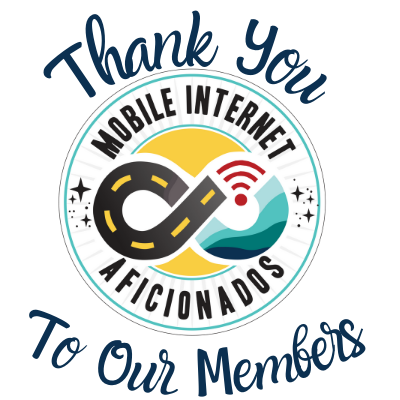 If you are already a member, please log in above to see the special content we have prepared for you.
---
WiFiRanger News:
Further Reading & Related Guides: