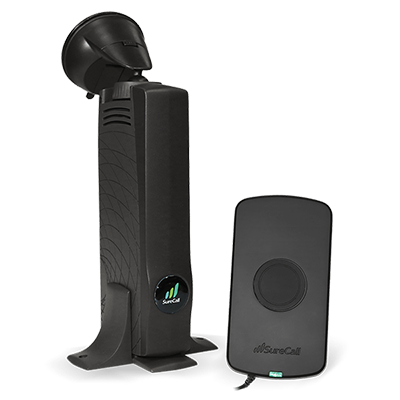 SureCall, a cellular signal booster manufacturer, began offering the FusionTrek in March 2018.
This cradle style cellular signal booster is specially designed to be used in vehicles, using technology that eliminates the need for antennas and cables outside of the vehicle.
It can boost the signal to a single device.
The FusionTrek take SureCall's cellular signal boosting technology and redesign it into a plug-and-play solution that fits in the rear-window of any car, truck, or SUV.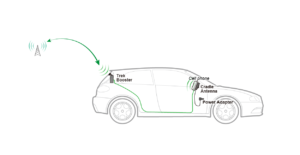 Boosting the cell signal for all North American carriers, the FusionTrek includes a cradle that incorporates a magnetic vent clip mount to couple a phone with the booster's built-in antenna. This configuration delivers an enhanced signal directly into the cell phone or mobile device for maximum signal boosting.
Specifications
Gain: 23dB
# of Devices Boosted: One
Uplink Freq. Range 698–716 / 776–787 / 824–849 /(MHz): 1850–1915 / 1710–1755 (G Block Included)
Downlink Freq. Range 728–746 / 746–757 / 869–894 /(MHz): 1930–1995 / 2110–2155 (G Block Included)
LTE Bands: 12 (17), 13, 5, 4, 2, 25
Exterior Antenna: None - antenna hangs in a window
Internal Antenna: Integrated into the cradle
Wire Lengths: 15ft
Range of Interior Coverage: Cradle Only
In Motion Usage: Yes

Power Source:

8-15V DC
Warranty: 3 Year
List Price: $199
Testing Status: SureCall sent us an evaluation unit, however we have not been able to dedicate the resources to do an in-depth field test and review considering the limited audience for this style of booster amongst our reader base.
Here is our quick unboxing and first impressions:
Related News Articles:
The Rest of this Review is:
Member Only Content
We are thrilled & honored to be primarily member & reader funded - allowing us to present unbiased content. The in-depth review section of this product listing is part of the premium membership benefits of joining. Members can also leave their own reviews on products.
If you're a member, please log in above to read the in-depth review for this product and/or leave your own review. If you've not joined yet, learn more about membership at:
Purchasing Options
SureCall | 3GStore | UberSignal | RepeaterStore
SureCall FusionTrek
Quick Take
A forthcoming vehicle signal booster which eliminates outside antennas or cables.
Comments Rating
( reviews)