This device or plan has been discontinued or we consider it obsolete. While current owners of this device or plan may continue to find performance to be adequate for the foreseeable tech-future, we do not recommend upgrading to or purchasing it.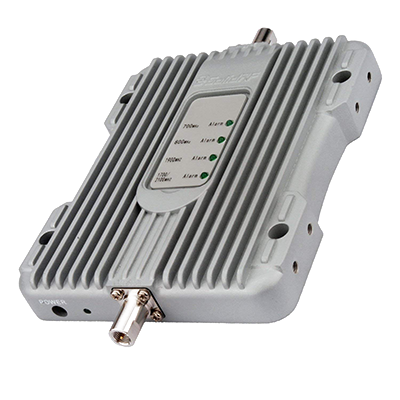 The SolidRF 4G MobileForce (first released as the Top Signal Cobra, and then renamed the Extreme Mobile 4G) - a 5-band booster with separate amplifiers for each band. According to SolidRF, other boosters generally have just 2 internal amplifiers covering a range of bands.
With improved filters, higher linearity and lower stand-by power consumption - specifications indicate that this booster might be a serious contender.
The booster will cover Verizon LTE, AT&T LTE, T-Mobile LTE, Sprint and most other 4G regional carriers, as well as 3G on all major networks.
Specifications
Model: 25602001-M5U01
Gain: 50dB
# of Devices Boosted: Multiple
LTE Bands Suported: 2, 4, 5, 12, 13
Exterior Antenna: 4" Magnetic Mount Omni - 12' Cable
Internal Antenna: Small Paddle - 12' Cable
Range of Interior Coverage: 2' - 4' max?
In Motion Usage: Yes
Connectors: FME-Female
Dimensions: 152*125*30 mm
Warranty: 3 Year on boosters, 1 year on accessories (antennas, cables, power adapters, etc)
List Price: $309
---
Review & Testing Status
We've had the SolidRF MobileForce 4G in our test arsenal since it was first released in the Spring of 2015 (originally called the Top Signal Cobra), and featured it in our 2015 Booster Analysis.
---
Potential Alternatives to Consider:
For other booster options on the market worth comparing this model to - here are our featured options:
Learn More About Selecting Cellular Boosters
---
This Review Contains Additional Member Exclusive Content!
We are Honored to be Member Funded!
No ads, no sponsors, no selling (but may contain affiliate links)
Our members fund our in-depth independent reviews.
This entry may contain additional member exclusive content such as testing notes, field testing data, user interface tours, comparisons to alternatives, analysis, tips, videos and discounts.
Members also get interactive guidance, alerts, classroom and more.
---
Purchasing Options
---
Related News:
The guides below have been hand-picked to help further your education about the complicated topic of signal enhancing and utilizing cellular boosters.