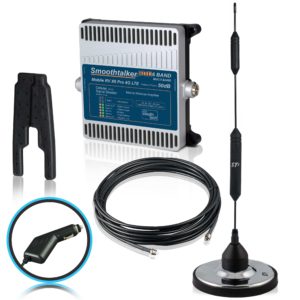 Smoothtalker has been around forever making cellular boosters (they claim to have released the first digital cellular booster in North America in 2001) - but they've been slow to transition to LTE and multi-band support.
In early 2017 Smoothtalker at last launched a full lineup of completely new "6 Band" LTE boosters - ranging from cradle boosters to RV / large vehicle boosters, to full-home residential and even large commercial systems.
Particularly interesting to RVers is Smoothtalker's Mobile RV X6 model.
Specifications
Gain: 50dB
# of Devices Boosted: Multiple
LTE Bands Supported: 12 (17), 13, 5, 4, 2, 25
Exterior Antenna: Magnetic mount with integrated 20' cable, other antenna options available. FME end.
Internal Antenna: Patch antenna with integrated 7' cable, FME end.
Range of Interior Coverage: Depends on external signal.
In Motion Usage: Yes
Power Supply: 12v (Optional 120V supply available)
Warranty: 2 Year
Retail Price: $499
Alternative Versions
Smoothtalker has a range of models available. Here is Smoothtalker's new lineup of mobile-suitable boosters:
15dB Inline Direct Connect Booster - $299.99 - This seems comparable to the weBoost Signal 4G, and can directly wire inline between a cellular router or modem with an antenna port, boosting the signal from an external antenna. In our experience, this style of booster is only interesting in a very limited range of use cases.
23dB Cradle Booster - $329.99 - This seems comparable to the weBoost Drive 4G-S cradle booster, though Smoothtalker claims that their booster has a lot more output power to enable better upload and fringe area performance. It does however cost substantially more. Cradle boosters can be great if you only need to get a single device online with a boosted signal.
50dB Mobile RV X6 - $499 - This seems to be on paper comparable to the weBoost Drive 4G-X, our current top pick cellular booster. This is the Smoothtalker booster with the most potential for RVers, and the one we have received for testing.
60db RV Z6 Park - $399 - Higher powered than regulated for mobile use, this is their version for RVs that are frequently stationary.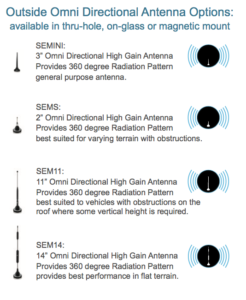 All the Smoothtalker boosters support a full 1W radiated output power, which they claim is more powerful than most competitive boosters - and should thus be most comparable to the weBoost Drive 4G-X as opposed to the weaker weBoost Drive 4G-M.
Smoothtalker also tells us that their boosters are "more sensitive to weak signals" and that they waited so long to come to market because they "didn't want to launch with something that they were not 100% confident in".
The flagship and most appropriate for RVers is the Mobile RV X6, and that is what we've focused on here.
Review & Testing Status
Smoothtalker sent us an evaluation unit of the Mobile RV X6 kit, which we have tested head-to-head in two field testing rounds.
Our detailed hands-on review and analysis of the Smoothtalker RV X6 is featured in our members-only section below, including a video overview focused on 'Optimizing Your Cellular Signal' showing all of the candidates in the early 2017 testing round in action head-to-head.
Unboxing Video
Here is our unboxing video of the SmoothTalker just after it arrived:
Our deeper analysis and impressions are in our members-only section below.
---
Potential Alternatives to Consider:
For other booster options on the market worth comparing this model to - here are our featured options:
Learn More About Selecting Cellular Boosters
---
More Information Available to our Members

We are honored to be able to present the above overview for free without 3rd party advertising.
In thanks for funding this resource center our members have access to any further notes, analysis, insider info, member experiences and/or our full in-depth review of this product or offering.
If you're a member, please log in above to read the review.
---
Purchasing Options
Here are some places to find the Smoothtalker line of boosters for sale:
---
Related News:
The guides below have been hand-picked to help further your education about the complicated topic of signal enhancing and utilizing cellular boosters.