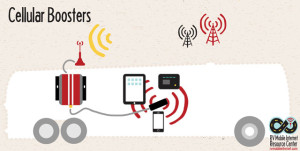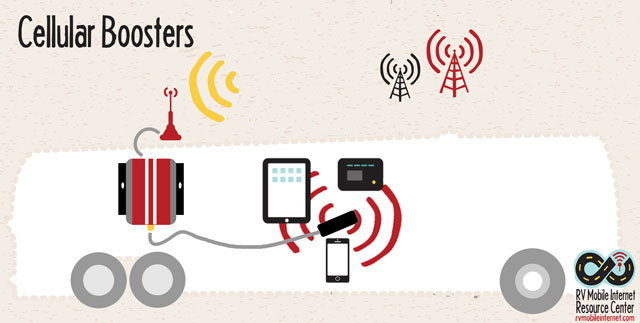 Cellular boosters can be an indispensable tool to have in your connectivity arsenal, but other than the relatively solid options from market leader weBoost there have not been many LTE-compatible boosters that have come to market that have been worth mentioning over the past two years.
And while many are still available for sale - older 3G-focused dual-band boosters are increasingly obsolete in a multi-band LTE world, and these older boosters are best avoided by anyone interested in extending their data connections and not just voice calls.
But as we head into 2017, there are some interesting new booster options popping up on our radar.
Here are two of them...
Smoothtalker - Mobile RV X6 and More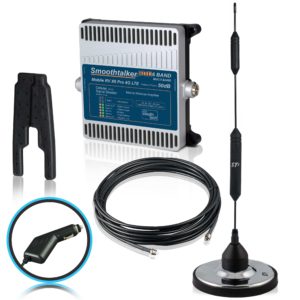 We've been tracking a new cellular booster coming to market from Smoothtalker for months now, and we've finally gotten permission to share about it publicly since it is slated to be officially launched later this week at CES.
Smoothtalker has been around forever making cellular boosters (they claim to have released the first digital cellular booster in North America in 2001) - but they've been slow to transition to LTE and multi-band support.
But Smoothtalker is now launching a full lineup of "6 Band" LTE boosters, ranging from cradle boosters to RV / large vehicle boosters to full-home residential and even large commercial boosters.
Here is Smothtalker's new lineup of mobile-suitable boosters being announced this week:
15dB Inline Direct Connect Booster - $299.99 - This seems comparable to the weBoost Signal 4G, and can directly wire inline between a cellular router or modem with an antenna port, boosting the signal from an external antenna. In our experience, this style of booster is only interesting in a very limited range of use cases.
23dB Cradle Booster - $329.99 - This seems comparable to the weBoost Drive 4G-S cradle booster, though Smoothtalker claims that their booster has a lot more output power to enable better upload and fringe area performance. It does however cost substantially more. Cradle boosters can be great if you only need to get a single device online with a boosted signal.
50dB Mobile RV X6 - $479 - This seems to be on paper comparable to the weBoost Drive 4G-X, our current top pick cellular booster. This is the Smoothtalker booster with the most potential for RVers, and the one we are looking forward to reviewing.
All the Smoothtalker boosters support a full 1W radiated output power, which they claim is more powerful than most competitive boosters.
Smoothtalker also tells us that their boosters are "more sensitive to weak signals" and that they waited so long to come to market because they "didn't want to launch with something that they were not 100% confident in".
We are looking forward to testing to see how well their booster lives up to these promises.
Six Bands??
Smoothtalker's "Six Band" claim is actually marketing smoke and mirrors seemingly intended to make their booster stand out from weBoost's 5-band boosters.
But comparing spec sheets, Smoothtalker seems to actually support the exact same five LTE frequency bands as weBoost does:
700MHz Lower - LTE Band 12, 17
700MHz Upper - LTE Band 13
850MHz - LTE Band 5
1700/2100MHz - LTE Band 4
1900MHz - LTE Band 2, 25
This means there are five internal amplifiers, but seven defined LTE bands (some overlap) covered. Perhaps Smoothalker just averaged it out to get 6...
Smoothtalker is in production now and is able to take orders if contacted directly. They'll be officially launching on January 5th, and will be updating their website at that time with further details.
Review Center Page: Smoothtalker Mobile RV X6
HiBoost Travel 4G LTE Booster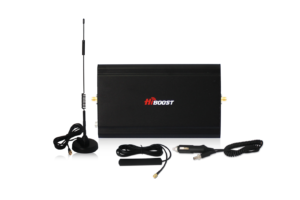 Also new to the market - we've just been contacted by HiBoost USA (a division of Asian manufacturer Huaptec), asking us to take a look at their Travel 4G LTE Booster.
On paper this booster has similar 50dB gain specs to the weBoost and Smoothtalker boosters, but it is unclear how much output power is provided for enhancing upload performance.
Also - a close inspection of the HiBoost Travel 4G spec sheet seems to indicate that Sprint's LTE Band 25 is NOT supported, though T-Mobile's LTE Band 12 is.
The HiBoost Travel 4G LTE costs $349, and it is already available on Amazon.
Review Center Page: HiBoost Travel 4G LTE Kit by Huaptec
---
March 2017 Update: Both Smoothtalker and HiBoost sent us review units of these new boosters, and we put them head-to-head in a variety of locations against our current top pick for most RVers - the weBoost Drive 4G-X.
We'll also included another round of testing of last year's newcomer - Maximum Signal's Max-Amp Mobile. The Max-Amp has so far in our extensive testing failed to meet its once lofty expectations (despite being replaced by the manufacturer multiple times), but we are hoping it performs better this time around.
Our detailed testing results and in-depth analysis has been shared site members - and our general reviews updated.
Further Reading: