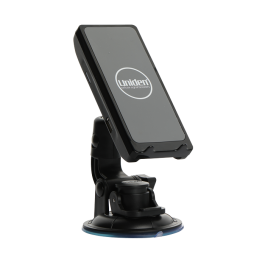 The Uniden Link 4G booster is a single-device cradle booster designed for 2G, 3G & 4G/LTE networks.
Uniden Cellular is a cellular signal booster manufacturer and the Link 4G is their cradle booster designed for vehicles. It boosts 2G/3G/4G/LTE voice and data for a single device.
The inside cradle is a magnetic phone mount system. An adhesive metal plate attaches to the device to give a secure magnetic hold. The mount itself attaches to a windshield (or another suitable surface) with a suction cup.
The booster operates on 12v power via a cigarette/accessory power port and the cradle includes a USB-A 5V - 2.1Amp charging port.
An exterior antenna is included with 10 feet of cable.
---
Specifications
Model:

2040CPAL

Gain: 15-20dBm
Max Uplink Power: 17-24 dBm
Impedence: 50 ohm
# of Devices Boosted Simultaneously: One
LTE Bands supported: 12 (17), 13, 5, 4, 2
Uplink Frequency Range: 698–716 / 776–787 / 824–849 / (MHz): 1850–1910 / 1710–1755 MHz
Downlink Frequency Range: 728–746 / 746–757 / 869–894 / 1930–1990 / 2110–2155 MHz
Exterior Antenna: Yes, 15" Outdoor Magnet Mount Omni Directional Antenna with 10 ft cable
Internal Antenna: No, Cradle Style Cellular Signal Booster, Metal Plate with Adhesive
Wire Lengths: 10ft
Range of Interior Coverage: Not specified
In Motion Usage: Yes

Power Source:

12V DC
Power Consumption: ~10W
RF Connectors: SMB-Female
Booster Dimensions: 5.3 x 2.6 x 1 inches
Ext Antenna Dimensions: 15"
Int Antenna Dimensions: Cradle: 7"x 3"
Warranty: 2 Year
List Price: $197
---
Review & Testing Status
We are not currently testing this product.
---
Potential Alternatives to Consider:
For other booster options on the market worth comparing this model to - here are our featured options:
Learn More About Selecting Cellular Boosters
---
Related News Articles:
This Review Contains Additional Member Exclusive Content

We are honored to be able to present the above overview for free without 3rd party advertising or sponsorships. We are not paid by the manufacturer of this product to provide this listing or review, and nor are we selling this equipment or plan (purchasing links are provided below as a courtesy and some may be affiliates).
Our members have funded this resource center and any extensive hands on time
we have spent with the product to review it.
The in-depth portions of this review are made available to them which might contain: hands on testing notes, field testing data, user interface tour, product analysis, comparison to alternatives, setup tips, video tutorial, insider tips, vendor discounts and fellow member experiences.
If you're a member, please log in to continue with this review.
If you're not a member.. please consider joining us!
---
Purchasing Options
---
Related News:
The guides below have been hand-picked to help further your education about the complicated topic of signal enhancing and utilizing cellular boosters.