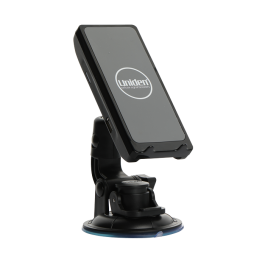 The Uniden Link 4G booster is a single-device cradle booster designed for 2G, 3G & 4G/LTE networks.
Uniden Cellular is a cellular signal booster manufacturer and the Link 4G is their cradle booster designed for vehicles. It boosts 2G/3G/4G/LTE voice and data for a single device.
The inside cradle is a magnetic phone mount system. An adhesive metal plate attaches to the device to give a secure magnetic hold. The mount itself attaches to a windshield (or another suitable surface) with a suction cup.
The booster operates on 12v power via a cigarette/accessory power port and the cradle includes a USB-A 5V - 2.1Amp charging port.
An exterior antenna is included with 10 feet of cable.
Specifications
Model:

2040CPAL

Gain: 15-20dBm
Max Uplink Power: 17-24 dBm
Impedence: 50 ohm
# of Devices Boosted Simultaneously: One
LTE Bands supported: 12 (17), 13, 5, 4, 2
Uplink Frequency Range: 698–716 / 776–787 / 824–849 / (MHz): 1850–1910 / 1710–1755 MHz
Downlink Frequency Range: 728–746 / 746–757 / 869–894 / 1930–1990 / 2110–2155 MHz
Exterior Antenna: Yes, 15" Outdoor Magnet Mount Omni Directional Antenna with 10 ft cable
Internal Antenna: No, Cradle Style Cellular Signal Booster, Metal Plate with Adhesive
Wire Lengths: 10ft
Range of Interior Coverage: Not specified
In Motion Usage: Yes

Power Source:

12V DC
Power Consumption: ~10W
RF Connectors: SMB-Female
Booster Dimensions: 5.3 x 2.6 x 1 inches
Ext Antenna Dimensions: 15"
Int Antenna Dimensions: Cradle: 7"x 3"
Warranty: 2 Year
List Price: $197
---
News, Videos & Status
We are not currently testing this product.
Related News:
---
---
Purchasing Options