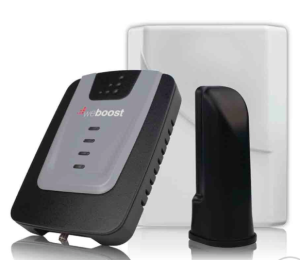 Despite being marketed specifically towards RVers, the weBoost RV 4G that first shipped in September 2015 is actually just a weBoost Home 4G residential cellular booster packaged with accessories to make it somewhat more appropriate for RV usage.
The 60dB gain of the RV 4G and Home 4G is above the legal 50dB limit for mobile boosters, but the directional panel antenna included in the kit is not conducive to operation while in motion, requiring setup and rough aiming at every new location.
This setup requirement is what potentially allows weBoost to get around the FCC guidelines against marketing "home" boosters for mobile use.
Specifications
Model: 470201
Gain: 60dB
Impedence: 75 / 50 Ohm
# of Devices Boosted: Multiple
LTE Bands Supported: 12 (17), 13, 5, 4, 2, 25
Exterior Antenna: 75 Ohm Large Directional Panel Antenna / Suction Cup Mount
Internal Antenna: Desktop Tower Antenna
Wire Lengths: 30' + 15' White Low Loss RG6 Coax Cables
Range of Interior Coverage: tbd
In Motion Usage: No
Power: 120v 50-60Hz
Power Consumption: 8w
Connectors: SMA-Female (inside antenna) | F-Female (outside antenna)
Dimensions: 6.375" x 1.125" x 4.35"
Warranty: 2 Year
List Price: $460
This product has been discontinued by weBoost. They now recommend either the Drive 4G-X for those who need support for mobility, or their new stronger Connect RV 65 kit.
---
Review & Testing Status
We've had the weBoost RV 4G in our testing arsenal since August 2015, and featured it in our 2015 Booster Analysis.
---
---
Related News Articles:
---
Purchasing Options
Links Provided for Convenience
We do not sell any gear or equipment. These links are provided to make your shopping easier. Unless otherwise disclosed, only Amazon links are affiliate links (see our disclaimer). We request vendors give our members bigger discounts instead of giving us affiliate kickbacks.
Member Discounts - Learn & Save!
Our MIAs get special discounts from these vendors. Members please check for discount codes before ordering. Some vendors offer up to 10% off - you could save more than the cost of your membership on major purchases.
---
Related News: