This device or plan has been discontinued or we consider it obsolete. While current owners of this device or plan may continue to find performance to be adequate for the foreseeable tech-future, we do not recommend upgrading to or purchasing it.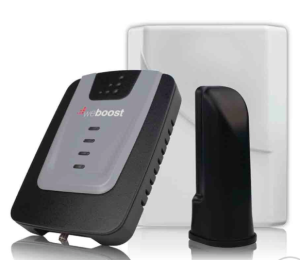 Despite being marketed specifically towards RVers, the weBoost RV 4G that first shipped in September 2015 is actually just a weBoost Home 4G residential cellular booster packaged with accessories to make it somewhat more appropriate for RV usage.
The 60dB gain of the RV 4G and Home 4G is above the legal 50dB limit for mobile boosters, but the directional panel antenna included in the kit is not conducive to operation while in motion, requiring setup and rough aiming at every new location.
This setup requirement is what potentially allows weBoost to get around the FCC guidelines against marketing "home" boosters for mobile use.
Specifications
Model: 470201
Gain: 60dB
Impedence: 75 / 50 Ohm
# of Devices Boosted: Multiple
LTE Bands Supported: 12 (17), 13, 5, 4, 2, 25
Exterior Antenna: 75 Ohm Large Directional Panel Antenna / Suction Cup Mount
Internal Antenna: Desktop Tower Antenna
Wire Lengths: 30' + 15' White Low Loss RG6 Coax Cables
Range of Interior Coverage: tbd
In Motion Usage: No
Power: 120v 50-60Hz
Power Consumption: 8w
Connectors: SMA-Female (inside antenna) | F-Female (outside antenna)
Dimensions: 6.375" x 1.125" x 4.35"
Warranty: 2 Year
List Price: $460
This product has been discontinued by weBoost. They now recommend either the Drive 4G-X for those who need support for mobility, or their new stronger Connect RV 65 kit.
---
Review & Testing Status
We've had the weBoost RV 4G in our testing arsenal since August 2015, and featured it in our 2015 Booster Analysis.
---
Potential Alternatives to Consider:
For other booster options on the market worth comparing this model to - here are our featured options:
Learn More About Selecting Cellular Boosters
---
Related News Articles:
This Review Contains Additional Member Exclusive Content!
We are Honored to be Member Funded!
No ads, no sponsors, no selling (but may contain affiliate links)
Our members fund our in-depth independent reviews.
This entry may contain additional member exclusive content such as testing notes, field testing data, user interface tours, comparisons to alternatives, analysis, tips, videos and discounts.
Members also get interactive guidance, alerts, classroom and more.
---
Purchasing Options
---
Related News:
Cellular boosters can be quite useful for boosting the signal to a smartphone to get a more solid phone call. But when it comes to enhancing cellular data performance, things get more complicated.
Because of a technology called MIMO (multiple in multiple out) that is essential to LTE and 5G data, often times the internal antennas on a smartphone or hotspot don't benefit from an amplified signal. Boosters also only cover a handful of the frequency bands the carries use for data.
But a booster can play a role in a mobile internet arsenal - as they excel during times when you are really far from a tower, or where upload speeds are important (such as video broadcasting).
For more on understanding boosters vs. MIMO - check out video:
For more on signal enhancing, including understanding boosters and the many forms they come in - follow up with our guides: