This device has been discontinued or we consider it obsolete. While current owners of this device may continue to find performance to be adequate for the foreseeable tech-future, we do not recommend upgrading to or purchasing this device.
Potential Current Option: Better WeBoost Booster Options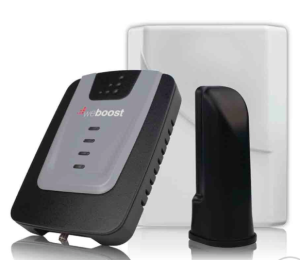 Despite being marketed specifically towards RVers, the weBoost RV 4G that first shipped in September 2015 is actually just a weBoost Home 4G residential cellular booster packaged with accessories to make it somewhat more appropriate for RV usage.
The 60dB gain of the RV 4G and Home 4G is above the legal 50dB limit for mobile boosters, but the directional panel antenna included in the kit is not conducive to operation while in motion, requiring setup and rough aiming at every new location.
This setup requirement is what potentially allows weBoost to get around the FCC guidelines against marketing "home" boosters for mobile use.
Specifications
Gain: 60dB
# of Devices Boosted: Many
LTE Bands Supported: 12 (17), 13, 5, 4, 2, 25
Exterior Antenna: 75 Ohm Large Directional Panel Antenna / Suction Cup Mount
Internal Antenna: Desktop Tower Antenna
Range of Interior Coverage: tbd
In Motion Usage: NO
Warranty: 2 Year
List Price: $399
This product has been discontinued by weBoost. They now recommend either the Drive 4G-X for those who need support for mobility, or their new stronger Connect RV 65 kit.
Testing Status: We've had the weBoost RV 4G in our testing arsenal since August 2015, and featured it in our 2015 Booster Analysis.
Related News Articles:
The Rest of this Review is:
Member Only Content
We are thrilled & honored to be primarily member & reader funded - allowing us to present unbiased content. The in-depth review section of this product listing is part of the premium membership benefits of joining. Members can also leave their own reviews on products.
If you're a member, please log in above to read the in-depth review for this product and/or leave your own review. If you've not joined yet, learn more about membership at:
Purchasing Options
weBoost RV 4G Ratings
Quick Take
While this powerful booster has a lot of raw potential, for a typical RV installation we found this booster difficult to deploy and setup. But for situations where you might be stationary for long periods of time in weak signal areas, this might be a suitable option.
Comments Rating
( reviews)