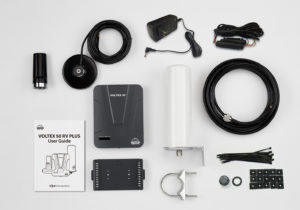 New in 2018, American Booster's VOLTEX 50 RV Plus, VOLTEX 50 Car Plus and VOLTEX 50 Yacht Plus claim to improve cellular coverage in vehicles, trucks, RVs and boats.
These boosters are designed to enhance all 3G, 4G, and LTE coverage across all US & Canadian carriers.
Available Configurations:
VOLTEX 50 Car Plus:

$

479.99
VOLTEX 50 RV Plus:

$

499.99
VOLTEX 50 Yacht Plus:

$

729.99
These configurations all come with a cellular amplifier, indoor antenna and an outdoor antenna. The Voltex 50 amplifier in each kit is the same, but the antennas and installation equipment for each application vary.
Specifications
Model: VOLTEX 50
Gain: 50dB
Impedance: 50 Ohm
# of Devices Boosted: Multiple
LTE Bands Supported: 2, 4, 5, 13, 17
Exterior Antenna: Varies by kit
Internal Antenna: Varies by kit
Range of Interior Coverage: Through out vehicle (claimed)
In Motion Usage: Yes
Power: AC/DC
Connecters: SMA Female
Booster Dimensions: 5.12'' x 6.5'' x 1''
Warranty: 2 Year
List Price: $479.99 - 729.99
---
Review & Testing Status
American Booster has offered to send us a unit for testing. We may incorporate their offer into a future round of testing.
---
Related News Articles:
The Rest of this Review is:
Member Only Content
We are thrilled & honored to be primarily member & reader funded - allowing us to present unbiased content. The in-depth review section of this product listing is part of the premium membership benefits of joining. Members can also leave their own reviews on products.
If you're a member, please log in above to read the in-depth review for this product and/or leave your own review. If you've not joined yet, learn more about membership at:
---
Purchasing Options
VOLTEX 50 Ratings
Quick Take
American Booster's booster kit series designed for cars, RVs, and Yachts.
Comments Rating
( reviews)