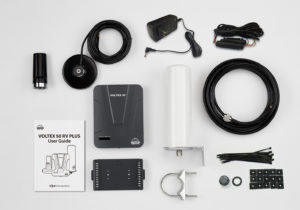 New in 2018, American Booster's VOLTEX 50 RV Plus, VOLTEX 50 Car Plus and VOLTEX 50 Yacht Plus claim to improve cellular coverage in vehicles, trucks, RVs and boats.
These boosters are designed to enhance all 3G, 4G, and LTE coverage across all US & Canadian carriers.
Available Configurations:
VOLTEX 50 Car Plus:

$

479.99
VOLTEX 50 RV Plus:

$

499.99
VOLTEX 50 Yacht Plus:

$

724.99
These configurations all come with a cellular amplifier, indoor antenna and an outdoor antenna. The Voltex 50 amplifier in each kit is the same, but the antennas and installation equipment for each application vary.
Specifications
Model: VOLTEX 50
Gain: 50dB
Impedance: 50 Ohm
# of Devices Boosted: Multiple
LTE Bands Supported: 2, 4, 5, 13, 17
Exterior Antenna: Varies by kit
Internal Antenna: Varies by kit
Range of Interior Coverage: Through out vehicle (claimed)
In Motion Usage: Yes
Power: AC/DC
Connecters: SMA Female
Booster Dimensions: 5.12'' x 6.5'' x 1''
Warranty: 2 Year
List Price: $479.99 - 724.99
---
Review & Testing Status
American Booster sent us their Voltex 50 Yacht Plus kit for testing in March 2019, our members have our thoughts after our quick hands on testing with this booster in direct comparison to the weBoost Drive 4G-X.
---
Potential Alternatives to Consider:
For other booster options on the market worth comparing this model to - here are our featured options:
Learn More About Selecting Cellular Boosters
---
Related News Articles:
More Information Available to our Members

We are honored to be able to present the above overview for free without 3rd party advertising.
In thanks for funding this resource center our members have access to any further notes, analysis, insider info, member experiences and/or our full in-depth review of this product or offering.
If you're a member, please log in above to read the review.
---
Purchasing Options
---
Related News:
The guides below have been hand-picked to help further your education about the complicated topic of signal enhancing and utilizing cellular boosters.