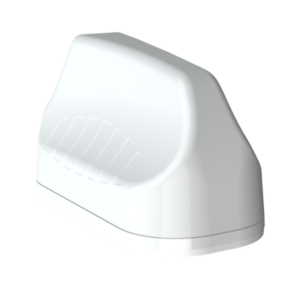 The Poynting MIMO-3 series of low-profile combination antennas offer MIMO cellular and Wi-Fi support as well as GPS reception.
Note: The marketing name for this antenna series changed in mid-2020. For example, the "3-V2-15" model is now called the "MIMO-3-15" model. This entry is updated to reflect that change, but some content still uses the older name.
The series comes in multiple versions:
MIMO-3-12: 2-in-1 ultra wideband 2x2 MIMO cellular including CBRS.
MIMO-3-13: 3-in-1 ultra wideband 2x2 MIMO cellular (w/ CBRS) plus GPS support.
MIMO-3-14: 5-in-1 ultra wideband 4x4 MIMO cellular (w/CBRS) plus GPS support.
MIMO-3-15: 5-in-1 ultra wideband 2X2 MIMO cellular (w/ CBRS), 2x2 MIMO WiFi (dual-band 2.4GHz and 5GHz), plus GPS support.
MIMO-3-17: 7-in-1 ultra wideband 4x4 MIMO cellular (w/ CBRS), 2x2 MIMO WiFi (dual-band 2.4GHz and 5GHz), plus GPS support.
By combining MIMO cellular, GPS, and Wi-Fi antennas - these Poynting antennas are well matched to plug directly into high-end cellular embedded routers by Pepwave and Cradlepoint.
All the variations come in the same low-profile fin-shaped housing, with a flexible hole or mag-mount options.
NOTE: This antenna is confirmed to be the included antenna in the Airstream Smart Control System, which uses a Pepwave MAX-BR1 Mini as the router.
---
Specifications
Models:

MIMO-3-12/13/14/15/17
Direction: Omni-directional

Impedance:

50 ohms
Configuration Options:

Cellular Antennas: 2x2 MIMO or 4x4 MIMO
Wi-Fi Antennas: 2x2 MIMO
GPS Antennas: Single or none
Color: White
Mounting: Spigot, Surface or Magnet (with optional kit) options available

Frequency / Gain:

LTE:

410MHz to 470MHz - 1.5dBi
690MHz to 960 MHz - 2.2 dBi
1710 to 2700MHz - 6.2 dBi
3400MHz to 3800MHz (CBRS) - 4.8 dBi

Wi-Fi:

2.4-2.5GHz - 5dBi
5.0-6.0 GHz - 7dBi

GPS: 1575.42MHz/1600MHz, 21 +/- 2dBI

Cable Type & Length:

Cellular: HDF 195, 2m (~6ft)
WiFi: HDF 195, 2m (~6ft)
GPS: RTK-031, 2m (~6ft)
Cable Extender Available

Connector:

SMA Male (SMA/Male to RP-SMA/Male adapters included for Wi-Fi)
Internal Ground Plane: Yes

Dimensions:

10 x 5 x 5.6 inches
Weight: 3 pounds
Outdoor Rated: Yes

Retail Price:

$160-260
---
Review & Testing Status
Reseller MobileMustHave (formerly LivinLite.net) sent us the MIMO-3-15 (aka 3-v2-15) model to put into active testing in our Spring 2019 MIMO cellular antenna field testing round, and our findings are summarized below in our member review.
MobileMustHave also sent us the MIMO-3-17 (aka 3-v2-17) model in October 2019, and we tested it against the MobileMark LTM 9-in-1 with the MAX Transit Duo dual modem router.
Members can track our impressions and raw testing data in these places:
Our full review is available to members in the section below.
Related News & Videos:
And here's video overview comparing the MIMO-3-17 7-in-1 to the MobileMark 9-in-1 we put into testing in January 2020:
---
Potential Alternatives to Consider:
For other popular cellular antennas on the market we are tracking - here are our featured options:
Learn More About Selecting Cellular Antennas
---
This Review Contains Additional Member Exclusive Content

We are honored to be able to present the above overview for free without 3rd party advertising or sponsorships. We are not paid by the manufacturer of this product to provide this listing or review, and nor are we selling this equipment or plan (purchasing links are provided below as a courtesy and some may be affiliates).
Our members have funded this resource center and any extensive hands on time
we have spent with the product to review it.
The in-depth portions of this review are made available to them which might contain: hands on testing notes, field testing data, user interface tour, product analysis, comparison to alternatives, setup tips, video tutorial, insider tips, vendor discounts and fellow member experiences.
If you're a member, please log in to continue with this review.
If you're not a member.. please consider joining us!
---
Purchasing Options
MobileMustHave:
(MIAs, check your Member Discounts for special savings from MobileMustHave)
Amazon:
The guides below have been hand-picked to help further your education about selecting & using cellular antennas.