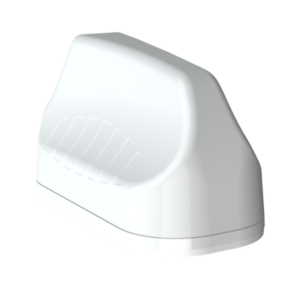 The Poynting MIMO-3 series of low-profile combination antennas offer MIMO cellular and Wi-Fi support as well as GPS reception.
Note: The marketing name for this antenna series changed in mid-2020. For example, the "3-V2-15" model is now called the "MIMO-3-15" model. This entry is updated to reflect that change, but some content still uses the older name.
The series comes in multiple versions:
By combining MIMO cellular, GPS, and Wi-Fi antennas - these Poynting antennas are well matched to plug directly into high-end cellular embedded routers by Pepwave and Cradlepoint.
All the variations come in the same low-profile fin-shaped housing, with flexible hole or mag-mount options.
NOTE: This antenna is confirmed to be the included antenna in the Airstream Smart Control System, which uses a Pepwave MAX-BR1 Mini as the router.
Specifications
---
News, Videos, & Status
Reseller MobileMustHave (formerly LivinLite.net) sent us the MIMO-3-15 (aka 3-v2-15) model to put into active testing in our Spring 2019 MIMO cellular antenna field testing round, and our findings are summarized below in our member review.
MobileMustHave also sent us the MIMO-3-17 (aka 3-v2-17) model in October 2019, and we tested it against the MobileMark LTM 9-in-1 with the MAX Transit Duo dual modem router.
Members can track our impressions and raw testing data in these places:
Our full review is available to members in the section below.
Videos:
And here's video overview comparing the MIMO-3-17 7-in-1 to the MobileMark 9-in-1 we put into testing in January 2020:
---
Potential Alternatives to Consider:
For other popular cellular antennas on the market we are tracking - here are our featured options:
Learn More About Selecting Cellular Antennas
---
---
Purchasing Options
MobileMustHave:
(MIAs, check your Member Discounts for special savings from MobileMustHave)
5G Store:
TechnoRV:
Amazon: