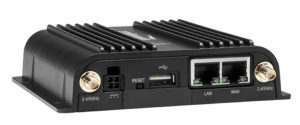 Cradlepoint is a well respected mobile router manufacturer focused on enterprise and fleet deployments, competing primarily with Peplink's Pepwave router lineup.
Cradlepoint used to have options for "average" users, all of which have been discontinued over the years as Cradlepoint has focused exclusively on the higher-end segments of the market.
Individuals with particularly demanding needs though are often drawn to Cradlepoint hardware. In particular, Cradlepoint's COR Series of mobile routers are ruggedized, compact, and offer a variety of functions integrated into a single device.
Two appealing options are currently available - the flagship COR IBR1700 and the more consumer appropriate (but still very advanced) COR IBR900. The Cradlepoint AER routers (read our gear guide page) are also worth a look - packing similar functionality into a less rugged package.
ALERT - NetCloud Subscription Required:
In June 2019 Cradlepoint announced a new policy where an active $180/year NetCloud subscription would be required to maintain access to basic firmware security updates. Everyone considering purchasing a Cradlepoint router should keep this new requirement in mind.
With this change, we have dropped our 'Top Pick' designation for this product line.
Table Of Contents
---
Cradlepoint COR IBR900
Of Cradlepoint's line-up, we consider the IBR900 the most appropriate for consumers, so this review is focused on this particular model.
Cradlepoint launched this flagship mobile router in January 2017, and has updated it annually with more advanced integrated cellular modems - the most recent update being the Cat 18 1200M-B model.
On paper at least, this is one of the most advanced cellular integrated mobile routers we have seen to date - featuring a gigabit-class LTE Advanced Pro Category 18 modem.
This new cellular modem is a beast - supporting a peak theoretical download speed of 1.0Gbps, and peak theoretical uploads of 150Mbps.
These speeds are enabled thanks to LTE Advanced technologies like 256 QAM, 2x2 MIMO, LTE-LAA, and support for combining up to five LTE bands via carrier aggregation.
This is just about as advanced as cellular can be in a pre-5G world.
This is also the most universally compatible modem we have ever seen - supporting even T-Mobile's long-range LTE Band 71, AT&T's public safety focused FirstNet (very important for the police/fire/ambulance market), and even the cutting-edge CBRS band that carriers are only just now beginning to experiment with.
It may not be actual 5G technology - but Cradlepoint's marketing is making it clear that this is a "Pathway to 5G".
The big catch is the cost - the COR IBR900-1200M-B starts at $999, without any antennas included! And as of June 2019, Cradlepoint requires the ongoing $180/year NetCloud subscription for firmware updates, although the first year is included with a new purchase.
But for those looking to have just about everything integrated into a single (expensive) industrial-strength device, the COR IBR900 may be worth taking a close look at.
Additionally, a second modem can be added to the router with the addition of a COR Extensibility Dock and a Cradlepoint MC400 modem module. For a list of MC400 modem options, see our CBA850 Gear Center entry.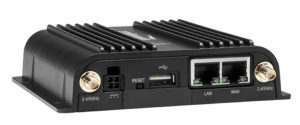 Specifications
Model: COR IBR900-1200M-B
Router Specs:

# of Connected Devices:

Up to 128
Wi-Fi Router: Yes

2.4GHz Wi-Fi:

802.11 b/g/n - 300Mbps Max, 25dBm (2x2 MIMO)
18dBm Transmit Power (63mW)

5GHz Wi-Fi

: 802.11 a/n/ac - 866Mbps Max (2x2 MIMO) - Wave 2 Support
16.5dBm Transmit Power (44mW)
Wi-Fi Antenna: 2x RP-SMA/Female Antenna Port, No Antennas Included
Wi-Fi as WAN: Yes
Claimed Wi-Fi Range: Not specified
Guest Wi-Fi Network: Yes - 4 total SSIDs supported

Control Panel and Default Password: Not specified
USB Tethering Support: Yes - 1x USB Port (USB Modems only - no hotspots!)

Cellular Modem Specs:

Supported Networks and Bands:

1200M-B Modem: Category 18

LTE Bands:

1, 2, 3, 4, 5, 7, 8, 12(17), 13, 14, 18, 19, 20, 25, 26, 28, 29, 30, 32, 38, 39, 40, 41, 42, 43, 46, 48, 66, 71

4G/3G:

WCDMA/DC-HSPA+, Bands 1, 2, 4, 5(19), 8
LTE-Advanced Carrier Aggregation: Yes (5x 20MHz)
MIMO Support: 2x2

LTE Performance Category:

Category 18
(Max Theoretical Speed: 1,200 Mbps Down / 150 Mbps Up)

Cellular Antenna Ports:

4x SMA male

1200M Modem: Category 18 - AT&T and Verizon

LTE Bands:

2, 4, 5, 12, 13, 14, 29, 30, 46, 48, 66

4G/3G:

WCDMA/DC-HSPA+, Bands 1, 2, 4, 5(19), 8

LTE-Advanced Carrier Aggregation:

Yes (5x 20MHz)
MIMO Support: 2x2

LTE Performance Category:

Category 18
(Max Theoretical Speed: 1,200 Mbps Down / 150 Mbps Up)

Cellular Antenna Ports:

4x SMA male

600M-NA Modem: Category 11 AT&T, Verizon, Sprint Version

LTE Bands:

1, 2, 3, 4, 5, 7, 8, 12, 13, 17, 20, 25, 26, 28, 29, 30, 38, 40, 41, 66

4G/3G:

WCDMA/DC-HSPA+

LTE-Advanced Carrier Aggregation:

Yes (2x 20MHz)
MIMO Support: 2x2

LTE Performance Category:

Category 11
(Max Theoretical Speed: 600 Mbps Down / 75 Mbps Up)

Cellular Antenna Ports:

2x SMA male

SIM Slots:

Dual Mini-SIM (2FF)

Dimensions:

4.6" x 4.5" x 1.2"
Other Ports: 15-pin dock port for COR Extensibility Dock, 9-wire GPIO cable, or COR Extensibility Port to Serial Cable
Power Source: 9V - 33V Direct DC Input, 110V AC Adapter Optional
Outdoor Rated: No

Special Features:

Data Usage Tracking, Auto Failover, Load Balancing, Integrated GPS
Optional "Extensibility Dock" adds a slot for adding a second cellular modem, and provides two additional 10/100 ethernet ports.

Retail Price:

$999.99 (w/o antennas)
The COR IBR900-1200M launched in January 2019 initially as an AT&T exclusive - the 1200M-B version added certification for Verizon - Sprint and T-Mobile are supported but not certified.
---
Review & Testing Status
We purchased the LP6 LTE-A Cat-6 (300Mbps cellular) version of the IBR900 in December 2017. We felt this product was worthy of the expense, and are thankful that our premium membership funding allows us the budget for acquiring review gear when evaluation equipment is not available.
We have not had any hands-on time with the newer -600M (Cat-11) or -1200M/1200M-B versions of the IBR900 and we're not likely to given the high cost of acquisition and new requirements for NetCloud subscriptions. But other than the integrated cellular modem module the rest of the functionality we reviewed & documented below should be identical.
Unboxing Video & First Impressions
Here is our unboxing video and first impressions of the IBR900:
In early 2018, we took this unit along with the comparable Pepwave MAX BR1 MK2 on the road for some in-depth head to head testing.
Members can find our raw field testing results in the Testing Lab:
Cellular Signal & Embedded Router Field Testing – IBR900 | MAX-BR1 | Drive Sleek | MIMO Antennas (1st Quarter 2018)
Members also have access to more in depth review of this device below.
---
Potential Alternatives to Consider:
For other popular mobile routers on the market we are tracking - here are our featured options:
Learn More About Selecting Mobile Routers
---
This Review Contains Additional Member Exclusive Content

We are honored to be able to present the above overview for free without 3rd party advertising or sponsorships. We are not paid by the manufacturer of this product to provide this listing or review, and nor are we selling this equipment or plan (purchasing links are provided below as a courtesy and some may be affiliates).
Our members have funded this resource center and any extensive hands on time
we have spent with the product to review it.
The in-depth portions of this review are made available to them which might contain: hands on testing notes, field testing data, user interface tour, product analysis, comparison to alternatives, setup tips, video tutorial, insider tips, vendor discounts and fellow member experiences.
If you're a member, please log in to continue with this review.
If you're not a member.. please consider joining us!
Purchasing Options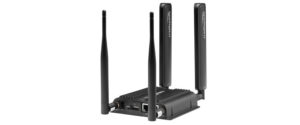 NOTE: Cradlepoint includes one year of access to its "NetCloud" service which provides for remote management, GPS tracking, and ongoing 24/7 support. Extending beyond the first year, however, requires an expensive service contract (you can prepurchase future years much less expensively). In June 2019 Cradlepoint announced a new policy where an active $180/year NetCloud subscription would be required to even maintain access to basic firmware security updates.
Related News Center Articles
The guides below have been hand-picked to help further your education about selecting & using mobile routers.