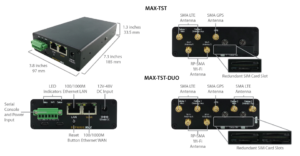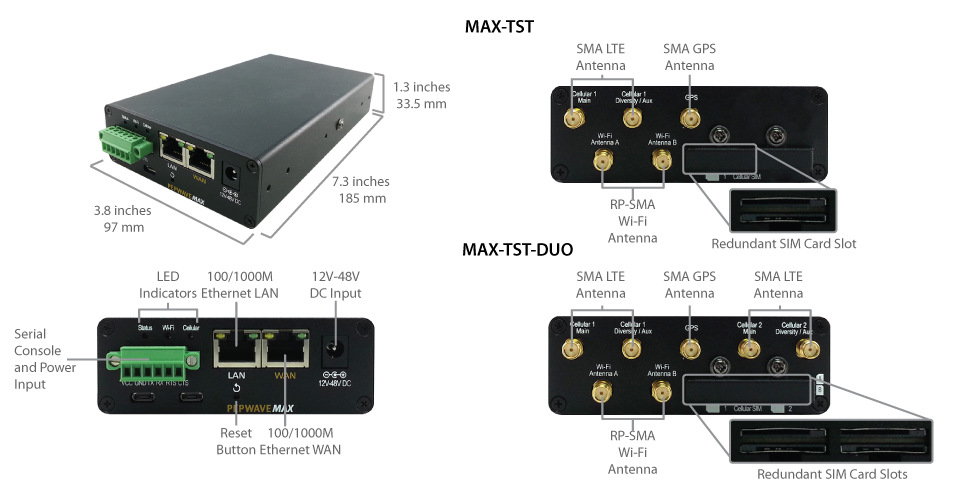 Peplink is a large and respected company in the high-end mobile networking space, particularly well known for providing cellular connectivity for everything from fleets of vehicles to cruise ships to dispersed corporate offices.
Peplink is also a key provider of bonding technology that allows a router to combine multiple network connections together for increased performance, or extreme redundancy and reliability.
While Peplink's Pepwave cellular integrated routers are not specifically designed with individual mobile users in mind, Peplink does offer solid and well supported products that many advanced users have grown to rely on.
For an overview of the full Pepwave MAX product line (and a look at some of the software features in common across different devices), see our gear center entry:
Product Lineup: Pepwave MAX Series by Peplink
---
Pepwave MAX Transit In Depth
The Pepwave MAX BR1 (read for our review) has been a top pick router for our audience - and the more expensive and capable MAX Transit builds on the solid foundation of the MAX BR1 and offers even more features.
The MAX Transit is also available with TWO built in LTE modems, for those who need more redundancy and reliability.
The Transit, as the name implies, is primarily geared towards creating public Wi-Fi networks on a transit bus or train to keep a whole load of passengers online. It should certainly have the capability to handle most mobile users.
But is the MAX Transit worth the cost and complexity, or is it overkill?
Specifications - MAX Transit (Mid-2019 Versions)
Wi-Fi Router: Yes
Integrated Cellular Modem: Yes

Carriers:

Verizon, AT&T, T-Mobile, Sprint

LTE Bands (Cat-6 Version):

1, 2, 3, 4, 5, 7, 8, 12/17, 13, 20, 25, 26, 29, 30, 41

LTE Bands (Cat-12 Version):

1, 2, 3, 4, 5, 7, 8, 9, 12/17, 13, 14, 18, 19, 20, 26, 29, 30, 32, 41, 42, 43, 46, 48, 66

4G/3G:

HSPA+ 850/1900/2100MHz - Global roaming supported.

2G:

No.
LTE-Advanced Carrier Aggregation: Yes (2x)

LTE Performance Category:

Category 6 or Category 12
(Cat-6 Max Theoretical Speed: 300Mbps Down / 50Mbps Up)
(Cat-12 Max Theoretical Speed: 600Mbps Down / 150Mbps Up)

Cellular Antennas:

2x or 4x SMA/Female Antenna Ports, Basic Indoor Antennas Included
SIM Slots: Dual Mini-SIM or Quad Mini-SIM (Transit Duo)

Special Features:

Data Usage Tracking, Auto Faillover, Integrated GPS, SpeedFusion Bonding

Power Source:

10V - 48V Direct DC Input, 110V AC Adapter Included, Can Be USB Powered

Dimensions:

3.8" x 7.3" x 1.3" - 1.3lbs

Outdoor Rated:

No

Retail Price:

$799 - $1,899
Models & Variations
The MAX Transit is available in several configurations - you can choose one or two integrated modems, Cat-6 or Cat-12 cellular, and with or without Peplink's PrimeCare support contract.
The underlying router and features are the same - but the price differences can be dramatic:
Cat-6 Lineup

Pepwave MAX Transit (Cat 6) ($999) - Single Cat-6 modem version of the MAX Transit. Price has not been dropped on the Cat-6 version yet, despite the Cat-12 model coming out.
Pepwave MAX Transit Duo (Cat 6) ($1,899) - Dual Cat-6 modems. Now that the Cat-12 model has been launched at a lower price, Pepwave has told us that they may be dropping the price on this model in the future.
MAX Transit Duo (Cat-6) with PrimeCare ($799) - The same Transit Duo discussed above, but with Cat-6 modems. An ongoing PrimeCare support contract (see our MAX Lineup for information on PrimeCare) required to enable all features.

Cat-12 Lineup

Pepwave MAX Transit (Cat 12) ($999) - Single Cat-12 modem version of the MAX Transit.
Pepwave MAX Transit Duo (Cat 12) ($1,699) - Dual Cat-12 modems, designed for mobile installations.
MAX Transit Duo (Cat 12) with PrimeCare ($999) - The same Transit Duo with Dual Cat-12 modems as above, with an ongoing PrimeCare support contract (see our MAX Lineup for information on PrimeCare) required to enable all features.
The differences between the models externally is subtle - with the Duo having two additional antenna jacks and two more SIM slots. With two cellular modems and two dual SIM slots, the Transit Duo allows up to four different cellular providers to be ready to be switched between.
And as you can see - PrimeCare makes a HUGE difference in price. Read more about PrimeCare in our Pepwave MAX Product Lineup Overview.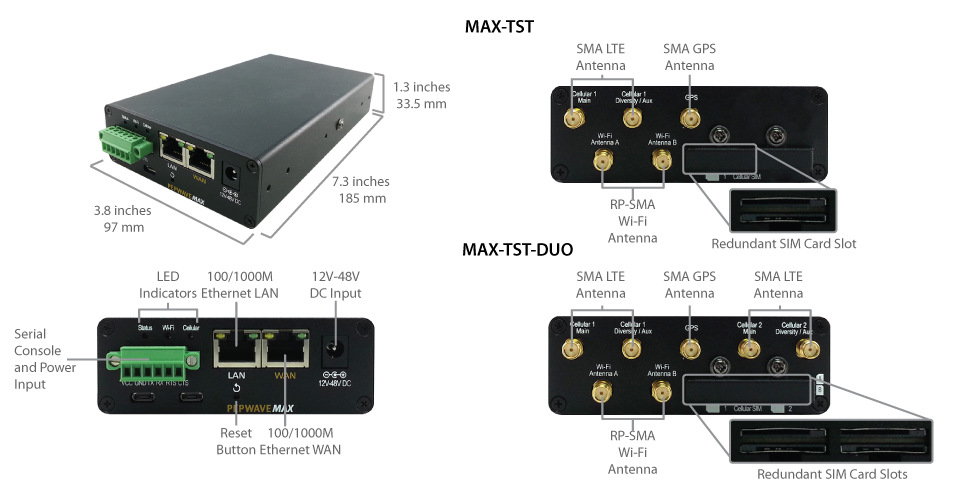 ---
Review & Testing Status
We have years of first-hand experience with the Transit's little brother, the MAX BR1 (our hand on review).
The MAX Transit and MAX BR1 share the same software foundation and user interface.
Now that the PrimeCare MAX Transit Duo offers dual-cellular and bonding for less than $1,000 - we have decided to dive deep into the Transit line as well.
In September 2019, LivinLite.net sent us the new Cat-12 MAX Transit Duo w/ PrimeCare for evaluation. Livinlite also offers our premium members substantial discounts on this product line.
Here's our video first look:

We will be sharing our detailed hands on experience and full review with our members in the sections below.
---
Potential Alternatives to Consider:
For other popular mobile routers on the market we are tracking - here are our featured options:
Learn More About Selecting Mobile Routers
---
More Information Available to our Members

We are honored to be able to present the above overview for free without 3rd party advertising.
In thanks for funding this resource center our members have access to any further notes, analysis, insider info, member experiences and/or our full in-depth review of this product or offering.
If you're a member, please log in above to read the review.
Purchasing Options
Members - be sure to check the Member Discounts page for some potentially substantial savings on purchasing Pepwave routers.
SinglePoint - The SinglePoint 'WiFi in Motion' bundles are built around the Pepwave MAX routers, bundled with RV-friendly antennas, service plans, and support.
WARNING: Pepwave doesn't tend to give their products new model numbers when they refresh them, and they also tend to keep older models around for a while. Make sure that you know what you are getting by checked specs carefully and don't end up with a device that is incompatible with your preferred networks or that is lacking capabilities!
Related News Center Articles
The guides below have been hand-picked to help further your education about selecting & using mobile routers.