Peplink is a large and respected company in the high-end mobile networking space, particularly well known for providing cellular connectivity for everything from fleets of vehicles to cruise ships to dispersed corporate offices.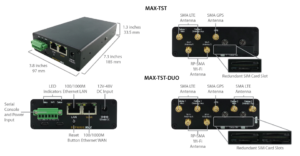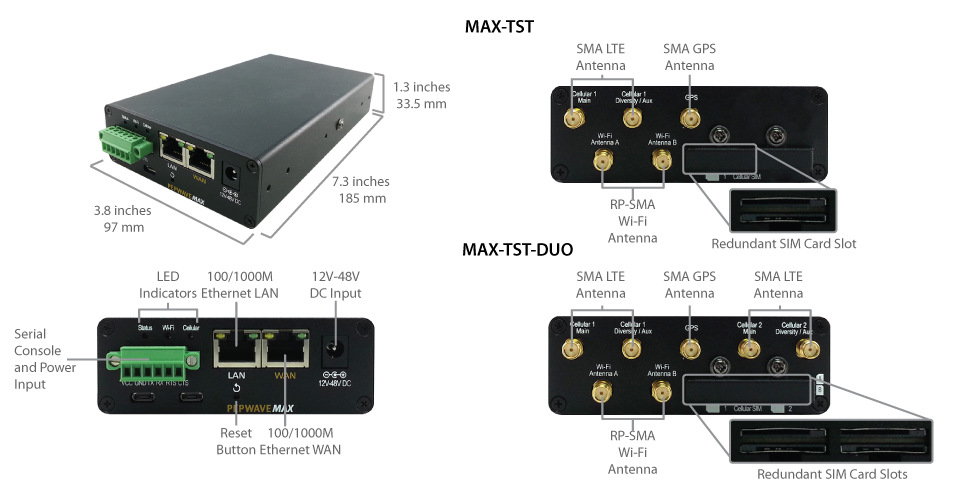 Peplink is also a key provider of bonding technology that allows a router to combine multiple network connections together for increased performance, or enhanced redundancy and reliability.
While Peplink's Pepwave cellular integrated routers are not specifically designed with individual mobile users in mind, Peplink does offer solid and well supported products that many rely on.
The Pepwave MAX Transit line has earned a reputation as a great choice for RVers and cruisers with more demanding needs.
For an overview of the full Pepwave MAX product line (and a look at some of the software features in common across different devices), see our product lineup entry:
Product Lineup: Pepwave Routers by Peplink
The Pepwave MAX Transit models in particular, as the name implies, are primarily geared towards creating public Wi-Fi networks on transit buses or trains to keep a whole load of passengers online.
Some of the models in this lineup strike a unique balance of professional quality, high performance, and relatively consumer accessible pricing - earning our Top Pick status.
Product Variations
The Pepwave MAX Transit is available in several configurations - you can choose one or two integrated modems. It is available with or without Peplink's PrimeCare support contract (which brings the initial cost way down), and with or without Wi-Fi support.
In Fall 2021, Peplink has encountered supply issues with Wi-Fi chipsets, and all original/classic MAX Transit models will be discontinued as existing supply dries up. All stock is already in vendor channels, and some vendors are still honoring original pricing despite Pepwave having increased some pricing already. Once supply is gone, they will be transitioning to the MAX Transit Core and MAX Transit Pro E models, which will be higher priced. The Pro E became available in November 2021. The Core in particular will lack any Wi-Fi ability (LAN or WAN) without using access points or CPEs. Both will only be available in a dual Cat-12 model. We predict that in 2022, Peplink should also be releasing a new MAX Transit line-up with more advanced LAN features.
Here are the models that are typically the most appealing for our audience and we consider Top Picks:
For the detailed specifications of these models, and the other MAX Transit variants, explore the tabs below.
FAQ: Why are the higher end options only single modem?

All of the routers in the MAX Transit lineup uses that same physical form factor, which only has room for four cellular antenna ports. The Cat-6 and Cat-12 modems only require 2 antennas for 2x2 MIMO, which means a single modem needs two antenna ports, and dual modems need four ports in total.

The Cat-18 and 5G modems however each require 4 antennas for 4x4 MIMO support to achieve their higher performance. The MAX Transit form factor thus only has space to support the antenna jacks for one modem.
When picking between MAX Transit options, it comes down to deciding which is more important - the reliability of being able to be connected to two different cellular carriers at once with the dual-modem models, or the potential increases in peak speed and remote signal sensitivity from the single-modem Cat-18, Cat-20 or 5G models with a more advanced single modem and support for 4x4 MIMO antennas?
There is no one simple universal answer - it all depends on your needs.
The other thing you will need to consider is whether or not to go with PrimeCare - though it almost certainly makes sense to buy a PrimeCare model even if you have no intention of subscribing to PrimeCare long term.
As you can see - if you choose a PrimeCare model, the up front price is substantially discounted.
But be sure you understand the long-term costs if you plan to take advantage of some of the advanced features that are only available if you choose to pay to keep PrimeCare active annually.
Read more about PrimeCare in our Pepwave Product Lineup Overview.
---
News, Videos & Status
In September 2019, MobileMustHave sent us the Cat-12 MAX Transit Duo w/ PrimeCare for extended evaluation, and we have used this router extensively ever since. We have also had some hands-on time with the MAX Transit Cat-18 and MAX Transit 5G.
We have granted this router a Top Pick status, and the MAX Transit Duo remains the personal "daily driver" of our founders Chris & Cherie (click over to Technomadia to see their setup).
We have tested the MAX Transit with several different antenna options, a paired access point, and we have actively explored load balancing & bonding. And we have tons of head to head testing against various Pepwave models and other competing models like Insty Connect, MoFi and WiFiRanger.
Our members-only review below has been kept updated with our ongoing observations and experiences.
Members can find additional more-raw details shared in these places:
Video Overviews
Related News Articles
---
---
Member Exclusive Content Below
Purchasing Options
Members - be sure to check the Member Discounts page for some potentially substantial savings on purchasing Pepwave routers. Some of these discounts can actually exceed the cost of membership here!
WARNING: As of Fall 2021, Pepwave is undergoing a confusing transition in the MAX Transit line-up. At present time the 'original' MAX Transit models might still be available with vendors, but once supply is gone - they will be replaced with more expensive Core and Pro E models. Make sure that you know what you are getting by checked specs carefully and don't end up with a device that is incompatible with your preferred networks or that is lacking capabilities!