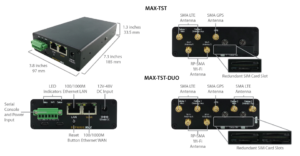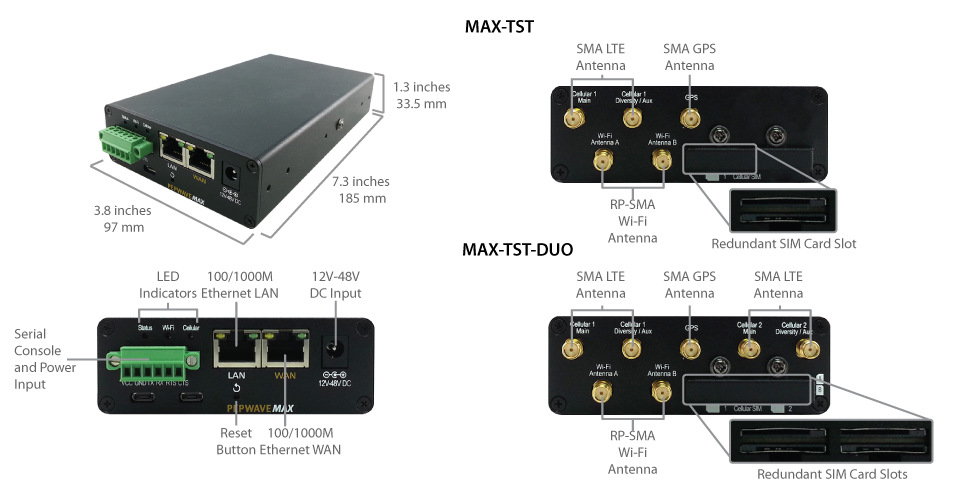 Peplink is a large and well-respected company in the mobile networking space - primarily focused on high-end applications covering everything from providing cellular connectivity to fleets of vehicles to enabling whole-building network installations for hotels and offices.
While Peplink's Pepwave routers are not specifically designed with individual mobile users in mind, they do offer many solid and well-supported products that many advanced users have grown to rely on.
We've long been fans of the Pepwave MAX BR1 (read for our review) - and the newer, more expensive, and capable Max Transit builds on the solid foundation of the MAX BR1 by adding dual-band 802.11ac Wi-Fi networking, gigabit ethernet, and several other advancements.
The MAX Transit is also available with TWO built in LTE modems, for those who need extreme redundancy and reliability.
The Transit, as the name implies, is primarily geared towards creating public Wi-Fi networks on a transit bus or train to keep a whole load of passengers online. It should certainly have the capability to handle most mobile users.
But is the MAX Transit worth the cost and complexity, or is it overkill?
The MAX Transit was updated in the spring of 2017, and is now available with a more capable LTE-A cellular modem. We recommend seeking out this version for maximum future capability.

More Info: Peplink Embraces LTE-A at Last, but Basic MAX BR1 Update Seemingly Delayed
Specifications - MAX Transit (2017 LTE-A Version)
Wi-Fi Router: Yes

5GHz Wi-Fi

: 802.11 ac/a/n - 866Mbps Max (2x2 MIMO)
Wi-Fi Antenna: 2x RP-SMA/Female Antenna Port, 5dBi Antennas Included
Wi-Fi as WAN: Yes
Guest Wi-Fi Network: Yes

Integrated Cellular Modem: Yes

Carriers:

Verizon, AT&T, T-Mobile, Sprint

LTE Bands:

1, 2, 3, 4, 5, 7, 8, 12, 13, 17, 20, 25, 26, 29, 30, 41

4G/3G:

HSPA+ 850/1900/2100MHz
Global roaming supported.

2G:

No.
LTE-Advanced Carrier Aggregation: Yes (2x)

LTE Performance Category:

Category 6
(Max Theoretical Speed: 300Mbps Down / 50Mbps Up)

Cellular Antennas:

2x SMA/Female Antenna Ports, Basic Indoor Antennas Included
SIM Slots: Dual Mini-SIM (2FF)

Special Features:

Data Usage Tracking, Auto Faillover, Integrated GPS

Power Source:

10V - 48V Direct DC Input, 110V AC Adapter Included

Dimensions:

3.8" x 7.3" x 1.3"

Outdoor Rated:

No

Retail Price:

$999.99
Other Models & Variations
The MAX Transit is also available in a model with two independent cellular modems:
MAX Transit Duo ($1899) - With two integrated independent cellular modems, the MAX Transit Duo can instantly failover from a primary to a secondary carrier to avoid coverage dead spots. Or if your bandwidth needs are extreme, you can purchase an optional license (and service subscription) that will allow you to bond the speeds of two connections together.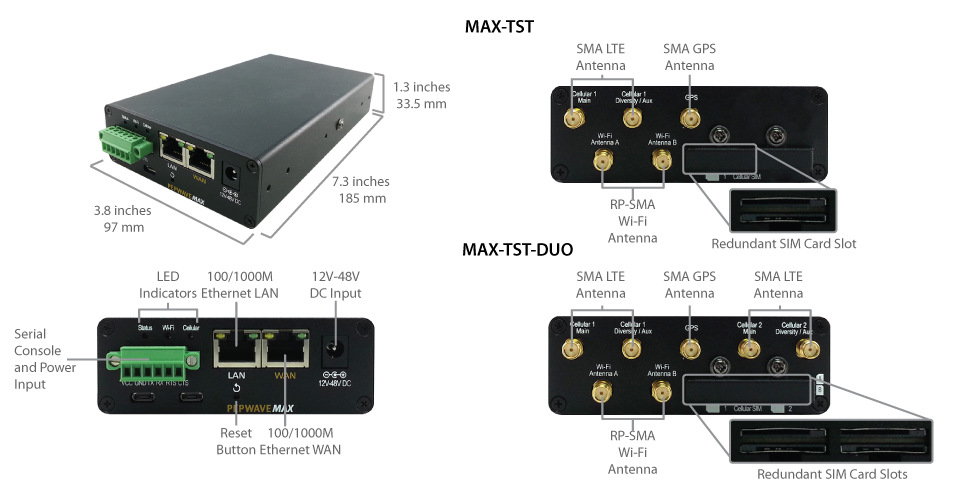 An additional closely related (and more affordable) model to the Pepwave MAX Transit is the Pepwave MAX BR1, which is different enough to merit its own page in our review center.
TIP: The older non LTE-A versions of all these products remain available (and are generally priced at least $100 cheaper). To avoid getting stuck with older technology, make sure that you specify the LTE-A models if you seek to purchase any of these.
Review & Testing Status
Though several members have reported great experiences, we have not yet tested the MAX Transit directly.
But we have the 2015 "universal" version of the Pepwave MAX BR1 in our ongoing testing collection, and have used it extensively over the years as one of the core components of our mobile internet arsenal.
The MAX Transit and MAX BR1 share the same software foundation and user interface, and we've shared some more detailed commentary on the MAX Transit for our members below based on our usage experience.
The Rest of this Review is:
Member Only Content
We are thrilled & honored to be primarily member & reader funded - allowing us to present unbiased content. The in-depth review section of this product listing is part of the premium membership benefits of joining. Members can also leave their own reviews on products.
If you're a member, please log in above to read the in-depth review for this product and/or leave your own review. If you've not joined yet, learn more about membership at:
Purchasing Options
SinglePoint - The SinglePoint 'WiFi in Motion' bundles are built around the Pepwave MAX routers, bundled with RV-friendly antennas, service plans, and support.
NOTE: The Pepwave MAX Transit and its little brother the MAX BR1 are currently in the process of being upgraded with much improved cellular modems. The MAX BR1 update has been delayed, but the rest of the product line was updated in March 2017.
If you are shopping, make sure that you look for the LTE-A version of the MAX Transit.
Related News Center Articles
Pepwave MAX Transit
Hardware

User Interface

Customer Service

Overall Performance
Quick Take
At nearly $1000, the MAX Transit is a pricey bit of gear that is overkill for most. But for those who need stability and reliability and a dedicated cellular modem, it may be worth it.
Comments Rating
( reviews)