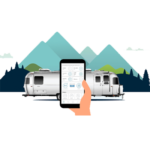 Airstream Smart Control Technology is a fully integrated cellular, WiFi, smart control and RV automation system backed by AT&T Connected Car cellular data plans.
The package is standard on 2019+ Airstream Classic models and became available to existing Airstreams via a dealer-installed upgrade package in early 2019 for $999.
This integrated system provides advanced remote control and monitoring features, and it also provides a long-range Wi-Fi system and integrated LTE modem. Many RV systems can be remotely controlled via a companion app.
At least for now, you must purchase the cellular/ Wi-Fi hardware module directly from Airstream, and "professional installation" from a dealer will be required.
---
Hardware Specifications
Supported Cellular Carriers: AT&T
Retail Price: $999 MSRP (equipment only)
Install Costs: Estimated at 3-6 hours at your dealer's hourly rate
---
Cellular Plan Options
Eligible for use with the AT&T RV DataConnect Plans, which are also available from AT&T's Airstream Connected Car page.
---
Review & Testing Status
We do not intend to purchase an Airstream to test this system, however, we do have both the Max BR1 Mini and Poynting antenna in for review, thanks to the folks at MobileMustHave.
Here is our product overview video:
This Review Contains Additional Member Exclusive Content

We are honored to be able to present the above overview for free without 3rd party advertising or sponsorships. We are not paid by the manufacturer of this product to provide this listing or review, and nor are we selling this equipment or plan (purchasing links are provided below as a courtesy and some may be affiliates).
Our members have funded this resource center and any extensive hands on time
we have spent with the product to review it.
The in-depth portions of this review are made available to them which might contain: hands on testing notes, field testing data, user interface tour, product analysis, comparison to alternatives, setup tips, video tutorial, insider tips, vendor discounts and fellow member experiences.
If you're a member, please log in to continue with this review.
If you're not a member.. please consider joining us!
---
Purchasing Options