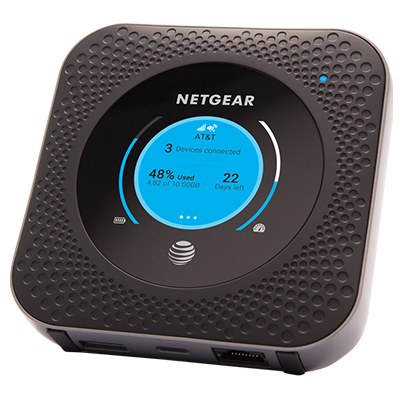 The Netgear Nighthawk became AT&T's flagship mobile hotspot when it was announced in October 2017.
AT&T is calling the Nighthawk the first "5G Evolution" capable hotspot, and it is indeed very technologically impressive - though don't let the name fool you, this device does NOT incorporate a 5G cellular modem.
The Nighthawk, however, is a major technological jump beyond AT&T's former flagship Unite Explore mobile hotspot in raw LTE capability.
And thanks to the integrated ethernet port, unlike most other hotspots it is easy to use the Nighthawk paired with any traditional router - not just specialized mobile routers that support USB tethering.
In mid-2020 the Nighthawk also became available unlocked direct from Netgear, and listed as suitable for use on AT&T or T-Mobile's networks (it is missing Band 71, a key long range band for T-Mobile). Though the Netgear Nighthawk first came out in 2017, the Nighthawk remains the flagship top-pick option for AT&T's network.
---
Specifications
Model Number: Netgear Nighthawk LTE Mobile Hotspot Router (MR1100)
Control Panel and Default Password:
Control Panel: http://192.168.1.1 or http://attwifimanager/
Default Password: "attadmin"
USB Tethering Support:
WiFiRanger Tethering: Works Great
Pepwave Tethering: Works Great
Supported Networks and Bands:
4G/LTE: 1, 2, 3, 4, 5, 7, 12(17), 14 (see note #1), 29, 30, 46 (see note #2), 66
3G: HSPA+ 850/1900/2100MHz
2G: GSM EDGE: No
LTE-Advanced Carrier Aggregation: Yes (4x 20MHz channels)

MIMO Support: 4X4 internal, 2x2 External

LTE Performance Category:

Category 16
(Max Theoretical Speed: 1,000Mbps Down / 150Mbps Up)
Other Ports: Ethernet, USB-A, USB-C, micro-SD (internal slot)

Wi-Fi Technology / Frequencies:

802.11 b/g/n/a/ac - Simultaneous 2.4GHz and 5GHz

Battery

Dimensions:

4.14" x 4.14" x 0.75" / 8.5 oz
SIM Card Type: Micro
Retail Price: $249.99 (branded for AT&T) / $349.99 (unlocked from Netgear)
Note #1: In early 2018 AT&T quietly released a slightly revised Nighthawk that adds support for LTE Band-14, the new FirstNet network for public safety use. This was a hardware update - and customers with the earliest Nighthawk's will not be able to use LTE B14. For more on FirstNet and B14, see our article here.
Note #2: In September 2018 AT&T pushed a firmware update enabling compatibility with LTE-LAA (aka LTE Band 46). This is a significant update, but it has a catch that we discuss in the member area below.
Other Nighthawk Models
October 2018: AT&T has announced that the Netgear Nighthawk 5G is in a limited release. The LTE capabilities of the 5G device look similar to the MR1100 minus some key features like an Ethernet port - however, the 5G Nighthawk is $300 more expensive and is not yet available to the general public.
The Nighthawk 5G does not seem to be a worthwhile replacement for the Nighthawk MR1100 other than for those who really want to be on the bleeding edge.
January 2020: Netgear announced the next-generation 5G mobile hotspot, the Nighthawk M5. The M5 is a follow-up to 2019's Nighthawk 5G on AT&T. It is slated to be released in the second half of 2020.
So far, details are scarce and no specific cellular carrier support has been announced, but historically Netgear has made the flagship mobile hotspot devices for AT&T.
---
News, Videos, & Status
We purchased a Netgear Nighthawk as soon as it was available at a local AT&T store in November 2017, and have been using it extensively since. In particular - we have put it head-to-head with the AT&T Unite Explore and Unite Pro in a variety of circumstances. Our review and conclusions are based on this extended testing experience.
Our raw field testing results are available to our members:
Here is our unboxing video and first impressions of the Netgear Nighthawk, filmed in November 2017:
Our more in depth hands-on take on the Nighthawk is available to our member's below.
News Stories:
Netgear's Information on Firmware Updates for Nighthawk
---
Member Content Included Below:
Thoughts & Analysis

Favorite Features
Potential Downsides

Deep Dive

Hardware Features Explained:

5G Evolution and Gigabit LTE (Cat 16)
LTE Band-14 and AT&T's FirstNet Future
Internal 4x4 MIMO and Dual Antenna Ports
Dual USB ports: USB-C & USB-A "JumpBoost"
Battery Free - Perhaps?
Putting Ethernet to Use
Data Offloading

Hands on Testing Notes

Software & UI Notes
Performance Testing Results
Conclusion: Last Stop Before 5G?

Nighthawk Alternatives
Video Overview & Tutorial
Recommended Settings
QAM? LAA? Carrier Aggregation? MIMO? What does all this mean and how does it impact data performance?
Members, our exclusive guide to Selecting Modems explains all these complicated technologies.
---
Potential Alternatives to Consider:
For other popular mobile hotspots on the market - here are our featured options:
---
This Review Contains Additional Member Exclusive Content!
We are Honored to be Member Funded!
No ads, no sponsors, no selling (but may contain affiliate links)
Our members fund our in-depth independent reviews.
This entry may contain additional member exclusive content such as testing notes, field testing data, user interface tours, comparisons to alternatives, analysis, tips, videos and discounts.
Members also get interactive guidance, alerts, classroom and more.
Purchasing Options
Purchasing Links Provided as a Courtesy
We do not sell any gear or equipment. These links are provided to make your shopping easier. While some may be affiliate links, our primary source of funding comes from our premium members.
Members, please do check your Member Discounts before placing an order.

NOTE: If future LTE B14 compatibility is important to you, make sure that you get a NightHawk that is labeled as "FirstNet Ready". These versions of the NightHawk began to appear on the market in March 2018, and older devices may still be found in some retailer's inventory.
Battery Replacement Purchase:
The guides below have been hand-picked to help further your education about selecting mobile hotspots and best utilizing them in your mobile internet setup.