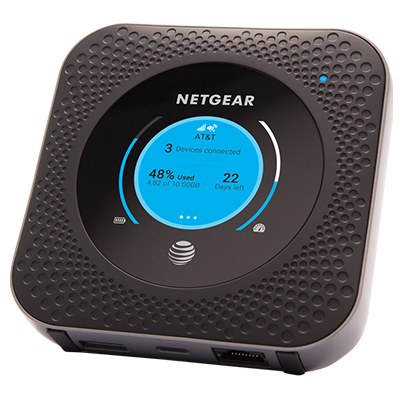 The Netgear Nighthawk became AT&T's flagship mobile hotspot when it was announced in October 2017.
AT&T is calling the Nighthawk the first "5G Evolution" capable hotspot, and it is indeed very technologically impressive - though don't let the name fool you, this device does NOT incorporate a 5G cellular modem.
The Nighthawk, however, is a major technological jump beyond AT&T's former flagship Unite Explore mobile hotspot in raw LTE capability, but on most of AT&T's existing network, you will only actually see an advantage in a limited number of cities where AT&T has deployed the "5G Evolution" technologies.
But if future-proofing is your goal - the Nighthawk is the new king in town.
And thanks to the integrated ethernet port, unlike most other hotspots it is easy to use the Nighthawk paired with any traditional router - not just specialized mobile routers that support USB tethering.
---
Specifications
Model Number: Netgear Nighthawk LTE Mobile Hotspot Router (MR1100)
Control Panel and Default Password:
Control Panel: http://192.168.1.1 or http://attwifimanager/
Default Password: "attadmin"
USB Tethering Support:
WiFiRanger Tethering: Works Great
Pepwave Tethering: Works Great
Supported Networks and Bands:
AT&T LTE Bands: 2, 4, 5, 12(17), 14 (see note #1), 29, 30, 46 (see note #2), 66
Global Roaming on LTE Bands: 1, 3, 7
4G/3G: HSPA+ 850/1900/2100MHz - Global roaming supported.
2G: GSM EDGE: No
LTE-Advanced Carrier Aggregation: Yes (4x 20MHz channels)

MIMO Support: 4X4 internal, 2x2 External

LTE Performance Category:

Category 16
(Max Theoretical Speed: 1,000Mbps Down / 150Mbps Up)
Other Ports: Ethernet, USB-A, USB-C, micro-SD (internal slot)

Wi-Fi Technology / Frequencies:

802.11 b/g/n/a/ac - Simultaneous 2.4GHz and 5GHz

Claimed Battery Life:

~24hrs
Can Be Powered Without a Battery: Yes

Dimensions:

4.14" x 4.14" x 0.75" / 8.5 oz
SIM Card Type: 3FF / Micro SIM
Retail Price: $199 (discounted with 2-year contract)
Note #1: In early 2018 AT&T quietly released a slightly revised Nighthawk that adds support for LTE Band-14, the new FirstNet network for public safety use. This was a hardware update - and customers with the earliest Nighthawk's will not be able to use LTE B14. For more on FirstNet and B14, see our article here.
Note #2: In September 2018 AT&T pushed a firmware update enabling compatibility with LTE-LAA (aka LTE Band 46). This is a significant update, but it has a catch that we discuss in the member area below.
---
Review & Testing Status
We purchased a Netgear Nighthawk as soon as it was available at a local AT&T store in November 2017, and have been using it extensively since.
In particular - we have put it head-to-head with the AT&T Unite Explore and Unite Pro in a variety of circumstances.
Our initial raw field testing results are available to our members:
Our review and conclusions below are based on this extended testing experience.
---
Unboxing Video
Here is our unboxing video and first impressions of the Netgear Nighthawk, filmed in November 2017:
Our more in depth hands-on take on the Nighthawk is available to our member's below.
---
Content Included Below:
Purchasing Options
It will be a while before the Nighthawk is easily available on the used market, or from unlocked vendors. Until it has been on the market longer, you will generally have to go through AT&T official channels to get one:
NOTE: If future LTE B14 compatibility is important to you, make sure that you get a NightHawk that is labeled as "FirstNet Ready". These versions of the NightHawk began to appear on the market in March 2018, and older devices may still be found in most retailers inventory.