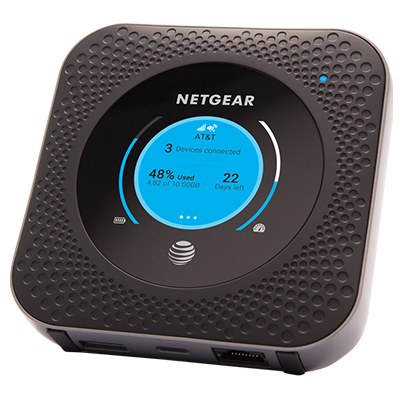 The Netgear Nighthawk was announced in October 2017 and became AT&T's flagship LTE mobile hotspot.
In September 2020, Netgear released its 5G capable flagship mobile hotspot - the Netgear Nighthawk 5G Pro (M5) - but at a huge jump in price. Then in April 2022, AT&T released the Netgear Nighthawk M6 and M6 Pro - a much more capable flagship 5G hotspot at a much more reasonable price. Despite these changes, we still consider the Nighthawk MR1100 to be a flagship-level LTE Hotspot device, and a top pick for those who don't need a 5G capable device.
The MR1100 comes with many great features, including an integrated ethernet port, which makes it easy to use the Nighthawk paired with any traditional router. This is in addition to the ability to connect via USB tethering or Wi-Fi.
---
Specifications
Model Number: Netgear Nighthawk LTE Mobile Hotspot Router (MR1100)
Control Panel and Default Password:
Control Panel: http://192.168.1.1 or http://attwifimanager/
Default Password: "attadmin"
USB Tethering Support:
WiFiRanger Tethering: Works Great
Pepwave Tethering: Works Great
Supported Networks and Bands:
4G/LTE: 1, 2, 3, 4, 5, 7, 12(17), 14, 29, 30, 46, 66
3G: HSPA+ 850/1900/2100MHz
2G: GSM EDGE: No

LTE-Advanced Carrier Aggregation:

Yes, 4-band

MIMO Support: 4X4 internal, 2x2 External

LTE Performance Category:

Category 16
(Max Theoretical Speed: 1,000Mbps Down / 150Mbps Up)

Cellular Antenna Ports:

2x TS9 External Antenna Ports
Other Ports: Ethernet, USB-A, USB-C, micro-SD (internal slot)

Wi-Fi Technology / Frequencies:

Wi-Fi 5 (802.11ac) - Simultaneous 2.4 GHz & 5 GHz

Battery

Dimensions:

4.14" x 4.14" x 0.75" / 8.5 oz

SIM Card Type:

Micro
Retail Price: $249.99 (branded for AT&T) / $399.99 (unlocked from Netgear)
---
News, Videos, & Status
We have put this hotspot head-to-head with the AT&T Nighthawk 5G, Unite Explore and Unite Pro, and other devices in a variety of circumstances. Our review and conclusions are based on this extended testing experience.
Our raw field testing results are available to our MIAs:
Here is our unboxing video and first impressions of the Netgear Nighthawk, filmed in November 2017:

Our more in-depth hands-on take on the Nighthawk is available to our members below.
News Stories:

Netgear Support website for Firmware Updates and documentation for the MR1100 Nighthawk
---
For other popular mobile hotspots on the market - here are our featured options:
---
This Review Contains Additional Member Exclusive Content!
We are Honored to be Member Funded!
No ads, no sponsors, no selling (but may contain affiliate links)
Our members fund our in-depth independent reviews.
This entry may contain additional member exclusive content such as testing notes, field testing data, user interface tours, comparisons to alternatives, analysis, tips, videos and discounts.
Members also get interactive guidance, alerts, classroom and more.
Member Content Included Below:
Thoughts & Analysis

Favorite Features
Potential Downsides

Deep Dive

Features Explained:

Gigabit LTE (Cat 16)
Nighthawk Versions and LTE Band-14
Internal 4x4 MIMO and Dual Antenna Ports
Ports and Connection Options
Battery Not Required
Arlo Base Station Support

User Interface
Alternatives & Comparisons
Video Overview & Tutorial
Recommended Settings
Concluding Thoughts
Purchasing Options
Links Provided for Convenience
We do not sell any gear or equipment. These links are provided to make your shopping easier. Unless otherwise disclosed, only Amazon links are affiliate links (see our disclaimer). We request vendors give our members bigger discounts instead of giving us affiliate kickbacks.
Member Discounts - Learn & Save!
Our MIAs get special discounts from these vendors. Members please check for discount codes before ordering. Some vendors offer up to 10% off - you could save more than the cost of your membership on major purchases.
Battery Replacement Purchase:
Mobile hotspot devices are small, self-contained units that receive a cellular data signal and transform it into an internet connection. They are a cellular modem and router combined. Most can create their own personal Wi-Fi network.
They are typically designed with a specific cellular carrier in mind and require a suitable cellular data plan of their own to operate. You might see them called Jetpacks (Verizon's term for them) or MiFi (Inseego's name for them).
Here's a quick video going over the features of a hotspot, and what makes one better than another:
The guides below have been hand-picked to help further your education about selecting mobile hotspots and best utilizing them in your mobile internet setup.