The Netgear Nighthawk 5G Mobile Hotspot Pro is AT&T's first consumer mobile hotspot for the 5G era and became the flagship mobile hotspot device for AT&T when it was released on September 18th, 2020.
Netgear previewed this hotspot at the January 2020 Consumer Electronics Show as the "Nighthawk M5" and then AT&T announced the AT&T exclusive version on September 15th, 2020. Full coverage and analysis of the announcement is in our news story.
This mobile hotspot has two known versions:
Model # MR5100: The AT&T exclusive Version called the "Netgear Nighthawk 5G Mobile Hotspot Pro" - released on Sept 18th, 2020
Model # MR5200: International/Global Version - not yet released.
The Nighthawk 5G Pro uses a Qualcomm X55 modem, which handles both Sub6 and mmWave frequency bands, as well as 4G/LTE with an extremely fast category-22 modem.
Additionally, the device comes with Wi-Fi 6 (802.11ax), an Ethernet WAN port, and TS-9 cellular antenna ports, which support 2x2 MIMO on LTE as well as sub 6Ghz 5G.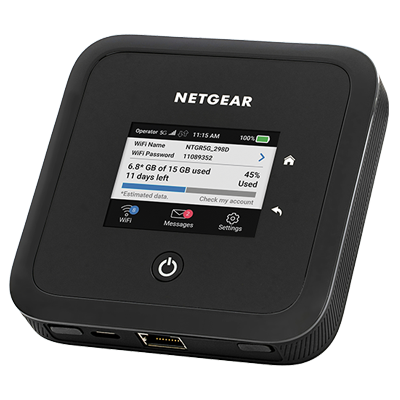 Specifications
Model: Netgear MR5100 (MR5200 for international version)

# of Connected Devices:

Up to 32 via Wi-Fi
Control Panel and Default Password:
Control Panel: http://attwifimanager or http://192.168.1.1
Default Password: admin
USB Tethering Support: Yes
Supported Networks and Bands:
Sub-6GHz 5G: n2, n5, n66
mmWave 5G: n260
4G/LTE: 1, 2, 3, 4, 5, 7, 12, 14, 17, 29, 30, 46, 66
3G: UMTS 850/900/1900/2100 MHz
LTE-Advanced Carrier Aggregation: Yes, 7-band

MIMO Support: 4x4 MIMO Sub6 5G and LTE, 2x2 MIMO mmWave 5G

LTE Performance Category:

Category 22
Other Ports: Gigabit Ethernet

Wi-Fi Technology / Frequencies:

802.11ax (WiFi6), 2x2 MIMO and 2.4/5GHz Standalone
Battery: 5040mAh (Removable)

Claimed Battery Life: 8 hours usage, 11.3 days standby
Can Be Powered Without a Battery: Yes
Battery Part #:
Battery Purchase:

Dimensions:

4.14in x 4.14in x 0.85in
SIM Card Type: Nano
Retail Price: $509.99
---
News, Videos, and Status
Netgear has sent us an evaluation unit in early October 2020. Analysis will be updated below as we have analysis to share, and our members can follow along with our testing notes at:
January 2020 Announcement Video
A Tale of Two Hotspots
Comparing and Contrasting the AT&T Nighthawk 5G Pro with the Verizon M2100 UW, which both use the same Snapdragon x55 chipset:
---
Potential Alternatives to Consider:
For other popular mobile hotspots on the market - here are our featured options:
---
Purchasing Options