Which Jetpack is Best?
Hotspotting off a smartphone can be the simplest way to utilize cellular data as a mobile internet solution while RVing or boating. The next level up in using cellular data as an internet source, however, is using a mobile hotspot device.
These devices typically are about the size of a deck of cards.
They receive a cellular signal and create your own personal private network to get online. They are generally sold by the cellular carriers themselves and require their own cellular data plan to work.
Hotspots come in a wide range of shapes, forms, and features.
Understanding those features can go a long way to selecting the right gear for your setup.
For those who consider mobile internet critical to their lifestyle, we generally recommend evaluating your cellular gear (and the modems inside!) at least every year or two to keep current.

Other Cellular Options:
Mobile hotspots are just one option for utilizing cellular data in a mobile internet setup. You can also hotspot off a smartphone, or use more advanced mobile routers to share data amongst multiple devices. All of these options come with their own pros and cons that might make them the right choice for you.
For more on different cellular device options:
---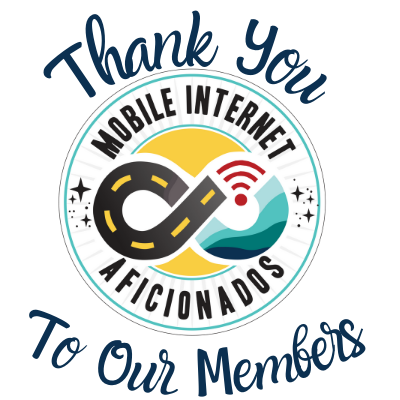 If you're a member, please log in above to access the exclusive portions of our content.
We are honored to be able to present a bunch of our content for free.
Our resource center is brought to you by funding from our premium members. We don't accept 3rd Party Advertising, we're not sponsored and we don't sell stuff.
Our members have exclusive access to in-depth content, classrooms, discounts, alerts, insider info and interactive guidance.
If mobile internet is an important part of your lifestyle, you can help make this possible:
Introduction to Mobile Hotspots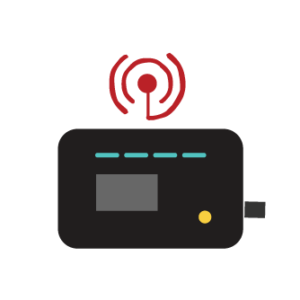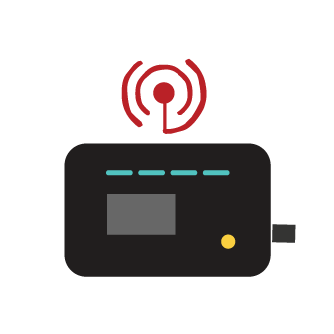 Mobile hotspots are small, self-contained units that receive a cellular data signal and transform it into an internet connection.
Mobile hotspots are a cellular modem and router combined. Most can create their own personal Wi-Fi network.
They are typically designed for a specific cellular carrier, sold by the carrier themselves (or their resellers), and require a suitable cellular data-only plan of their own to operate.
Mobile hotspots don't perform tasks other than providing an internet connection using a cellular signal. They can't make phone calls, they don't run apps, and while some can receive texts, sending them isn't possible.
Most mobile hotspots tend to be able to distribute an internet connection over Wi-Fi to 5–15 devices at once.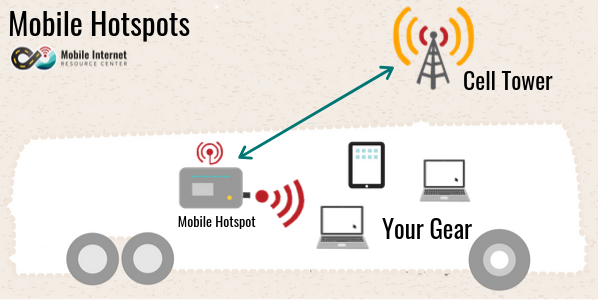 Mobile hotspots can usually be directly tethered via USB into a cellular aware router - becoming the internet source for your local area network. Some even come with an Ethernet port, making them usable as a WAN source, even to more traditional residential routers.
They may have a battery built into the device, which allows you to take it with you when on the go. Some even allow you to charge other devices.
But, their primary purpose is being a dedicated data device for getting online over a cellular signal.
Who Are Hotspots For?
Here are some of the scenarios in which a mobile hotspot device might make sense for you, as compared to hotspotting off a smartphone, or going with a higher end cellular embedded router:
Multi-Device Households - If you have more than one device in your household to keep online, then a dedicated data source might be more reliable and easier to use than hotspotting off a smartphone.
More Signal Enhancing Options - Many mobile hotspot models come with antenna ports, giving you the option to use external antennas - which often outperform pricier cellular boosters. Smartphones don't have ports, so you can only use cellular boosters with them.
Remote Monitoring - If you want remote access to your RV or boat while you are out exploring, having a data plan on a dedicated data device means you can leave it behind, and take your smartphone with you.
Portability - If you want to take your internet with you, mobile hotspots are very mobile. Many have built-in batteries, so they're great for sticking in a bag or vehicle if you need to go find a better signal.
Data Plan Requirements - Some data plans are only available on mobile hotspot devices, so you may not have a choice.
Easy Upgradability - Consumer devices tend to be updated more often than enterprise solutions like routers, so if you want the latest modem features, using hotspot devices is a more affordable way to quickly upgrade your mobile internet arsenal. They tend to be priced from $80-500, as opposed to expensive cellular embedded mobile routers in the $600-3000 range.
Downsides of Mobile Hotspots
Here are some cons of using mobile hotspots devices to keep in mind:
Additional Device - You'll have the expense of a hardware purchase in addition to the smartphone you might carry with you already
Data Plans - A hotspot will also need its own data plan, and typically only plans designated for use in data only devices are compatible. While smartphone and tablet plans may be 'unlimited', many plans for data-only hotspot devices and routers have hard limits.
Consumer Grade - Most mobile hotspots are intended for consumers and will have limited networking functionality. And they may be of lower build quality. If you want the more complex options that professional level gear offers (such as load balancing, bonding, band locking, etc.), you'll want to look for mobile routers instead.
Complex Firmware - Mobile hotspots have a good amount of complex software installed inside them that allows them to function as a router and create a hotspot. A bad pushed firmware release can potentially create issues that the manufacturer and carrier are sometimes slow to fix.
Limited Wi-Fi Range - Their Wi-Fi range will reach most areas of typical sized RVs and boats and sometimes outside, but there is limited range beyond that as the Wi-Fi radios just aren't overly strong. This solution isn't optimal for those who want a solid signal further away than the size of a moderate household room.
Swollen Batteries - Some models with batteries require the battery to be inserted to operate, which means you'll need to regularly inspect the health of the battery for optimal operation, and potentially replace it once or twice a year.
What is in a Name? Jetpack, MiFi or Hotspot?
Mobile hotspot devices are also commonly known as Jetpacks and MiFis. However, these just are trademarked branded names.
Jetpack - Owned by Verizon to refer to any mobile hotspot they sell for their network.
MiFi - Owned by Inseego (formerly Novatel) referring to any mobile hotspot device they make.
Aircard - Owned by Netgear and refers to any mobile hotspot device they make.
Mobile hotspot device is the more generic name to refer to this class of device. Using terms like Jetpack or MiFi is like calling all facial tissues a Kleenex or Puff. While most will know what you're talking about, it's not technically accurate.
It's also possible that if you're using a product made by Inseego on the Verizon network, using the term Jetpack and MiFi are both correct.
It can also be a confusing term, as smartphones also have a personal mobile hotspot feature to use their connection to get other devices online. The industry, in general, uses the terms 'mobile hotspot', 'mobile hotspot device', and 'hotspot' interchangeably to refer to specific data devices (like Jetpacks and MiFis) and the feature on a smartphone.
---
Modem Specifications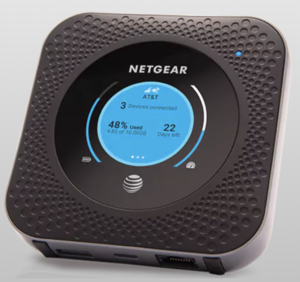 An integrated cellular modem is the core of every cellular device - it's what gets you connected to your carrier's network.
And since modem technology is constantly advancing, it is important to know what your device is capable of.
You'll want to check the following technical details:
Carrier Compatibility
Most mobile hotspots are designed specifically for a primary carrier.
They tend to be offered directly by the carrier for purchase and branded as such. For example: The Inseego 8800L (4G LTE) and Inseego M2100 (5G) are branded and optimized for Verizon, the Netgear Nighthawk 4G, and Nighthawk 5G for AT&T.
Although a device is branded for one carrier, it might actually have a modem that is at least partially compatible with other carriers as well if unlocked.
For more on using carrier-specific devices on other networks:
Using a Carrier Specific Cellular Device on Another Carrier
Modem Features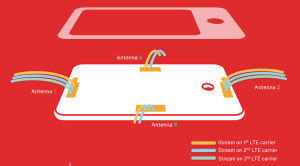 An integrated cellular modem is the core of every cellular device. It's what gets you connected to your carrier's network.
Since modem technology is constantly advancing, it is important to know what your device is capable of.
Some of the modem specifications and features to pay particular attention to include:
To go deeper into modem specifications:
Understanding Modem Specifications
Video Overview
This video goes over the modem specs that most impact performance: Category, Frequency Bands, Carrier Aggregation, and MIMO antennas.
We then wrap it up with a real-world head-to-head comparison of three modems inside three popular Verizon Jetpacks (the Verizon 8800L, 7730L, and MHS900L) to show performance impacts. While this video uses Jetpacks as an example, the concepts apply to all cellular modems.
Member Exclusive Content In This Guide
Has this guide been helpful so far?
Well.. there's a lot more below available to our members. As well as dozens of other guides like this, videos, classrooms, forums, webinars and more. All specifically created for helping keep RVers, cruisers and nomads online.
Consider Becoming a Member
If mobile internet is an important part of your lifestyle, a membership can help keep you connected with these exclusive benefits:
in-depth exclusive content
interactive guidance
vendor discounts
alerts & insider tips
classroom
community
Free Content Like This Made Possible By Our Members!
We are community funded via our premium membership program - allowing us to focus on creating unbiased quality, in-depth, constantly updated content. We don't accept 3rd party advertising, we're not sponsored and we don't sell 'stuff'.
Already a member?
Log in to continue with this guide.
Check out the Topics Covered in the Member Section:
Antenna Ports
SIM Card Size
Battery Life & Special Features
We discuss some considerations of the anticipated battery life of hotspots and smartphones, and any special power charging features.
Local Networking & Standards
Most devices with an integrated cellular modem can also be part of your local area network. In this section, we discuss Wi-Fi features, wireless range, and connected devices.
What about 5G?
With 5G options here, is it time to optimize for 5G hotspots - or will LTE hotspots continue to be viable for a while? This section is kept updated as 5G becomes a reality.
---
Summary: Evaluate Features Every 2 Years
Understanding the features of a cellular device is one of the most important criteria for determining how well it will perform for your needs.
Features like modem category, frequency bands, carrier aggregation, and MIMO antennas will have an impact.
As technology advances and changes frequently, we recommend evaluating your cellular modem at least every couple of years to make sure you have the right and best equipment for your needs.
---
Mobile Hotspot Guide
The grid below features some of the current popular mobile hotspots and USB modems that we are tracking on the market that might be of interest to RVers and Cruisers.
We have tested many of these hotspots extensively, and we offer free quick overviews to everyone - as well as in-depth reviews to our premium members.
Mobile hotspot devices are small, self-contained units that receive a cellular data signal and transform it into an internet connection. They are a cellular modem and router combined. Most can create their own personal Wi-Fi network.
They are typically designed with a specific cellular carrier in mind and require a suitable cellular data plan of their own to operate. You might see them called Jetpacks (Verizon's term for them) or MiFi (Inseego's name for them).
Here's a quick video going over the features of a hotspot, and what makes one better than another:
The guides below have been hand-picked to help further your education about selecting mobile hotspots and best utilizing them in your mobile internet setup.
Explore the Resource Center
Join our 'Library Desk':
Internet for RVers & Cruisers Facebook Group
We cross post news articles and guides, and can help point you in the right direction to our content here on the resource center.
It is with gratitude to our premium members that we're able to offer our free content - and for that, they also have access our private Q&A areas for more in-depth guidance.
The MIA is our premium membership - designed for those who consider mobile internet an important part of their lifestyle.
In thanks for making content like this possible, we offer a bunch of additional perks. From interactive guidance, in-depth member exclusive content, discounts, alerts, classroom and more.
We totally understand that a membership isn't right for everyone.
However you can still support this content with our supporter level for just $25/year.
With our gratitude, you'll get access to all our free content without the 'nags'.

Stay In the Know
We're constantly tracking the industry and analyzing new developments for mobile travelers. If you'd like to receive updates, we offer several ways: