Mobile Hotspot Battery Guide
Over time, exposure to heat can cause your more expensive devices - such as smartphones and MiFi/Jetpacks - to start to have issues.
Electronics, in general, don't like heat, and many come with fail safes that shut them off if there are sustained higher temperatures. Try leaving your smartphone on a hot dashboard in the baking sun sometime (or, actually, don't... just trust us on this.)
One common problem reported with mobile electronics is batteries swelling in mobile hotspot devices such as Jetpacks and MiFis.
Thankfully, many mobile hotspots have a replaceable battery, so the damage is not permanent or expensive to repair.
However, if your battery is aging and swelling, it could at best case cause your hotspot to shut down, act erratically, have difficulty keeping a consistent connection or shorten how long your battery keeps a charge.
At worst, it could start a fire.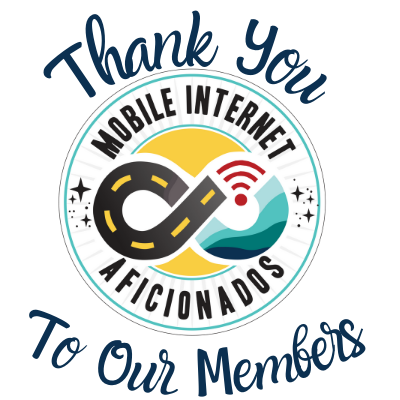 If you're a member, please log in above to access the exclusive portions of our content.
We are honored to be able to present a bunch of our content for free.
Our resource center is brought to you by funding from our premium members. We don't accept 3rd Party Advertising, we're not sponsored and we don't sell stuff.
Our members have exclusive access to in-depth content, classrooms, discounts, alerts, insider info and interactive guidance.
If mobile internet is an important part of your lifestyle, you can help make this possible:
---
Quick Video Overview
---
Things That Can Cause Battery Swelling
After a device has been out for about a year and in heavy use is when we start to receive reports of battery swelling becoming a problem. No particular mobile hotspot model seems to be exempt.
Here are some usage habits that tend to cause battery swelling, due to a combination of internal charging mechanisms and exposure to prolonged heat:
Leaving a hotspot constantly plugged into power, and never allowing the battery to drain and re-charge
Frequent poor signal areas (devices go into full transmit power to keep a signal) and not using signal enhancing methods like antennas or boosters
Lack of ventilation
Leaving devices in a sunny spot
Frequent use in a cradle style booster
General battery aging
---
How to Check Your Battery
We recommend you check your battery often in any mobile hotspot device, especially as they age. (Note, in tech terms - one year old is probably considered "middle age".)
Periodically take the battery out of the device by popping the back cover off the hotspot, preferably after a period of high usage. Some have notches for prying the cover off, others might need a digging fingernail underneath the cover.
Feel the battery for any excess heat. If it's hot to the touch, it is overheating.
Visually look the battery over. Check to see if there is any obvious bulging, such as is the case with this battery from an Inseego 8800L hotspot.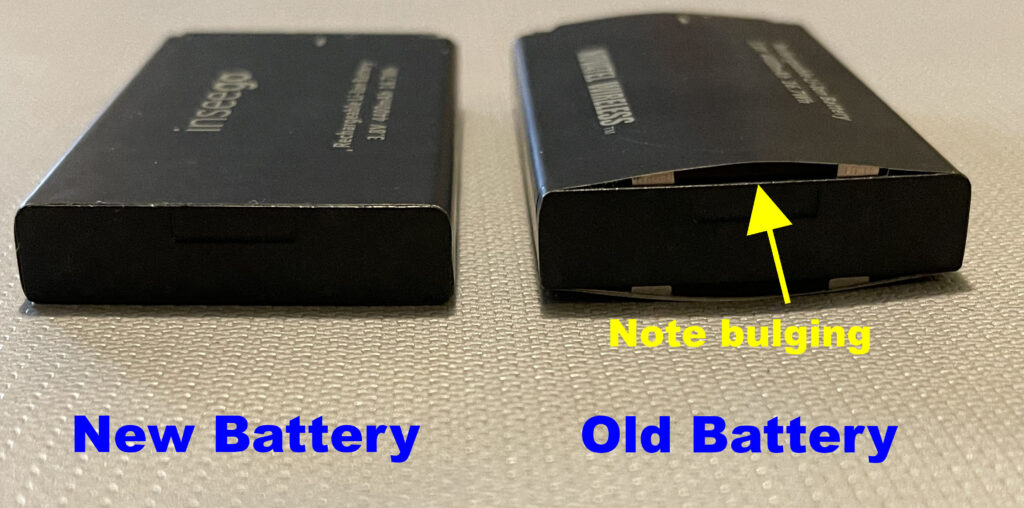 Also look for any splits or cracks in the case (a metallic line may be showing), like in this AC791L battery: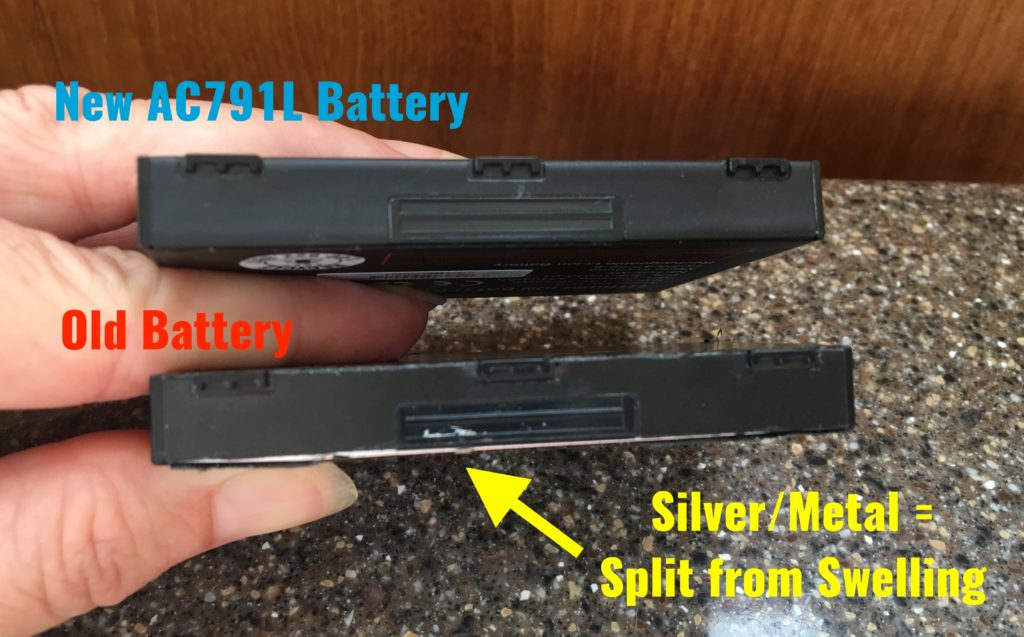 Sit the battery flat on a table. If it no longer sits flat on a table without a slight wobble, you are developing a problem: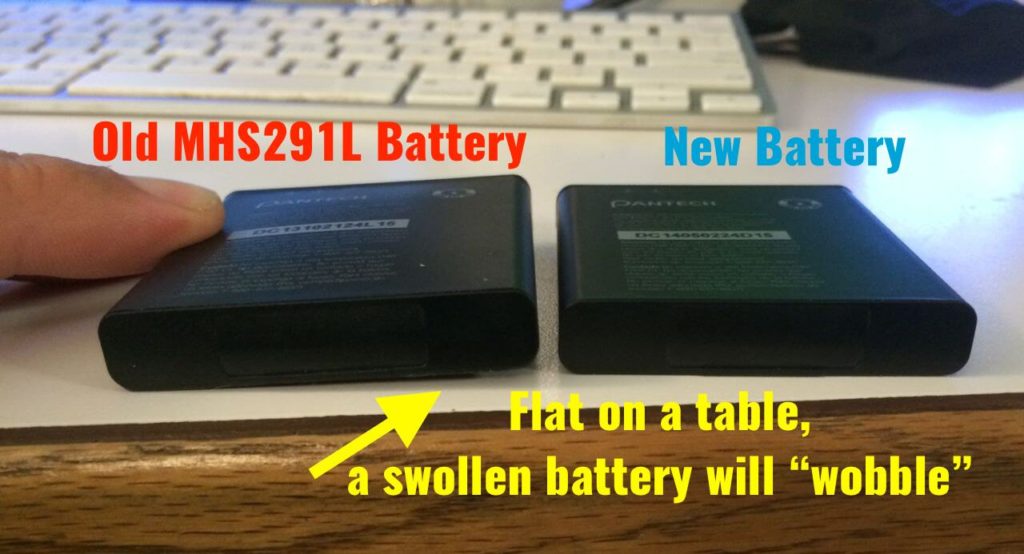 If you see any of these signs, you should start seeking out a replacement battery as soon as possible.
---
Prolonging Battery Life
To play it safe, do not leave a mobile hotspot plugged in when it is not actively in use.
To add battery longevity, it's also a good idea to periodically unplug your device and run it off the battery for a bit - even getting it down to a full drain.
Some people even plug the hotspot into a timer that automatically cycles the power every day to force the device to run off the battery for a couple of hours. Alternatively, you can use a smart outlet to control power to the device remotely, or to set up a timed schedule (just keep in mind that most smart outlets require Wi-Fi or Bluetooth to function properly).
Here are some examples of smart outlets/timers:
Unfortunately, there are no power timer options that will maintain a USB tethered data connection while simultaneously disabling charging power. This is due to the specifications of the USB standard.
Providing ventilation for cooling is always a good idea. And if you're using a cradle style booster, providing an air gap can increase ventilation (see below for more).
And, keeping a solid strong cellular signal can also reduce how hard your mobile hotspot has to work to keep online. Using external antennas and/or boosters can help prolong your battery life by keeping the heat down.
---
Why Cradle Boosters Create So Much Heat
When cradle boosters, like the weBoost Drive Sleek & Drive Sleek OTR, are used in a vehicle, they are typically used for a few hours of driving around town or in-between cities on a road trip. The booster and your device are constantly being passed off between different towers and varying cellular signals, and the booster helps stabilize the signal.
When a booster is concentrating on a weaker signal, it produces a lot of heat to make that signal usable. While in motion, that concentration is temporary and there tends to be very little heat build-up. When a stronger signal is found a mile or two down the road, there is not as much heat produced, so the booster has a chance to cool off.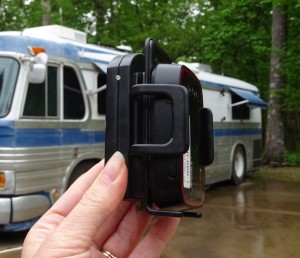 However, when you're parked in one location, especially with a weaker signal, the booster can continue to produce a lot of heat and doesn't have a chance to cool off. This is how RVers tend to use cradle boosters differently than how they were designed. We might be parked in one location for days or weeks, and the booster never gets a chance to cool off.
The cradle boosters are specifically designed to hold your device right up against the interior antenna, which is integrated into the amplifier (the part that gets hot) to get the strongest boost. This means your device is being directly exposed to the heat produced.
Other styles of booster have a paddle or desktop antenna several feet away from the amplifier (such as the weBoost Drive Reach), so this isn't as much of a problem. Even if you're keeping your device on the antenna itself, it's the amplifier (or the box) that is generating the bulk of the heat.
Easy Trick to Prevent Damage
Thankfully, there is a very simple, low-tech step you can take to help reduce your risk of running into problems.
Create an air gap between your device and the cradle booster antenna.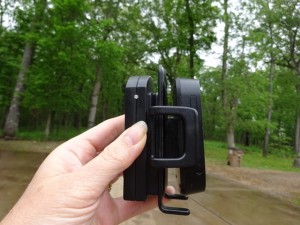 This can be as simple as placing the device at an angle, or placing something that won't melt or conduct energy in-between the antenna and device - such as a piece of rubber.
This creates a way for heat to dissipate and you still get a strong boost from the cradle booster. Your device just needs to be within a few inches of the antenna to get a strong, boosted signal.
---
Replacing Your Battery
Thankfully, with regular inspection, it's fairly easy to stay ahead of any real problems with battery swelling. But we still recommend having a spare new battery on hand and ready to use - before your device shuts down and leaves you offline. It is usually fairly easy to purchase and receive a new battery quickly.
For most mobile hotspots, there is the option to purchase a new battery direct from the manufacturers (called "OEM"). There are also cheaper off-brand battery replacement options.
While we sometimes list a generic non-OEM battery as a replacement option, please note that is in no way an endorsement on our part that these are quality batteries. Be sure to read plenty of reviews before going with an off-brand battery, as quality can vary quite a bit.
Battery Replacement Center (Links & Part Numbers)
Within each of our mobile hotspot gear center entries, we list the part number for the replacement battery as well as links as to where you might find them.
Here are the mobile hotspots on the market for each carrier (click to open up its Gear Center entry):
For our full listing of hotspots to find older or less popular models:
---
Recycle Your Old Batteries
Even after following the best practices of keeping the battery cool and maintaining a good charge profile, the dreaded swollen battery issue may still strike. Hopefully you had a spare battery to keep you stay connected. But what do you do with that old, swollen battery? If it's a lithium battery, the best option is to recycle it.
Lithium batteries are the latest battery technology currently in use. Lithium batteries are quickly displacing NiCad, NiMH, & other types of batteries in small form electronics, and even lead-acid batteries in RV & boathouse batteries. Tesla and other car manufactures are betting on electric car futures for a greener environment and these electric car "fuel tanks" consist of lithium batteries.
What this means is the demand for lithium and other metals (including high-grade aluminum, copper, cobalt, and nickel - the metals used in lithium batteries) are in high demand. These metal resources are not infinite and recycling is necessary to keep up with the demand. The metals used in lithium batteries are readily recyclable and with the correct process, nearly 100% of the metals can be recovered.
Unfortunately, it is estimated that less than 50% of lithium batteries are returned for recycling. Even though your battery is swollen and unusable in your electronics, it still has valuable metals that can be recovered for future use as a new battery.
Most batteries are recyclable and the most difficult part is finding a location to take your used batteries. Call2Recycle is a stewardship program backed by battery manufactures to organize battery recycling. Part of this program is organizing drop off points and these locations can be searched on their website.
---
Summary: Keep Your Battery Healthy
Battery swelling is a common problem in mobile hotspots, which can cause your device to not function properly. There are steps you can take to prolong your battery life, but it's a good idea to periodically inspect it for issues. If you suspect your battery is beginning to fail, it's a good idea to have a backup on hand so you are able to continue to use your device without interruption.
---
Additional Reading
Related Guides:
Explore the Resource Center
Join our 'Library Desk':
Internet for RVers & Cruisers Facebook Group
We cross post news articles and guides, and can help point you in the right direction to our content here on the resource center.
It is with gratitude to our premium members that we're able to offer our free content - and for that, they also have access our private Q&A areas for more in-depth guidance.
The MIA is our premium membership - designed for those who consider mobile internet an important part of their lifestyle.
In thanks for making content like this possible, we offer a bunch of additional perks. From interactive guidance, in-depth member exclusive content, discounts, alerts, classroom and more.
We totally understand that a membership isn't right for everyone.
However you can still support this content with our supporter level for just $25/year.
With our gratitude, you'll get access to all our free content without the 'nags'.

Stay In the Know
We're constantly tracking the industry and analyzing new developments for mobile travelers. If you'd like to receive updates, we offer several ways: