Key Points:
SpaceX's Starlink is on the verge of global coverage, and there are now official options for in-motion usage. But looming terms of service changes and decreasing average performance are cause for concern. Meanwhile - the upcoming second-generation Starlink constellation has gotten FCC approval.
OneWeb is at last back on the launch pad - actually turning to competitor SpaceX to launch the remaining satellites necessary to bring its constellation fully online.
Amazon is about to launch the first test satellites of its Kuiper constellation - and is investing billions in hopes of bringing forth a competitor to Starlink.
Satellite communications directly to cell phones is becoming a reality - with Apple's iPhone 14 first out the gate, and there is a lot of interesting competing technology in the pipeline.
A lot has changed since our last comprehensive satellite industry update back in March 2022.
Most exciting is that fast mobile satellite broadband has now become a practical reality across North America and much of the globe - with SpaceX's Starlink continuing to dominate the market.
But Starlink's popularity has come at a price - with congestion increasing and observed performance steadily declining across the network, sometimes reaching unusably slow speeds. SpaceX is hoping for relief from a new second-generation Starlink constellation, but many hurdles remain before that will come online.
Meanwhile - Starlink's competitors continue to make progress towards launching their own alternative satellite options, with some exciting technology demonstrations already in orbit now seeking to prove their potential.
Some of these new satellite options even aim to offer wireless communications directly to smartphones with no additional hardware required.
So what's the latest in the new space race?
Do any of these up-and-coming alternatives have a chance to steal Starlink's thunder or, at the very least, lighten Starlink's network load?
Read on for the latest from all the players...
Satellite Update Video
Starlink Takes Off For RV & Boat Use
SpaceX spent the past year regularly launching more and more Starlink satellites and now has well over 2,000 operational satellites - more than halfway to the planned 4,408 that have been authorized for the first-generation Starlink constellation.
That is a LOT of satellites - but even still, SpaceX has been struggling to meet the seemingly insatiable demands for data that have been dragging down performance in many areas.
To try and keep the network demand in check - SpaceX recently upset many by changing the Starlink terms of service to institute data management policies that seemed cribbed from the cellular world.
Instead of simple flat rate unlimited data, Starlink's increasingly wide range of plans now come with different "priority access" limits, and the plans then lower network priority or even institute hard speed throttling after those monthly limits are exceeded.
SpaceX is even introducing off-peak usage and (opt-in) overage charges on some plans.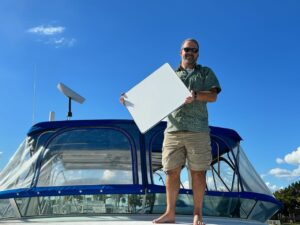 Though all these changes have been confusing - the Starlink for RVs and the Starlink Residential (while roaming with Portability) plans we most often recommend were actually not impacted by the new limits since they have always operated at a lower priority on Starlink's network.
The new Fair Use Policy was due to go into effect on December 1st, 2022, but it was delayed until February 2023. Once the new fair use policy is implemented, it will be interesting to see if SpaceX can reverse the downward trends widely reported in Starlink speed.
To understand which Starlink plans we recommend (and why), we have a free guide focused on all things Starlink:
Starlink Satellite Internet for Mobile RV and Boat Use
Starlink Coverage Expands Massively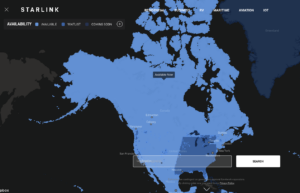 SpaceX expanded a lot in 2022.
It now has service in 45 countries, but more excitingly - SpaceX launched enough Starlink satellites equipped with "space lasers" to offer service in places that would have been impossible to cover before.
These lasers allow satellites to communicate directly with each other, acting as relays to avoid the need to be in the range of ground stations.
In November, these laser-equipped satellites allowed SpaceX to officially enable service in Alaska and northern Canada.
And unofficially - many cruisers have recently discovered that Starlink is now mostly working while out to sea across much of the Northern Atlantic and Pacific oceans.
We suspect that SpaceX is pushing hard to meet its target of being able to officially offer global service at sea and to airplanes sometime in Q1 2023 - and success is looking more and more likely.
Service in other countries and their territorial waters is still dependent on SpaceX acquiring licenses and authorization from local governments to service those areas - so many other areas will come online slowly, and service in some countries will likely never be authorized.
Starlink Mobility Becomes Real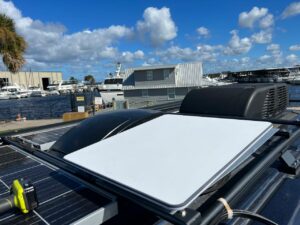 The long-expected flat-mounted Starlink system that can, at last, be officially used in motion was released in October for both the Marine and RV market, providing connectivity both underway and while camping or cruising in even the most remote locations.
The good news - in a surprise move, SpaceX is not charging extra for a service plan that enables mobility!
The bad news is that the required Flat High-Performance Starlink receiver costs $2,500, a substantial hike from the $599 Starlink Standard system offered to RVers and residential purchasers in the past.
And this premium priced dishy is only available with the lowest priority RV data plan.
Also new, SpaceX is partnering with an outside company to sell Starlink to consumers for the first time.
SpaceX's new authorized reseller partner Winegard is a familiar name in the RV industry, and Winegard will also be developing a line of Starlink mounting accessories for the RV and marine markets.
With Official Mobility Available - What About "Unofficial" Mobility?
SpaceX never officially supported using the Starlink Standard systems while in motion, but for much of the past year, this functionality has just worked - especially for those who took the extreme step of physically modifying a Starlink system to disable the aiming motors so that Starlink Standard Dishy would sit flat.
But in September, SpaceX pushed a firmware update (our story) that automatically disabled the Starlink Standard connection when it detected movement greater than 10 mph.
That block was short-lived, however, and in-motion functionality came back to the Starlink Standard system - but many worry that since an official and FCC-certified mobile option is now available, SpaceX may flip the switch and turn the block back on.
We suspect that Starlink could choose to focus on making mobility an exclusive feature enabled on the more expensive High Performance system.
Hopefully, if a block returns, the 10 mph limit will remain so that slowly moving cruisers and boats swinging at anchor will continue to be able to use the more affordable system.
We spent several weeks testing the Starlink Flat High Performance compared to the Starlink Standard and shared our detailed thoughts and analysis in the MIA Member Forums.
Boaters Using Starlink RV Kits
The official Starlink Maritime service costs $5,000/mo (for 5TB of Priority Access data) and requires ordering a $10,000 hardware kit that consists of two Starlink Flat High Performance systems, double the price of the same hardware sold targeting the RV market.
So it is no surprise at all that a lot of cruisers who are not on a super yacht budget have turned to purchasing Starlink RV hardware and plans - mounting either the $599 Starlink Standard or $2,500 Starlink Flat High Performance onto boats all around the world.
And the $135/mo RV plan is currently working very well at even far out to sea, at an extremely attractive price compared to the $5,000 Maritime plan.
We suspect SpaceX is working to close this loophole before global ocean coverage is officially launched, potentially by geolocking Starlink RV hardware to only work on land or in near-coastal waters.
We also suspect that SpaceX will offer a new lower-priced plan that is more cruiser friendly - perhaps via add-on services that can be tacked on to more basic plans.
The recently updated terms of service reference two new types of add-on service that have not been officially launched yet:

The FAQ describes the Transcontinental data as follows:
Transcontinental Data describes any data used outside of a customer's home continent (as defined by shipping address). Customers will pay a higher amount per gigabyte while using Transcontinental Data. This concept applies only to Starlink's Standard (with Portability add-on), Best Effort, and Recreation service plans as described by Starlink's Fair Use Policy.
There currently is no additional information on the Ocean Data add-on, including any hints about pricing.
We will publish additional details on these new offerings when they are officially announced and pricing is available.
New Starlink Services Coming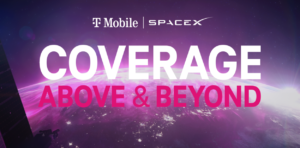 SpaceX this year began moving beyond the consumer residential service it initially launched with.
Starlink has now launched Starlink for RVs, Starlink Business, Starlink Maritime for ships and super yachts, and Starlink Aviation (coming in 2023) for airplanes in flight,
SpaceX is also looking to piggyback other types of service onto future Starlink satellites.
Most interesting - SpaceX and T-Mobile announced (our story and analysis) they are working together to bring low bandwidth cellular messaging to normal cellphones from Starlink satellites in late 2023.
SpaceX also acquired the Internet-of-Things satellite company Swarm and will likely be integrating its low-bandwidth satellite service into future Starlink satellites as well.
And just this week, SpaceX launched Starshield targeting the military and government markets - offering them opportunities to have specialized payloads that can ride to space and take advantage of the Starlink communications infrastructure for secure global surveillance and communications.
But many of these new services will be dependent on the next generation of Starlink satellites.
Starlink's Future is Riding On Starship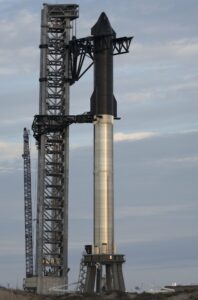 As we reported last year in November, Elon Musk was candid in admitting that SpaceX faces "a genuine risk of bankruptcy" and that Starlink was not a particularly viable business as it stood.
He made it clear that for Starlink to make it long-term, it will need higher capacity second-generation Starlink satellites. And to launch these bigger and heavier satellites, SpaceX will primarily rely on its yet-unproven Starship and Super Heavy booster launch systems.
A year ago, Elon Musk said that it was critical to the future of Starlink that Starship gets to a pace of launching every two weeks by the end of 2022.
That hasn't happened.
If all goes well though - SpaceX may now be on track for its first experimental Starship test launch sometime in Q1 2023.
But even if the first launch is a success - it is unclear how long it will take to transition the Starship development program from test launches to commercial service.
In the meantime - even without a way into orbit, construction of these second-generation satellites has begun. SpaceX just this month secured FCC authorization to launch the first 7,500 satellites in the Starlink V2 constellation, out of a planned 29,988.
SpaceX continues to move at a pace that makes the Space Race of the 1960s seem slow.
Can anyone possibly catch up?
OneWeb Is Getting Back on Track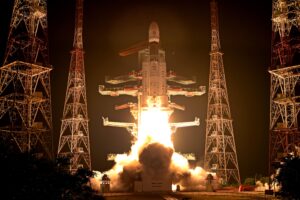 Once, OneWeb looked likely to beat SpaceX in the race to launch a next-generation satellite constellation.
But OneWeb has had an incredibly rocky road getting its satellite broadband network off the ground.
Launching a new satellite constellation is VERY capital intensive - and since satellites orbit the globe, you can't launch commercial internet service until you have enough in orbit to ensure that at least one is passing over the areas you want to serve at any given time.
A partially built constellation is essentially useless. And this is where OneWeb has been stuck for years.
In 2020 OneWeb was derailed by the pandemic, filing for Chapter 11 bankruptcy and laying off all but a skeleton crew to keep its partially built constellation alive. Just before OneWeb was sold off at auction for parts, the UK government stepped in to lead a global consortium to save OneWeb and fund a full restart of its launches and business operations.
Throughout 2021 - OneWeb was back to a monthly launch cadence, rapidly building towards being able to begin offering service in 2022.
But OneWeb had contracted with Russia to use the reliable and affordable Soyuz launch service. After Russia invaded Ukraine in February of 2022, OneWeb's next launch was literally stranded on the pad held hostage by the conflict.
With only 222 satellites left to launch (out of 648 required for global coverage), OneWeb had again hit a wall.
With few options left - OneWeb turned to NewSpace India and competitor SpaceX to contract the five final launches necessary to complete the first generation OneWeb constellation.
The first launch from India was successful on October 23rd, and the next is currently on track to launch with SpaceX today, December 8th. The remaining three launches are slated for early 2023, which will, at last, enable OneWeb to offer global satellite broadband.
But OneWeb's focus has shifted as it has struggled to survive - and now, rather than consumer-targeted service, OneWeb is primarily looking to provide satellite options to governments, cellular carriers (as tower backhaul), and other large enterprise customers.
Only indirectly will OneWeb service be made available to consumers - and in two or three years, OneWeb partner HughesNet may look to deliver consumer-focused service that combines OneWeb's LEO with the HughesNet geostationary satellites. This might make for a very interesting (and potentially mobile-friendly) combination.
Another company planning to launch consumer service using OneWeb much sooner than that is Kymeta.
OneWeb & Kymeta Partnership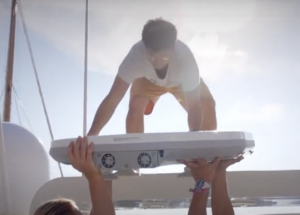 Kymeta and OneWeb announced a partnership at the Monaco Yacht Show in September, and as you might guess by the venue - the consumers they are targeting own super yachts.
Kymeta's new flat u8 antenna is claimed to be capable of 200 Mbps download, and 20 Mbps upload via OneWeb, with sub 100ms latency - making for a similar offering as the Starlink Flat High Performance system.
A new OneWeb-powered service offering was announced as being in the works that would use the new flat antenna system too.
Further details and pricing information are being held back until the planned official launch of the service, currently scheduled for March 2023.
Kymeta told us that they plan to make service available to high-end RV owners as well.
For those with the budget for it - this might end up being the first Starlink alternative worth considering.
Once more details are available - we will cover them here.
Amazon's Kuiper Prototypes Launching Soon
Amazon published a rare update on its Project Kuiper satellite constellation in October, revealing that it was now aiming to launch its first two test satellites in Q1 2023.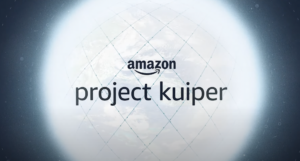 Amazon has FCC approval to build a constellation consisting of 3,236 LEO satellites - and it has bought contracts for 92 launches with ULA, Arianespace, and Blue Origin to get the full constellation launched once the prototypes are validated.
Amazon has even indicated that it would be open to working with SpaceX to launch Kuiper if needed.
Additional details on Project Kuiper are still mostly unknown, though Amazon has said that more than 1,000 people are working on Kuiper now, and it has repeatedly reiterated that it is betting big (there is a $10 billion investment planned!) on Kuiper's future.
SpaceX has a massive (and growing) head start with Starlink - but Amazon has the financial and market clout to eventually bring forth a worthwhile consumer-focused competitor.
Kuiper is worth keeping an eye on, but we don't expect it to be a relevant consideration for nomads anytime soon.
Can Legacy Satellite Still Strike Back?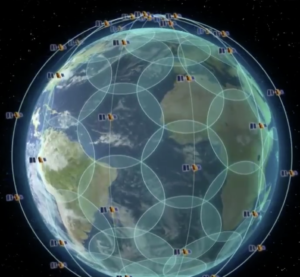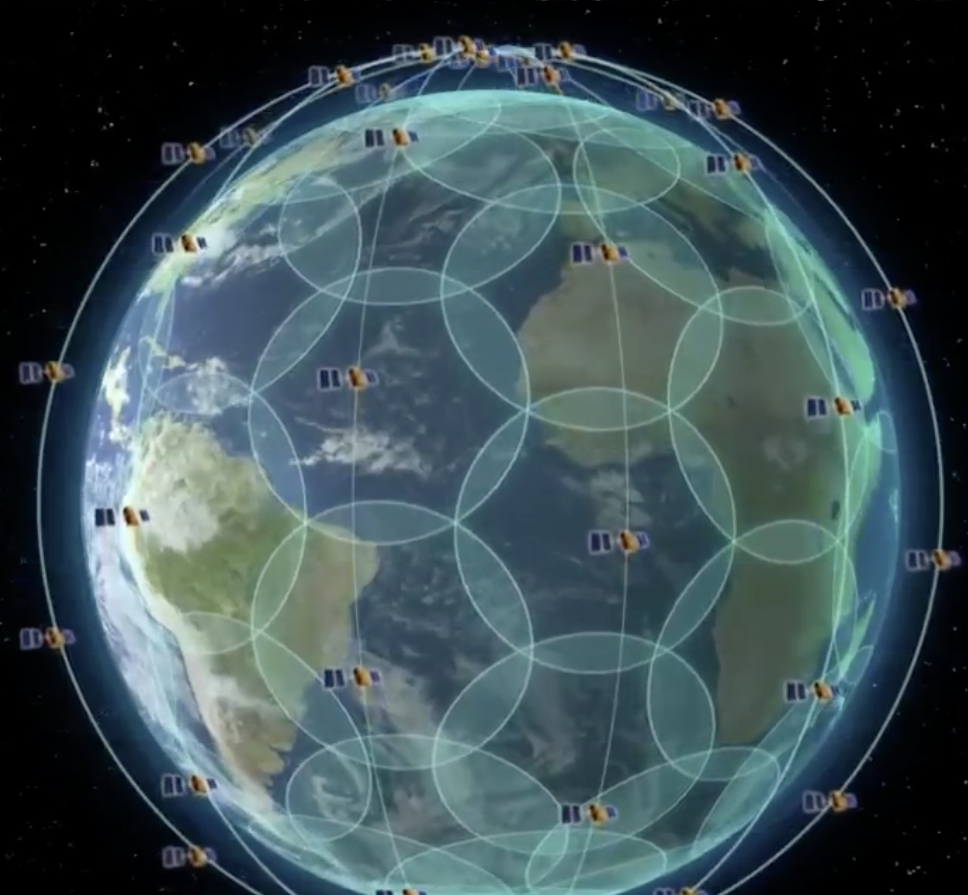 While OneWeb, Starlink, and Kuiper aim to circle the globe with hundreds or thousands of small low-earth-orbit (LEO) satellites - the traditional geostationary satellite industry still hasn't given up.
Just consider the math of it all.
The nature of LEO satellites is that they spread their capacity evenly across the entire planet underneath their orbits. But all of the planet's populated landmasses combined only represent a small portion of the Earth's surface - and the continental United States is less than 2% of the surface of the Earth.
This means that most LEO satellites like Starlink are essentially sitting idle at any given time - passing over oceans without any customers to serve, except perhaps a lone transoceanic cruiser.
On the other hand, geostationary satellites sit in a fixed location in the sky, 22,300 miles above the equator. From there, these satellites can be designed to focus all of their capacity onto a target area - making it theoretically easier and cheaper to target capacity to a particular country or area.
Things have been exceedingly dull in the geostationary satellite world for years - but that will likely change in 2023.
ViaSat-3: Geostationary Giant Finally Taking Flight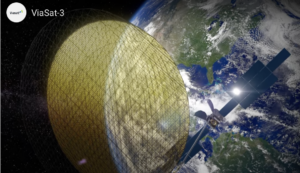 Legacy satellite broadband leader ViaSat (formerly known by many as Exede) is aiming to deploy a new geostationary constellation of three giants - aiming to deliver next-generation performance around the world using more traditional methods.
Each of the ViaSat-3 satellites weighs 6.4 tons (20x the mass of a 650lb Starlink satellite) and is capable of terabit speed processing - making these ViaSats the largest and most advanced civilian communications satellites ever built.
When ViaSat-3 was originally proposed, each of the planned ViaSat-3 satellites was designed to have more raw data capacity than ALL other commercial satellites currently in orbit - combined!
But no amount of technology can defy the laws of physics. Unless someone can beam signals faster than light, geostationary satellites like ViaSat will always have a massive latency disadvantage compared to LEO satellites because of their high orbits.
But not all online tasks benefit from low latencies, so perhaps ViaSat can carve out a niche if it can find a way to distinguish itself.
Or perhaps ViaSat-3 will be the last gasp of an industry that has been eclipsed by more modern approaches.
We have tracked ViaSat-3 since it was first announced in 2015, with a planned launch in 2019. If ViaSat-3 had launched on time, it would have been revolutionary.
The first ViaSat-3 launch (covering North America) is now scheduled for launch in January 2023 on a SpaceX Falcon Heavy, and service will likely become available sometime later in 2023.
In addition to the geostationary focus, ViaSat subsidiary Inmarsat is pursuing a LEO strategy that might eventually complement ViaSat's geostationary monsters with a hybrid LEO/GEO architecture.
HughesNet: Slipping Schedules, Launching Fusion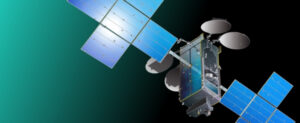 Hughes also has a new satellite, the geostationary Jupiter 3, that will have substantially more capacity than its predecessors, but the launch has slipped to the first half of 2023.
In addition to a new upcoming satellite, HughesNet launched the HughesNet Fusion service in select markets that "seamlessly blends Geostationary (GEO) satellite and wireless technologies into a fast and responsive satellite internet experience."
Basically - behind the scenes, they are combining satellite and cellular to help mitigate some of the latency issues that geostationary satellites have.
However, this hybrid system is not mobile-friendly and is only viable in places with at least some cellular signal on a HughesNet partner to provide an uplink connection.
Hughes is an investor in and partner with OneWeb - and has said that it has long-term plans to bundle OneWeb service and HughesNet service together in ways that might be able to combine the low latency of LEO with the raw focused capacity of GEO.
HughesNet president Pradman Kaul explained that cellular, LEO, and GEO will all be brought together:
"We are rapidly entering an era in which hybrid connectivity—both multi-transport and multi-orbit—will be commonplace."
This remains years away - but it might prove to be very interesting once this hybrid technology matures and hopefully becomes available for mobile users.
Satellite Internet - Direct To Phones?!?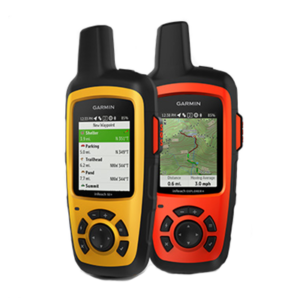 One major development of the past year has been the explosion of interest in using satellites to communicate directly with cellular phones without any external hardware required.
This almost sounds like science fiction - but several companies have made concrete steps this year to make this dream a reality.
But the service from the stars is not going to be Starlink-like broadband in your pocket anytime soon.
Instead - basic text messaging and emergency communications seem to be what is in store in the near term future.
Here is the latest from the players attempting to put space-based communication into your pocket.
Apple iPhone 14: Emergency SOS via Satellite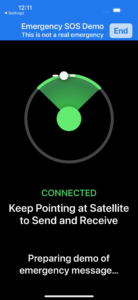 One of the key new features Apple integrated into the iPhone 14 line is support for emergency messaging via satellite, allowing communication and calls for help anywhere you can get a clear view of the sky - regardless of cellular coverage.
This service is built in partnership with Globalstar, the company behind the SPOT trackers, and will utilize Globalstar's already existing satellites and licensed spectrum rights.
By tapping into existing infrastructure, Apple has been able to immediately roll out this new service - going live in the USA and Canada starting on November 15th. Coverage in additional countries will be coming online soon.
This is not currently a technology that will enable any sort of web surfing, picture messaging, or even casual text chat however.
It is for emergencies only - at least for now - and Apple says that messages might take upwards of 15 seconds to send with a clear view of the sky, and several minutes may be needed under light foliage.
Outside of emergency situations, you can also manually share location updates via satellite with your family and friends, but automatic passive tracking is not enabled.
Apple has committed that satellite capability will be provided for free for two years with the purchase of an iPhone 14, bringing peace of mind to anyone who travels far from the beaten path.
Now that the deal with Apple is public - Globalstar revealed that Apple is the "mystery customer" helping fund Globalstar operations since 2020.
Going forward - Globalstar committed to devoting 85% of its current and future satellite capacity towards Apple, and Apple is providing a huge influx of cash that will allow Globalstar to quickly launch a significantly upgraded constellation of new satellites that should be fully online by 2026.
With an investment like this in play - it is clear that Apple very likely has broader future satellite ambitions beyond just basic SOS services.
But Apple's notorious secrecy means that it is unlikely that we'll learn many more details about what is planned until new services are actually ready to be launched.
Iridium Coming To Phones Too - With Samsung?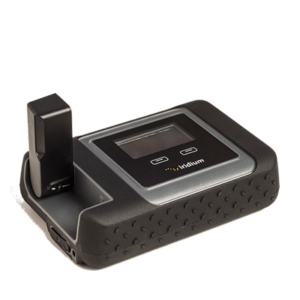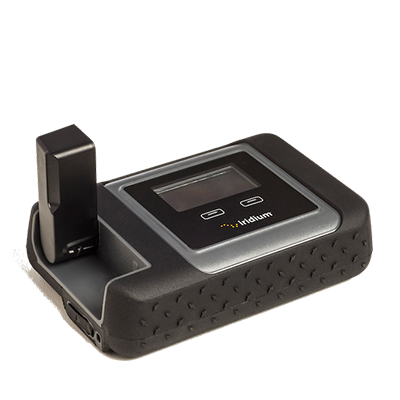 Globalstar's low-bandwidth satellite rival Iridium (which powers devices like the Garmin inReach messenger and Iridium Go, among others) has also been dropping hints that it is working with a major phone manufacturer to integrate Iridium connectivity - and the rumor mill points towards Samsung as the most likely collaborator.
Some models of next year's Galaxy S23 release may gain basic satellite messaging capability like the iPhone 14 - but connected via Iridium's network instead of Globalstar's.
This would be a big win for Iridium, and Samsung is notorious for always following closely behind new technologies introduced by Apple.
But both GlobalStar and Iridium networks require specialized hardware built into the phones - and they only promise basic messaging capabilities and maybe eventually basic voice calling or slow-speed data links.
What if satellites could talk to existing cellular devices - with no new hardware required at all?
Several companies are working on that too!
T-Mobile & SpaceX: Coverage Above & Beyond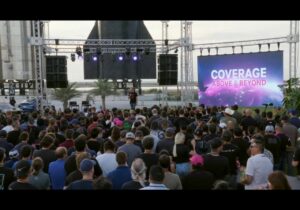 SpaceX Chief Engineer Elon Musk and T-Mobile CEO and President Mike Sievert hosted a flashy event in August to announce T-Mobile's new "Coverage Above & Beyond" initiative that aims to use SpaceX's Starlink satellites to eliminate T-Mobile dead zones - allowing most existing phones on T-Mobile's cellular network to get connected via Starlink satellite when there are no terrestrial cell towers within range.
But despite some confusion - this is NOT Starlink broadband in your pocket!
And this is not coming online anytime soon.
What T-Mobile and SpaceX are aspiring to do is basically the same sort of messaging-focused low bandwidth capability that Apple and others are starting with.
But rather than require a new phone model with a specialized satellite radio, T-Mobile and SpaceX will use extremely large specialized cellular antennas piggybacking on Starlink V2 satellites to act as cell towers in space, broadcasting a low bandwidth LTE Band 2 signal compatible with most existing phones.
Before SpaceX and T-Mobile can begin to debut this coverage from space, SpaceX needs to deploy an entirely new generation of Starlink satellites that incorporates the new antenna system, and this will take years to fully accomplish.
So when will all this be ready for actual customers?
If all goes well - SpaceX will begin launching Starlink V2 satellites sometime next year, and T-Mobile hopes to enter beta service "late next year" (2023) with text messaging, MMS, and selected messaging apps.
At first, there will not be enough satellites for 24/7 coverage, so messages might take a long while to send. But once a full shell of Starlink V2 satellites is deployed, connectivity will exist anywhere that T-Mobile has a spectrum license or a roaming agreement - whether or not ground-based cell towers might be in range.
What About The Tesla Phone? The Elon Phone?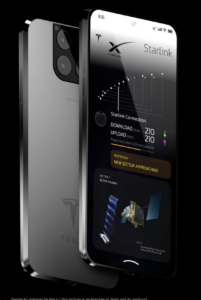 Some people are always seem convinced that Tesla or SpaceX is working on a phone of its own that will incorporate true Starlink broadband connectivity.
We've analyzed the source of these rumors and debunked the Tesla Model P (Pi) smartphone in a post last year.
These unfounded rumors are swirling again now that Elon Musk tweeted that if Apple and Google kick Twitter out of the app stores, he would "make an alternative phone."
This is not a real project - and if Elon wanted to build an alternative phone of his own, it would end up being a much bigger undertaking that would take years and would still not support Starlink directly.
The laws of physics just do not allow a full-speed Starlink broadband connection from the current satellites to a pocket-sized low-power radio in a phone.
True Cellular Broadband From Space: AST SpaceMobile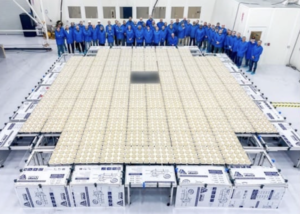 As we reported in the past, two other startup companies are aiming to deploy satellite technology that can communicate with existing cellular devices.
In particular, AST SpaceMobile launched several prototype satellites and has just begun testing the its lated full-scale prototype BlueWalker 3 satellite in orbit.
Because the BlueWalker's antennas are so enormously large, SpaceMobile claims they will be sensitive enough to communicate with phones even when they are indoors.
And eventually - antennas that large may be able to reach broadband speeds beyond just basic messaging.
SpaceMobile has a testing agreement with AT&T, and AT&T has talked about using SpaceMobile to eventually eliminate dead zones in a way that sounds very similar to what T-Mobile and SpaceX announced.
SpaceMobile has a lot to prove in the years ahead - but if its technology pans out, it might prove to be truly revolutionary.
Satellite Messaging Everywhere: Lynk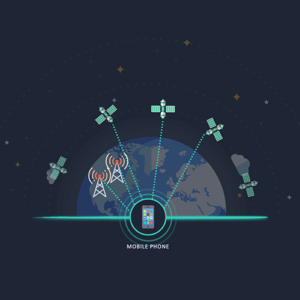 Meanwhile, satellite startup Lynk announced last year that it had become the first company to actually demonstrate a real two-way connection between an ordinary cell phone and one of its prototype satellites.
Lynk's initial ambitions with its 10 satellite constellation involve basic text messaging, device tracking, and weather forecasts.
Messages may take up to 30 minutes to go through since the Lynk satellites will not be set up to provide 24/7 coverage at first.
Lynk received limited FCC approval and has signed up cellular carrier Aliv in the Bahamas to be the first to begin offering commercial messaging service - still claiming that it is coming sometime late in 2022.
Lynk does not have spectrum rights of its own though, so it can only operate in locations where it has a partnership with a local cellular carrier that is willing to share spectrum with Lynk in return for a cut of the roaming fees.
Other Flights Of Fancy: No Updates
Even though not all of them will be successful or even make it to market - all of the satellite systems mentioned so far in this article are real and potentially viable projects with real hardware.
They all have funding secured and production underway.
There is no guarantee that they will all ultimately live up to their vision or be successful - but at least they'll be hitting the launching pad.
We are also tracking a number of ambitious satellite constellations that are more pie in the sky, often offering little more than prototypes or slide decks to lure investors.
We checked in on the ones we covered in our March update, and there is not much new to report.
Though the pace of SpaceX seems to indicate otherwise - the satellite industry more traditionally plods along at a glacial pace, with partnerships and launch plans taking years to finalize before a new product vision can even begin to be ready to be shown off to the public.
Concluding Thoughts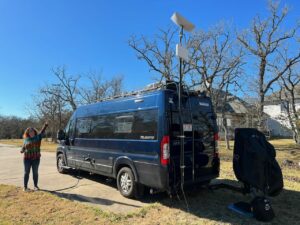 Many people watching from the sidelines think there is competition between satellite and cellular-based connectivity options - and that ultimately just one will come out on top as the ultimate way for nomads to keep connected.
That idea couldn't be more wrong - satellite and cellular are complementary technologies.
And as we have seen this year - they are growing closer and closer together. Cellular devices will gain satellite capability, and remote cellular towers will tap into satellite backhaul.
Cellular, especially 5G upgraded towers with direct fiber connections to the internet, will always have a huge technical advantage over even the most advanced satellites in areas with a strong signal.
And in congested areas, building more cellular capacity will always be easier and cheaper than launching more satellites.
In many areas, cellular will always deliver faster downloads - and especially much faster uploads - than even the best satellite systems can offer. And, of course, cellular will work indoors and in the shade, places that satellites just can not see.
But on the other hand - it will never be practical for cellular to achieve 100% coverage, and even as 5G continues to expand, fringe areas will always be relatively slow and frustratingly unreliable.
For those who seek to keep reliably connected on the go - it makes sense to embrace all your options for staying online, both satellite and cellular.
And with so many more constellations in the works - the space race will only keep getting more fascinating to keep tabs on over the years ahead!
Further Reading
And here is all of our recent satellite internet coverage: