Key Points:
SpaceX and T-Mobile have announced a partnership that will use SpaceX Starlink satellites to provide T-Mobile cellular coverage in places far from conventional cell towers.
The technology is focused on basic messaging apps - not on providing full internet connectivity.
Beta service should be available by late 2023, assuming that SpaceX's Starship program stays on track to launch the needed Starlink V2 satellites.
SpaceX isn't the only company working on enabling satellite connectivity to conventional cell phones. AST Space Mobile, Lynk, and even potentially Apple all have similar technologies in the works.
SpaceX Chief Engineer Elon Musk and T-Mobile CEO and President Mike Sievert hosted a live press event Thursday evening to announce T-Mobile's new "Coverage Above & Beyond". It's an initiative that aims to use SpaceX's Starlink satellites to eliminate T-Mobile dead zones - allowing most existing phones on T-Mobile's cellular network to get connected via Starlink satellite when there are no terrestrial cell towers within range.
It sounds like amazing sci-fi technology, and it is.
But it is critically important to understand the limitations.
This is not Starlink broadband in your pocket - this is satellite based messaging taken to the next level.
And it is still (at least) a year away.
So just what is coming, and when?
And who else is working on similar technology?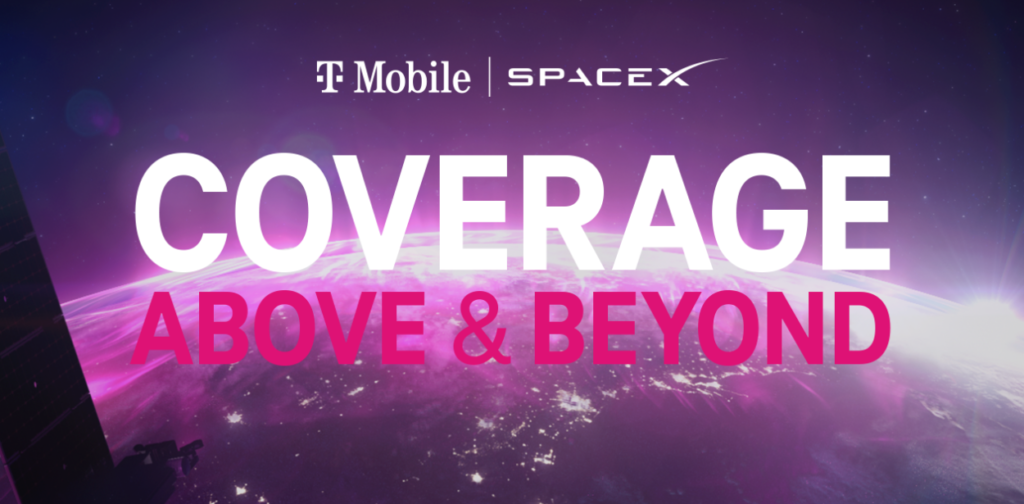 Above & Beyond Video Story
SpaceX & T-Mobile Go Above & Beyond
The meat of Thursday's announcement is that T-Mobile will be devoting a sliver of it's mid-band PCS spectrum (LTE band 2) nationwide to be reserved for satellite usage.
To take advantage of this spectrum, SpaceX will design an antenna system that will ride along on the upcoming Starlink V2 satellites that will be able to broadcast over this band, essentially impersonating a T-Mobile cell tower - but from space.
This band is already supported by almost all phones - so theoretically most existing phones (even older ones) will be able to connect to future Starlink satellites that have the proper antennas and radios to broadcast on this band.
But this antenna is the catch.
A satellite hundred of miles overhead communicating with a tiny cell phones over existing cellular frequencies requires an absolutely gigantic antenna - completely different and separate from the antennas used for normal Starlink broadband satellite coverage.
Elon revealed that the antenna needed to provide cellular connectivity will be 5 meters by 5 meters - a huge and complicated additional payload that will be riding along on the upcoming Starlink V2 satellites.
None of the current Starlink satellites in orbit have this capability.
And even with an antenna this large - the performance is going to be EXTREMELY limited.
The goal of the system is to enable speeds of just 2 Mbps to 4 Mbps.
These speeds are not per user, but will be shared by EVERYONE connecting to a satellite inside a very large area (cell) on the ground.
SpaceX did not reveal the planned cell size - but did say that it would be much larger than terrestrial cellular sizes. Potentially the cells might be dozens of miles across, and that 2 Mbps connection will need to be shared by everyone in that zone.
Because the speeds are so limited - the focus will be on enabling messaging apps, and maybe satellite voice calls.
SpaceX and T-Mobile say that they will be reaching out to messaging app developers to work with them - and only authorized apps will be able to connect over the satellite link.
Regular web surfing is not in the plans - at least not anytime soon.
Anyone expecting a 200 Mbps Starlink-style connection to their phone will need a massive reality check - this new system will be aiming to allow you to send a still photo from the top of a mountain, not an HD upload to YouTube.
When Is This Coming, And How Much?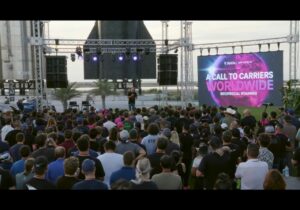 T-Mobile CEO Mike Sievert says that satellite based messaging will be included for no additional charge with the most popular T-Mobile plans - and even basic plans will be able to add on coverage for a modest fee.
And coverage will hopefully go well beyond the United States. T-Mobile and SpaceX will be reaching out to other carriers around to the world who have compatible Band 2 spectrum licenses, offering them reciprocal roaming arrangements so that coverage can go worldwide even in places that T-Mobile does not have spectrum rights.
But the whole system is right now just a "technology alliance" - not something that impacts any actual customers today.
Before SpaceX and T-Mobile can begin to debut this coverage from space, SpaceX needs to deploy an entirely new generation of Starlink satellites that incorporates the new antenna system.
And because the Starlink V2 satellite (and this additional cellular payload) is so large - it is designed to require SpaceX's massive Starship to get into orbit. A Starship prototype may get to orbit before then end of 2022, but SpaceX still has a lot of work to do before Starship is able to start regularly launching commercial payloads.
As a backup plan, SpaceX is designing a "mini" Starlink V2 satellite that will fit onto the current small Dragon rocket in case Starship is delayed. But to be viable, SpaceX really needs Starship so that Starlink V2 can be rapidly deployed.
In the meantime, SpaceX and T-Mobile will need to work through a lot of regulatory issues. Though T-Mobile has licenses to use this Band 2 spectrum nationwide, it does not have rights to broadcast from orbit - and we suspect there will be a lot of regulatory hoops needed to get the FCC fully on board with this plan.
So when will all this be ready for actual customers?
If all goes well - SpaceX will begin launching Starlink V2 satellites sometime next year, and T-Mobile hopes to enter beta service "late next year" (2023) with text messaging, MMS, and selected messaging apps.
At first there will not be enough satellites for 24/7 coverage, so messages might take a while to send. But once a full shell of Starlink V2 satellites is deployed connectivity will exist anywhere that T-Mobile has a spectrum license, or a roaming agreement - no matter whether or not ground based cell towers might be in range.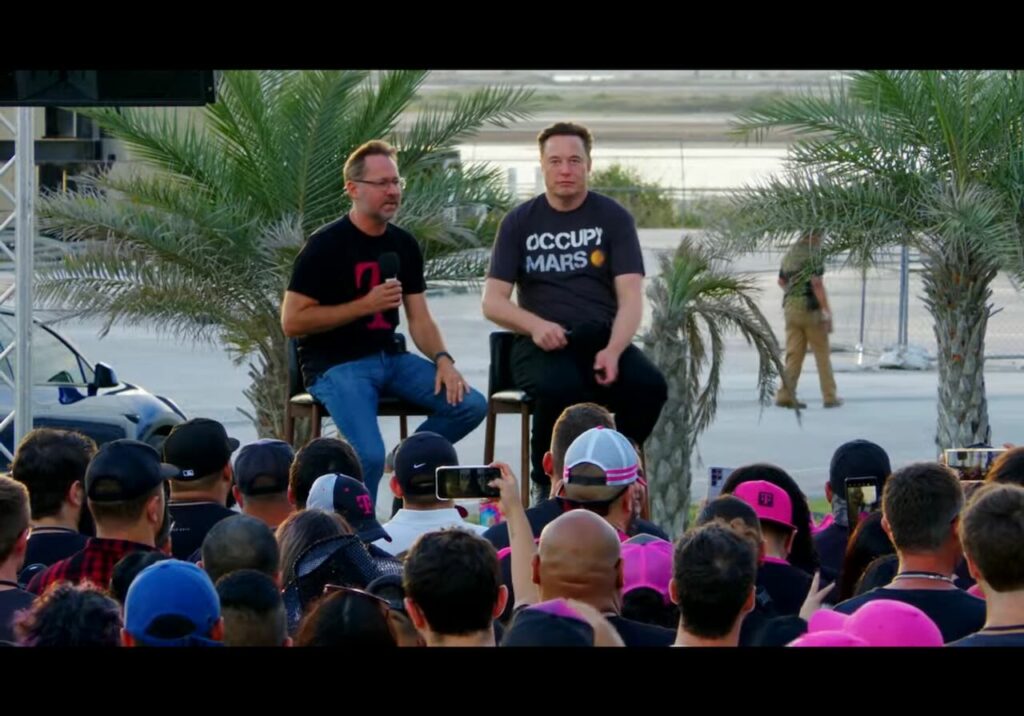 Aren't Space Mobile and Lynk Already Doing This?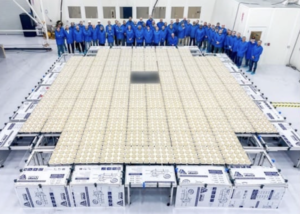 As we have reported on in the past, there are already two other companies aiming to deploy satellite technology that can communicate with existing cellular devices.
In particular, AST SpaceMobile has launched several prototype satellites and is on the verge of launching a huge new prototype BlueWalker 3 satellite that will be tested with cellular providers "on six continents". And SpaceMobile reportedly already has a deal with AT&T to eventually eliminate dead zones that sounds very similar to what T-Mobile and SpaceX have announced.
Meanwhile, satellite startup Lynk announced last year that it was the first to actually demonstrate a two-way connection between an ordinary cell phone and one of its prototype satellites.
Lynk's initial ambitions revolve around enabling basic text messaging, device tracking, and weather forecasts. Lynk has also signed up cellular carrier Aliv in the Bahamas to be the first to begin offering commercial service sometime late in 2022.
Even Apple is potentially getting into the satellite game. Rumors have been swirling for over a year now that Apple has been working on integrating satellite-based SOS and text messaging into the iPhone 14, and perhaps even into the Apple Watch. We'll hopefully learn the truth of these rumors during Apple's "Far Out" event on September 7th where the new iPhone and Apple Watch generations will be announced.
In the years ahead - it is seeming increasingly likely that satellite connectivity to normal cellular devices will become a very real thing.
Concluding Thoughts: Satellite Messaging Is NOT A General Mobile Internet Solution
To reiterate - what SpaceX and T-Mobile are working towards is global messaging, followed eventually by enabling voice calls via satellite.
This is NOT a technology that will enable working on the road from the middle of nowhere, or broadband speeds in your pocket.
For that - you will still need a terrestrial cellular connection, or a full size satellite system like Starlink.
SpaceX, SpaceMobile, Lynk, and (potentially) Apple are all looking to replace the functionality that used to be provided by dedicated satellite messengers (like the Garmin inReach). They are not looking to make full-sized and full-speed satellite internet options obsolete.
The difference between a dedicated 200 Mbps Starlink connection and a 2 Mbps connection (limited to only certain apps) shared by everyone across a 50 mile range is absolutely massive.
But even if all this technology only amounts to being able to send a text message from the middle of nowhere, being able to call for help when you break down is something that every nomad will likely appreciate.
Questions Answered
We are already getting a lot of questions, and seeing a lot of misinformation, about what T-Mobile and SpaceX will be enabling.
Though there is very little official information available, here are some of our educated guesses about the answers to some of the questions we have seen.
Will routers (like T-Mobile Home Internet or Peplink) be able to connect through Starlink? - Theoretically, most cellular router will have the necessary band 2 compatible radio to connect to the cellular radio being built into Starlink V2 satellites, assuming the router has antennas that are placed with a clear view of the sky. But if there is a cellular tower with in range, it will always take precedence and will outperform the satellite connection. And since only select messaging apps will be supported over satellite, most apps that are running behind a router will not be able to connect at all. Because of these limitations, it would not be surprising if T-Mobile limited connections only to phones, and perhaps to tablets.
Is the Starlink Dishy obsolete? - The cellular coverage being provided by SpaceX and T-Mobile is a completely separate technology from the high-speed connection supported by the Starlink Dishy receiver. Dishy is big, fast, and (relatively) power-hungry. The new cellular capabilities the Starlink V2 satellites will be able to provide use a completely different antenna and radio system. They are MUCH slower - but can work with existing low-power cellular devices that fit in your pocket.
Can I stream video from space? - Because bandwidth is so limited, only authorized applications will be allowed to communicate over the Starlink cellular connection. SpaceX and T-Mobile will be reaching out to messaging app developers to work with them so that they can modify their apps to work over the limited connection - but expect text and photo messaging to be supported, not video or streaming.
Will satellite signals replace cellular? - No. Devices on the T-Mobile network will prioritize T-Mobile cell towers, and if there is no T-Mobile tower in range terrestrial roaming partnerships will take priority. Only if there is absolutely no terrestrial coverage available will devices revert to satellite connectivity. Satellite is a great compliment to cellular in the places that it doesn't make sense to build cellular towers. But in the places cellular towers make sense - low-speed satellite like this doesn't make sense at all.
Will Starlink enhance T-Mobile cell towers? - Likely yes. In many places it is practical to build cell towers, but not to bring in high-speed fiber backhaul connections upstream to the Internet. SpaceX and T-Mobile indicated that they are exploring using full-speed Starlink connections to provide backhaul to rural cell towers. These cell towers would then broadcast to cellular devices nearby - but they will also add to Starlink congestion in the area.
Will it work indoors? - Getting a signal on a cell phone from a Starlink satellite will require a clear view of the sky, though Elon Musk noted that it should still work in your pocket. It is unlikely that the cellular signal from space will be strong enough to penetrate indoors much at all. Metal RV roofs will certainly block the signal, though fiberglass and rubber roofs might let just enough in to work inside an RV.
What about the future? - T-Mobile says that they are "planning to start with text, picture messaging and participating messaging apps. We plan to begin a beta program late next year, with a goal of enriching service with voice and data coverage in the coming years." As more satellites come online in the years ahead T-Mobile will have capacity to enable satellite voice calls and likely some limited slow data connections. But even years down the road this is unlikely to be able to provide broadband speeds.
Further Reading
And here is all of our recent satellite internet coverage: