Key Points:
SpaceX introduced a new flat high-performance Starlink for RVs option with official support for in-motion usage.
The hardware is identical to the new Flat High Performance Starlink Maritime system, and costs $2,500.
The service plan remains identical to the existing Starlink for RVs service - $135/mo.
Winegard is SpaceX's first consumer-focused Starlink authorized reseller and will be crafting custom accessories and enabling a network of RV dealers to provide Starlink installations. This relationship is not exclusive - but Winegard will have priority access to selling this hardware package compared to ordering directly from SpaceX.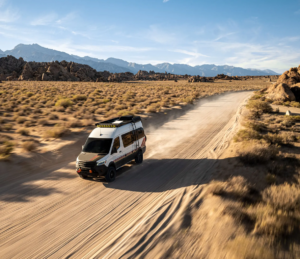 The long-expected flat-mounted Starlink system that can be officially used in motion on land-based vehicles is finally released, providing connectivity to RVers both underway and while camping in even the most remote locations.
The good news - in a surprise move, SpaceX is not charging extra for a service plan that enables mobility!
The bad news - the required Flat High Performance Starlink receiver costs $2,500, a substantial hike from the $599 Starlink Standard system that has been offered to RVers and residential purchasers in the past.
Also new - for the first time, SpaceX is partnering with an outside company to sell Starlink to consumers.
SpaceX's new authorized reseller partner Winegard is a familiar name in the RV industry, and Winegard will be selling the Flat High Performance Starlink system directly starting today.
Winegard will also soon announce a network of dealers and installers offering professional installation, and Winegard will be offering Starlink systems in bulk to RV manufacturers to have as a factory-installed option available on new RVs in the future.
So does this expensive system make sense for everyday RVers to invest in?
And what does this news mean for the existing Starlink for RVs system, which is not designed for permanent mounting on a vehicle, or in-motion usage?
Starlink for RV In-Motion Video
And, added on November 3, 2022 - our first look video at the evaluation unit Winegard sent us in advance of shipment:
Starlink's Flat High Performance Hardware
When the Starlink Maritime system was announced in July, the SpaceX website noted that customers would initially be provided with High Performance pole mounted hardware identical to what SpaceX was selling to Starlink Business customers - but:
"Customers will have the option to upgrade to a flat panel Starlink and mounting hardware in Q4 2022."
With no moving parts, this new low-profile design received FCC approval and began shipping last month to new and upgrading Starlink Maritime customers.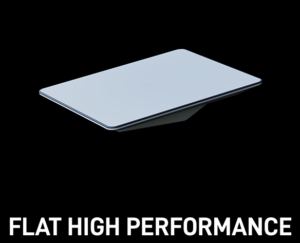 Each $10,000 Starlink Maritime system includes two independent Flat High Performance Starlink receivers - an offering primarily intended for ships and large mega-yachts.
Now SpaceX is offering the exact same hardware for use on land vehicles - priced at $2,500 for a single receiver.
So just what does the Flat High Performance receiver have to offer compared to the $599 Starlink Standard system that has been offered to residential and RVers to date?
SpaceX describes the advantages this way:
"Designed for mobility applications and challenging environments. It allows better speeds at high temperatures, can connect to more satellites, and is more resilient to extreme environments."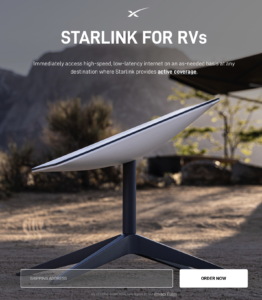 Here are the key traits of the Flat High Performance receiver, compared with the Starlink Standard:
In-Motion Usage: The High Performance Starlink receiver is designed, and FCC certified for in-motion usage. The Starlink Standard system only unofficially supports in-motion usage, and Starlink has made moves toward blocking this capability.
Size: The Starlink Standard is a 20.2" x 11.9" rectangle, sitting on top of a 13.5" tall stalk with auto-aiming motors to angle the "Dishy" receiver roughly northward for optimal reception. The Flat High Performance receiver is a much larger square - 22.7" x 20.1", but only 1.6" thick - and it has no moving parts and does not need to be aimed.
Environmental Rating: The Starlink Standard is IP54 rated, meaning it is "Protected against water splashed from all directions." Basically, it is ready for rain. The High Performance receiver is IP56 rated, meaning it is "Protected against strong jets of water, e.g. on ship's deck."
Snow Melt: The Starlink Standard can melt 1.5" of snow an hour, the High Performance unit can handle 3" an hour. For winter usage in extreme environments, this might prove to be significant.
Temperature Extremes: Both units are rated for -30°C to 50°C (-22°F to 122°F) - but the Standard receiver slows down as it warms up. The High Performance receiver should be able to handle the heat much better.
Wind Rating: The Standard receiver is rated to handle 50 mph winds, which is likely one of the reasons it is not intended to be mounted on vehicles in motion. It just can't handle highway speeds. The Flat High Performance receiver, on the other hand, is designed for winds up to 174 mph, ready to ride out a hurricane.
Field of View: This is the critical difference - the Starlink Standard receiver can track satellites across 100° of the sky, which is why it performs best if it can point towards the north where Starlink satellites are more clustered in the sky in most of North America. The Flat High Performance receiver, on the other hand, has a 140° field of view, meaning that it can see a substantially larger view of the sky - eliminating the need for aiming motors and allowing the receiver to track more satellites at once.
All of those advantages, however, come with some significant disadvantages:
Power Consumption: The Starlink Standard receiver can use 50-75 Watts of power while in operation. The High Performance system uses 110-150 Watts. This is a substantial hit to any off-grid power budget, especially compared to the power required for cellular connectivity. Neither system officially supports DC-powered operation either, requiring AC power to run.
And, of course - the biggest disadvantage for some is the list price, $2,500 versus $599.
Because of this substantial price differential - we expect SpaceX will continue to offer the Starlink Standard system to RVers and residential customers.
For those that do not need the convenience of always-on, permanently installed, in-motion usage - the current Starlink for RVs and Residential (with Portability) offerings featuring the Starlink Standard receiver may continue to be just fine.
And the portability of the Starlink Standard system actually has a built-in advantage - you can more easily set it up away from trees, even while you park your RV in the shade.
Will Mobility Now Be Blocked On Starlink Standard?

SpaceX never officially supported using the Starlink Standard systems while in motion, but for much of the past year, this functionality has just worked - especially for those who took the extreme step of physically modifying a Starlink system to disable the aiming motors so that Dishy would sit flat.
But last month, SpaceX pushed a firmware update (our story) that automatically disabled the Starlink connection at speeds over 10 mph.
Some people more recently noticed that in-motion functionality has come back for their Standard systems - but we suspect that since an official and FCC certified mobile option is now available, SpaceX may focus on making mobility an exclusive feature enabled on the High Performance system.
Hopefully the 10 mph cut-off remains - so that slowly moving cruisers and boats swinging at anchor will continue to be able to use the more affordable system.
Starlink Mobility Service Plan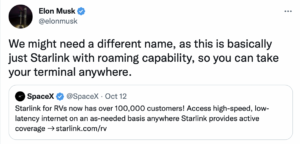 We expected that Starlink might charge more for a service plan that officially supported in-motion usage - especially considering that the Starlink Maritime service plan (with global coverage) was priced at $5,000/mo - and the newly announced Starlink Aviation system costs $12,500/mo-$25,000/mo for in-flight usage.
But even with mobility support and the High Performance receiver, the Starlink for RVs service (as well as the Residential with Portability service) remains $135/mo.
The Starlink for RVs service can also be paused and un-paused at any time (billed in one-month increments), so you only pay for service when needed.
But it comes with a major downside - service is deprioritized compared to Starlink Residential and Business customers, leading to potentially frustratingly slow speeds in congested areas during peak usage times.
There are now several service tiers that SpaceX offers:
Starlink Residential - $110/mo with the standard $599 receiver or optional $2500 High Performance receiver with the pole. Service only works at your registered home address. Service address can be moved, but risks losing that spot if at capacity.
Starlink Residential + Portability - $110/mo + $25/mo to enable portability, which gives priority service at your service address and lower priority access when you travel with Starlink away from your service address. Service address can be moved, but risks losing that spot if at capacity.
Starlink for RVs - $135/mo for lower priority service that works as you travel plus you can suspend service. Now optionally available with the Flat High Performance receiver for official in-motion use. Standard receiver is not approved for in-motion use.
Starlink Business - $500/mo for higher priority land-based service. Requires a High Performance receiver.
Starlink Maritime - $5,000/mo for high-priority mobile maritime service for two Flat High Performance receivers working in tandem.
Starlink Aviation - $12,500/mo-$25,000/mo for global in-flight usage.
Our guide to Starlink can better explain the tradeoffs - but for most mobile users, we generally recommend the Residential + Portability option, though this is not currently available with the Flat High Performance receiver as an option.
What About Usage on a Boat?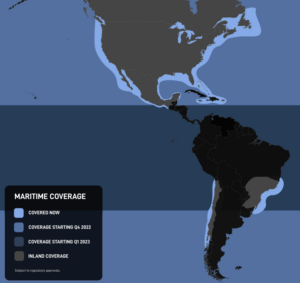 This system now being sold to RVers by SpaceX, and Winegard is officially targeting land-based vehicles - but we expect that service will work just fine if installed onto a boat.
Winegard tells us they are even contemplating offering boat mounting accessories.
But even though the underlying hardware is identical, purchasing this $2,500 system is not a way to get the $10,000 Starlink Maritime system for a fraction of the cost.
The key difference is the service plan, and coverage promised - not the hardware.
The $5,000/mo Starlink Maritime service is designed to eventually offer global coverage, taking advantage of satellites equipped with laser interconnects to remain online far from shore-based satellite ground stations.
On the other hand, the $135/mo Starlink for RVers service officially covers lakes and near-shore coastal areas, but not open water.
This means that the Starlink for RVs plan will likely remain only appropriate for inland and near-shore coastal cruisers.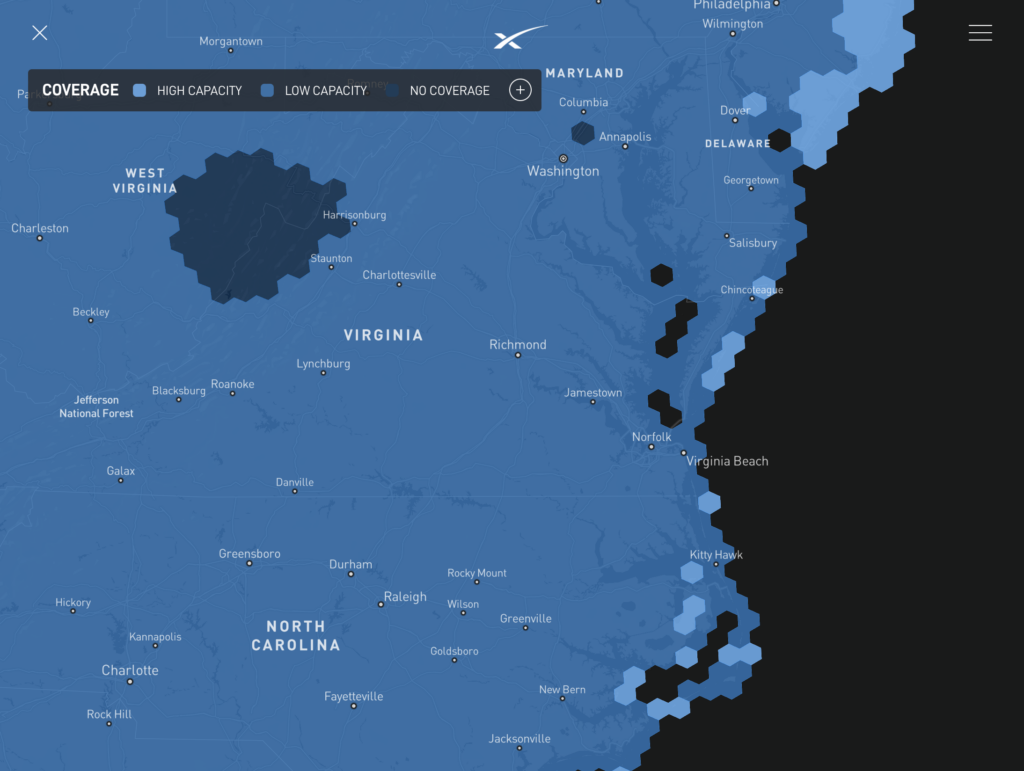 We can only hope that SpaceX will eventually also offer a service plan more affordable than the $5,000/mo Maritime service for the global cruising community that is not traveling on a mega-yacht budget.
What Winegard Brings to SpaceX
Up until now, SpaceX has sold Starlink service exclusively direct from the Starlink website.
But to better serve the RV niche - Starlink will now be officially working with Winegard to sell Starlink hardware as well.
Winegard will be selling the same High Performance hardware at the same price that is available via Starlink directly, but Winegard tells us that they will have priority access to inventory and will be able to offer expedited shipping and purchase financing that is not available from Starlink.
Preorders are also available directly from Starlink's website, with an estimated ship date of December 2022.
Winegard will also work with RV manufacturers, dealers, and a network of professional installers to better serve those who do not want to install the system themselves.
Winegard is working on a line of accessories - including things like quick disconnects to allow the Starlink receiver to be removed from an RV's roof to be more easily moved to be clear of trees when parking in the shade.
Winegard also tells us that they are working on ways to integrate the Starlink satellite connection with Winegard's existing cellular and Wi-Fi offerings, delivering a more integrated solution.
These integrated options are, however, not yet ready to be announced.
Concluding Thoughts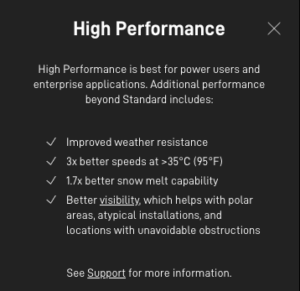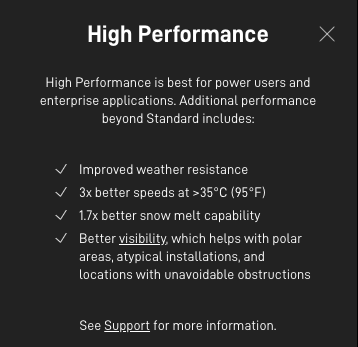 The new Flat High Performance Starlink for RVs will be available to order on Winegard.com today, with hardware shipping next week, or direct from Starlink, with shipping in December
We expect to be getting a review unit soon and will compare it head-to-head against the Starlink Standard system and sharing our hands-on experience with our MIA members.
Edit: As of Nov 1, we have received our review unit. Our members can follow along with initial testing notes here: Starlink In-Motion for RVs - High Performance Kit (Satellite Internet). We'll get a comparative public video out soon.
Winegard tells us that in their testing, the High Performance Starlink has generally outperformed the standard system by "20% - 30%," and we have heard anecdotal reports that the High Performance receiver is better able to keep connected with some obstructions in view.
This performance delta may increase as the Starlink constellation becomes more fleshed out, but it is hard to predict if the High Performance system will be better able to live up to its name over time as congestion hopefully becomes less of an isse.
One big question remains - will Starlink launch a more affordable mobile option?
We had hoped that SpaceX might have a lower-cost mobile terminal in the works - such as a flat mobile-optimized version of the Starlink Standard.
But for the time being - it seems that SpaceX is focusing on three base hardware models going forward:
Standard - Smaller, on a stick, "portable" but not suitable for permanent vehicle installation or in motion-usage.
High Performance - Larger, expensive, on a stick, can handle adverse environments - but not designed for mobility.
Flat High Performance - Larger, expensive, can be permanently mounted on a vehicle, can handle adverse environments - and it works while underway.
We don't expect this basic lineup to change again soon.
For many RVers (and even coastal cruising boaters) - we suspect that the Standard model will remain a top pick, primarily because of its affordability, portability, and lower power usage.
But for those seeking more connection resilience and something that will work even while cruising down the highway - the Flat High Performance system may be worth investing in.
Just keep in mind - even in the best circumstances, Starlink is not a full replacement for cellular connectivity.
The best mobile connectivity setups will seek out ways to combine both satellites and cellular for the best of both worlds.
Related Content at the Mobile Internet Resource Center:
Related News Stories