Key Points:
OneWeb has declared bankruptcy and has laid off most of its staff.
With the world economic situation currently so chaotic, a savior for OneWeb seems unlikely.
Meanwhile - SpaceX has secured a license authorizing it to sell ground terminals in the USA.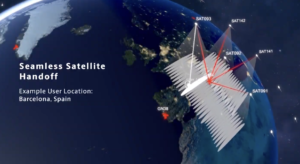 We've been tracking satellite internet provider OneWeb's mission to bring "Internet to everyone, everywhere on Earth" since 2015 - and as recently as March 21st (when OneWeb launched another batch of 34 satellites), OneWeb seemed well on its way towards making this vision a reality.
But OneWeb's dreams came crashing to earth this past weekend when the company filed for Chapter 11 bankruptcy, laying off all but a skeleton crew of its staff in the process.
It turns out that building a broadband network in space is just as hard, and expensive, as you might imagine.
Just what happened to kill OneWeb?
Will any parts of the OneWeb network be saved?
Is SpaceX's similarly ambitious Starlink network also destined for a similar fate?
Video Version
Subscribe to our YouTube Channel
OneWeb's Unfortunate Situation
OneWeb pioneered the idea of mass-producing communication satellites like cars on an assembly line, making them cheaply and quickly enough that it would be practical to deploy a massive constellation into low earth orbit where they could then provide fast low-latency satellite broadband service to the world.
Unfortunately for OneWeb - Elon Musk's SpaceX also had a similar vision for its still-in-development Starlink network.
But Starlink has an advantage that OneWeb could never compete with - SpaceX builds and launches its own rockets, whereas OneWeb has to pay for launch service from commercial providers.
And unlike every other current orbital launch option - SpaceX is able to land and reuse its first-stage boosters, and has been exclusively using these "previously used" boosters for Starlink launches. This gives Starlink a massive launch cost advantage that no one can match.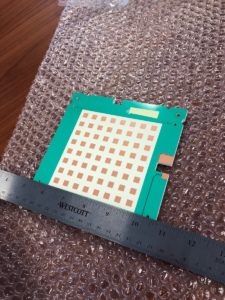 And while OneWeb's idea of building satellites on an assembly line was revolutionary for the traditional satellite industry, it also wasn't any advantage relative to Starlink - which was able to tap into Elon Musk's experience building actual automotive assembly lines at his other company - Tesla.
Even though OneWeb had an initial head start, this competitive pressure from SpaceX was intense. But most analysts expected that the next-generation satellite broadband internet market would be plenty big enough for both SpaceX and OneWeb.
But then Amazon announced Project Kuiper - yet another massive constellation proposal backed by a giant company with near infinitely deep pockets. And Amazon Founder Jeff Bezos also owns Blue Origin - which is working towards debuting its own reusable boosters too.
OneWeb's only remaining advantage was that it had a head start.
If OneWeb could only get its network up and operational, perhaps it would stand a chance.
The company was racing towards being able to debut global service by the end of 2021, long before Kuiper - and perhaps even sooner than SpaceX's accelerating but always very optimistic schedule.
But then things went from bad to worse for OneWeb over the past two months...
Competition is Tough, Covid-19 Is Tougher
Things were indeed looking promising just two months ago - until the Covid-19 virus upended the world economy, and in response just last week OneWeb's key investors decided to pull back on another round of investment.
OneWeb was left hanging - without any funds to proceed.
OneWeb issued a statement on Saturday, saying:
To date, the Company has successfully launched 74 satellites as part of its constellation, secured valuable global spectrum, begun development on a range of user terminals for a variety of customer markets, has half of its 44 ground stations completed or in development, and performed successful demonstrations of its system with broadband speeds in excess of 400 Mbps and latency of 32 ms.

...

Since the beginning of the year, OneWeb had been engaged in advanced negotiations regarding investment that would fully fund the Company through its deployment and commercial launch. While the Company was close to obtaining financing, the process did not progress because of the financial impact and market turbulence related to the spread of COVID-19.

...

Adrian Steckel, Chief Executive Officer of OneWeb, stated, "OneWeb has been building a truly global communications network to provide high-speed low latency broadband everywhere. Our current situation is a consequence of the economic impact of the COVID-19 crisis. We remain convinced of the social and economic value of our mission to connect everyone everywhere. Today is a difficult day for us at OneWeb. So many people have dedicated so much energy, effort, and passion to this company and our mission. Our hope is that this process will allow us to carve a path forward that leads to the completion of our mission, building on the years of effort and the billions of invested capital. It is with a very heavy heart that we have been forced to reduce our workforce and enter the Chapter 11 process while the Company's remaining employees are focused on responsibly managing our nascent constellation and working with the Court and investors."
A sad day for OneWeb indeed.
Does OneWeb Have Any Hope Of Bouncing Back?

OneWeb has 74 satellites in orbit, but to bring its network online with 24/7 coverage requires a full deployment of 648 satellites. Without the rest of the network launched, the initial 74 are just liabilities requiring ongoing ground control expenses to even keep operational.
That means there are at least 16 more launches required for OneWeb to actually deliver global commercial service - and it will take an investor willing to write a VERY big check to make this happen. And one who can act fast enough to manage to bring back all the key engineers and experts who have now been let go too.
In other words - OneWeb needs a miracle.
The history of commercial space operations is filled with bankruptcies - space is hard, and unforgiving.
But miracles have happened in the past.
A classic example is Iridium - the first large low earth orbit communications constellation.
Billions were invested in Iridium in the 1990's, but once the system was operational the company could not find enough customers for its satellite telephone service - and it was forced to declare bankruptcy in 1999. Iridium was just days away from de-orbiting its entire constellation to burn up in the atmosphere when a group of investors stepped in, buying the entire six billion dollar constellation for just $35 million - making for one of the most spectacular bankruptcies in history at the time.
Iridium has been modestly successful and ongoing ever since - and it has even upgraded its entire network with more data-centric Iridium Next satellites over the past few years.
Will a similar thing happen with OneWeb? Will some investors step in to buy up OneWeb's assets out of bankruptcy?
Perhaps.
But there is one key difference - Iridium had a functional constellation already operational when it went bankrupt, and it could be bought for a song and put into immediate use.
OneWeb has barely built out 10% of its phase-one constellation - and it will still require massive capital investment to complete. Even if some company is audacious enough to take on this challenge - the schedule to bring the network online will likely end up delayed substantially by this sudden bankruptcy.
Space is hard, and building a new network from scratch is expensive.
Add in a global pandemic and a fierce competitor already ahead .. and OneWeb's fate seems grim.
Starlink Update: FCC Grants Terminal Licenses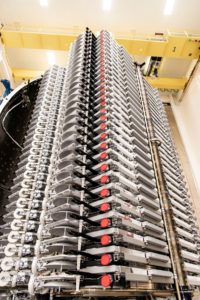 While OneWeb has had a very bad month, SpaceX has continued to push to get its Starlink constellation operational - with 360 satellites now in orbit as of its most recent launch on March 18th.
Assuming there are no COVID-19 related launch delays (which are now looking increasingly likely), SpaceX has been pushing to be able to start rolling out limited commercial Starlink service later this year - with global coverage coming in 2021.
SpaceX is also working on the ground terminals that will be necessary for connecting to the Starlink network, and the FCC recently announced that it has given SpaceX approval to deploy one million ground terminals in the USA.
SpaceX has not revealed any details of the terminals, other than Elon Musk saying that they will "look like a UFO on a stick" and that "It's very important that you don't need a specialist to install it. The goal is that... there's just two instructions, and they can be done in either order: point at sky, plug in."
SpaceX's initial goal is to offer service to the hardest to reach customers that traditional internet providers have the most trouble reaching.
Though Starlink will work everywhere you have a view of the sky, Musk is downplaying Starlink's appeal in urban areas, explaining that there just will not be enough satellites (aka cells) overhead at any given time, at least at first:
"The challenge for anything that is space-based is that the size of the cell is gigantic... it's not good for high-density situations. We'll have some small number of customers in LA. But we can't do a lot of customers in LA because the bandwidth per cell is simply not high enough."
But in harder to reach places (and for travelers outside metro areas), Starlink might be revolutionary - able to offer true broadband speeds and "latency below 20 milliseconds, so somebody could play a fast-response video game at a competitive level."
But SpaceX is still far from turning Starlink into a profitable business, and even Elon Musk acknowledges just how hard building a space business can be. During a satellite industry keynote speech last month, he admitted that that he hopes Starlink will be unique in making it to market without running out of money first:
"Guess how many constellations didn't go bankrupt? Zero. It'd be a big step to have more than zero in the not-bankrupt category."
Space is hard, indeed.
Further Reading
And here is all of our recent satellite internet coverage: